It's Finals time in the Belief Sports Elite NTS

The Belief Sports Elite National Touch Series reaches its climax this weekend in Birmingham!
Twenty-eight squads will be heading to Billesley Common, home of Birmingham Moseley - one of England's most historic rugby clubs - to take part in England Touch's showpiece occasion for mixed club teams.
The teams' performances in Rounds 1 and 2 in Nottingham and London have seen them be ranked and then seeded into their respective competitions.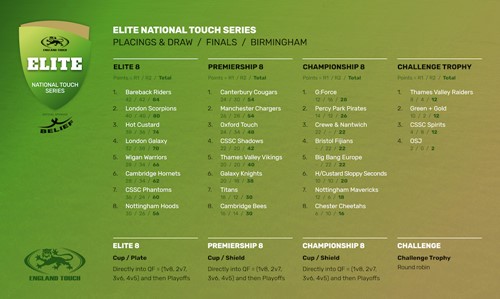 The Elite 8, Premiership 8 and Championship 8 will go straight into a knockout format with a quarter final, semi-final and final all happening on the one day. Meanwhile the Challenge Trophy will be a round-robin format so that all teams are guaranteed three matches.
As with Rounds 1 and 2 all matches will be 40 minutes long (two 20-minute halves plus a five-minute half-time), but drop-off extra time will be in effect in all of the knockout competitions.
Bareback Riders will be looking to make it a clean sweep of Cup titles for 2018, but London Scorpions have been hot on their heels, competing in both finals, and with all of the eight teams having played some great Touch so far nothing can be taken for granted!
CLICK HERE to see the full match schedule!
England Touch will be live streaming the day right here on our main website!