Volunteers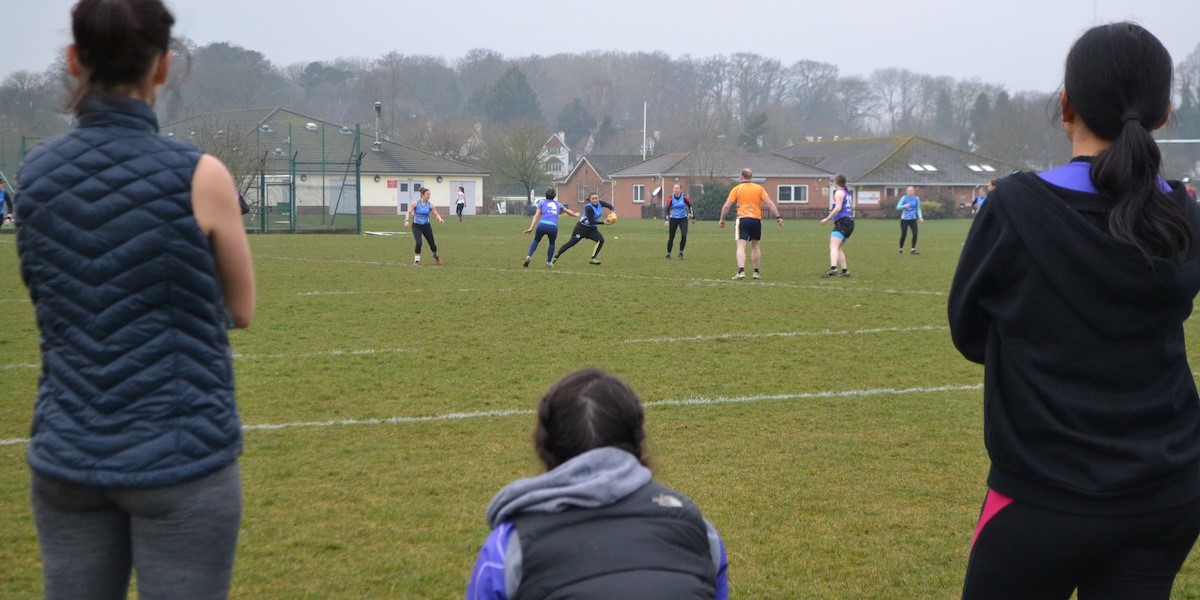 Volunteers are crucial to the growth and survival of Touch.
The work of volunteers is vital to the success of our clubs and our sport at all levels of the game. If your club relies on volunteers, then you will need to think about how you find, keep and develop them.
Clubs can never have enough useful volunteers to aid with the running of the club. Get in touch with your local club to get involved.
Does your club always rely on the same group of volunteers to survive?
With more well organised people involved, the time commitment of those currently helping out can be significantly reduced.
Get more to do less.
If your club is in this position, think about:
What do you need volunteers for?
Are you using your existing volunteers in the best way?
Where do I find new volunteers?
Who can help me find volunteers?
How can I recruit volunteers in a safe way?
For the answers to these questions and other advice on volunteering, visit the Sport England Club Matters website
Volunteers are more likely to continue to support your club if they have a positive experience and are happy and confident with what they are doing. This applies equally to existing volunteers as well as those that are new to your club.
The following steps will help you to get volunteers embedded into your club and keep them involved:
Be welcoming
Be clear about roles and responsibilities
Understand your volunteers
Talk to your volunteers
Motivate your volunteers
Recognise your volunteers
Helping your volunteers to develop can keep them motivated and committed to your cause. It will also give the people running your club the skills they need to do it effectively.
Some of the key skills in volunteering are leadership, effective communication, delegation and negotiation.
Case studies - making a difference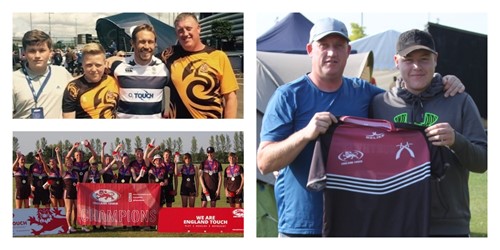 Winner of the England Touch Workforce Award 'Inspiring Others' 2019, Kevin Hattersley is a volunteer player and coach for a range of clubs in the North West region. Every day he is involved in a rugby-related activity which he juggles around his full-time job and family commitments.  
Kevin's motivation to volunteer stems directly from his personal experiences. Having had ambitions of playing professional rugby when he was younger, he watched his friends go on to be England internationals. But life took a different route for Kevin. Faced with personal and career upheavals, he worked through these and rebuilt himself.
"If I can help one junior to fulfil their dream and stay on the right track in life, my mistakes as a kid will have a positive outcome."  
Kevin's volunteering journey
"I got involved with touch in 2013 at Orrell Anvils O2 touch at Orrell RUFC after a 'dad and lads' Christmas game when I was approached by one of the other parents Gary Povall to go along and start training.
"Although Rugby League was my first love, my son Jake wanted to play Union, which is how we ended up with the club where we have been ever since and over the last five years I have been coaching alongside Gary."
For both Orrell RUFC and Orrell St James he is a player and coach for mixed teams aged from 12 wll the way up to 50+. Until the end of the 2019 season Kevin was the coach for the North West Blades Juniors and U18s Mixed team and the Caldy Cougars Touch and Caldy RUFC ladies team (ages 14-50+).
In his position as North West Junior Lead for the Blades Kevin has worked continuously with local rugby clubs to develop junior level touch over the last few years. In doing so, two junior Blades teams have been created – the U15 and U18. He has introduced Touch to several new clubs giving players opportunities to represent the Blades at junior and senior levels with some players going on to be selected for England.   
"The juniors section is relatively new and is already starting to see on average 30-35 Mixed players across both 15s and 18s over the last three years, with a success rate of approximately 50 percent going on to High Performance Training Squad selection in their first year of playing Touch."
Despite the Blades Mixed 18s having only been together for three months, and having seven players new to both Touch and indeed any form of rugby, they stormed to the gold medal at the 2019 Nationals.
Kevin's year was capped by the 'Inspiring Others' Award, which was unexpected.
"I just do what I do without thinking and not for recognition, so receiving the award was so humbling."
What does volunteering as a coach give Kevin?
"When you take someone, whether it be a junior or an adult, that has never played rugby for whatever reason and you give them the confidence in their ability or that with mini steps they can achieve something it's a feeling you can't describe.
"Giving people the opportunity and the guidance is unbelievably rewarding but most of all these people - kids, adults and parents become friends for life."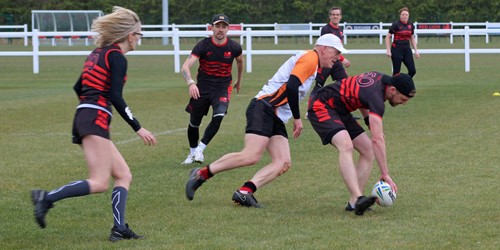 "I feel great when I bump into former pupils from my school and they thank me for introducing them to rugby, football or Touch. It's incredibly rewarding."
I initially volunteered at Norwich Rebels because the club was in danger of folding due to lack of numbers and few opportunities to play locally in Norfolk. When I discovered Touch I realised that I absolutely loved it and didn't want to lose the chance to play regularly.
I started the Norfolk Touch League in 2013 to encourage more teams and individuals to play in the region. The number of teams and the quality of touch has improved steadily over the past six years.
I started coaching informally by accident. We didn't have a regular coach at Norwich Rebels that was able to attend every training session so I stepped in to fill in the gaps.
I've tried coaching and playing in competitive teams. I've coached the Norwich Rebels first team and Norfolk women's team in the past. I don't really enjoy this type of coaching and, if I'm honest, I'm not very good at it.
My specialty is coaching children and adult beginners. I get a kick out of getting people who have maybe not played a team sport since school picking up a Touch ball and having a run around with friends. It's brilliant when those same players progress to playing competitively but it's also great when they play socially every week. I really love the inclusive and supportive culture of touch that enables people of all ages and abilities to enjoy playing together. I hear time and time again that people were put off team sport at school and were made to feel inferior by teachers and other children. If I can help to reverse some of this damage I'm happy.
I've been lucky to coach primary school children in various sports including Touch since 2010. I have first hand experience of how massively important physical education is to children in developing resilience, team working, problem solving  and showing respect as well as the obvious physical benefits. I feel great when I bump into former pupils from my school and they thank me for introducing them to rugby, football or Touch. It's incredibly rewarding.
I want every new player that comes to Norwich Rebels to enjoy Touch as much as I do and keep coming back. We have an ambition of having a 50/50 women and men split. Together with Emma Baker I've been running women only beginner sessions in Norwich since 2014. We've getting close to 50/50 women and men split but we still have work to do.
I've coached at many school tournaments and have witnessed how damaging "win at all costs" coaching can be to young children. I run an annual school touch festival where we mix up the players into equal ability groups, teach  them how to play and then play a tournament. All the games are competitive and this also enables children who wouldn't normally be picked for school teams to have a chance to shine.
I love volunteering with Norwich Rebels because the other volunteers on the committee and coaching staff are very hard working and supportive. We share a vision for the club and try really hard to make it accessible to all type of players from full internationals to occasional social players.

"Volunteering allows me to give something back to a sport that's been very good to me over the years."
Background
I was first introduced to touch in 2004 whilst living in Japan. I played in a single tournament, with the Okayama Grapes of Wrath, which we won, then forgot all about it. It wasn't until I moved to London in 2011 that I started playing regularly, initially with a few social teams (Blindside, Evolution, Galaxy), then joined London Eagles in 2012 where I've played my club touch ever since.
I've also been lucky enough to represent the South East region open and senior teams at the touch nationals and have represented England since 2013 as part of the Men's 30s and Men's 35s teams and currently part of the Senior Mixed training squad.
What do you do?
As well as playing for London Eagles, I was an active member of the club's committee for over five years. My main responsibility was leading and developing our mixed teams. Starting off with one team entering the Challenge Touch Series in 2013, we grew (and improved) year on year, managing to enter three mixed teams in the 2019 Elite National Touch Series. Over the years I've got involved in coaching, league management, kit design, managing international tournaments, club socials, end of season awards and a vast amount of touch admin.
In addition to my club duties I've coached the South East Mixed Opens and Men's 30s through a number of Nationals campaigns and captained the England Men's 35s team for the past four years.
What motivates me?
The biggest motivation for me is seeing players improve and develop on the touch field. Seeing players go on to represent their region or their country and knowing that we played a role in helping them get there is a truly rewarding experience.
Why do I volunteer?
Volunteering allows me to give something back to a sport that's been very good to me over the years. As well as some fantastic experiences on the pitch, it's taken me to numerous countries across Europe, as well as the USA, Australia and Malaysia and it's introduced me to some amazing people. Whilst I was honoured to be selected for the special recognition award, i'm fortunate to have been part of a team of hard working committee members (for both London Eagles and SETA) who have all played their role in getting our club and region to where they are today.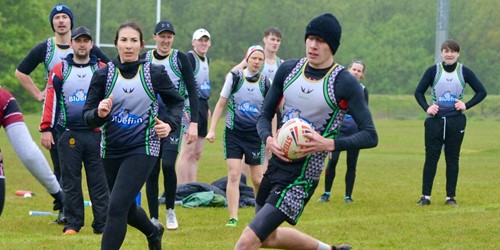 "I can honestly say that my time spent as a Touch Rugby volunteer has been incredibly enjoyable and rewarding, but also hard work. Volunteering has given me a sense of belonging and also a great feeling of pride not just in my club but towards the game."  
I think that my Touch Rugby volunteer story is quite different to most as I have never actually played Touch, not once. I stumbled across the sport when looking for an activity locally to give my then 13 year old son an outlet for his energy. As a keen union player both at school and club level he was active until around May when the rugby season came to an end.
The club that we found, Northampton COYS Touch Club had a minimum age requirement of 14 years at the time. After a little persuasion and my promise to remain on site at all training sessions, Will began to train and play Touch. The fact that I was pitch side at every session without a role as a coach or referee made it very easy for me to put my hand up to help out when needed. The more Will played and developed, the more we both enjoyed our Touch Rugby experience.
After the first few months, one of Will's new team mates "Whimpers" suggested he attend regional trials so we started to head further afield for trials and training. Will was proud to be selected as a Southern Maverick and I was happy to drive him from our home in Northampton to training sessions as far away as Canterbury. I started to bring along my camera to take a few photos to pass the time and very soon after was photographing the whole team in action and sharing images with the other parents.
As with most amateur clubs, there is a small group of volunteers who work behind the scenes to keep everything ticking over. I decided to become one of them at Northampton COYS Touch Club by joining the committee and starting to contribute more.
The photographs I started taking of Will became photographs of the whole team in action, the photography then became film and I became a regular fixture at tournaments with my video camera. The more tournaments I attended with the team the more I tried to improve the team experience for everyone. We found some folding benches that the team could sit on together and brought along a big speaker to play music to add to the atmosphere. The more we did, the more fun it became. I would spend hours after a tournament, editing and piecing together highlights of each game for the players to look back on. As Will improved as a player, Regional became National and our new 'Touch family' grew. Travelling away from home for Touch fixtures for me would also mean the chance to catch up with new friends from all over the country so it was always a pleasure.
My involvement with Northampton COYS Touch Club has continued to grow. In addition to providing photographs and film of the club members in action I now run the club's social media adding content to the Facebook page and website when I can plus posting to Twitter and Instagram.
I  have become the contact point for new members wishing to play Touch and chat with them through what we can offer as a club. I have helped the club update the playing kit and sourced a local supplier who is able to provide both off field and on field sportswear.  The club members have also enjoyed a few social events such as a Race Night, Football World Cup Competition, Love Island Sweepstake and Lucky Boxes Draw which all came about after I thought I had too much time on my hands! One of my favourite events was the club's black tie 2018 Awards Night at which we all sat back and enjoyed some Oscar worthy film clips before each of our winners was announced. Luckily the media side of things was all pre-prepared as I also catered a three-course meal for nearly fifty people without the use of a kitchen at our then training venue.  
I can honestly say that my time spent as a Touch Rugby volunteer has been incredibly enjoyable and rewarding, but also hard work. I am a believer in you get out what you put in and I feel that my efforts are very much  appreciated and that I am part of a great team. I have spent some incredibly happy days pitch side, in all weathers, which more than makes up for the endless hours of driving to different venues. I have met some amazing people, from all walks of life and of all ages, who I now consider my friends. 
Volunteering has given me a sense of belonging and also a great feeling of pride not just in my club but towards the game. It's great when we can celebrate a team win, but it is perhaps even better when one of our players takes to the field in their first tournament and makes their first touch.   
In most cases I think that someone's love of the game would lead them to help out..for me, helping out has led me to love the game!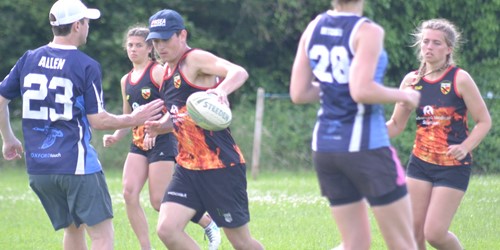 "I would like others to experience what I have had the pleasure of being involved in - and being able to facilitate that has been a joy to be part of, let's hope we see many more years of enjoyment."
Working alongside my wonderful wife, Siany, we helped start the Crewe & Nantwich RUFC Touch section in 2011 – which is where it all began initially as players then probably more as facilitators.
We got involved because of the joint love of rugby as a sport and the fact that we could both play together and we wanted others to be able to have that same experience. Over the years we have formed a 'Touch Committee' with several key members of the club (and parents) now fully integrated within that group. Without the support of the committee this would not be possible.
My role as a Volunteer at the club includes:
Committee member helping with the governance and running of the club, ensuring that we provide a safe and enjoyable environment for players aged 10 upwards

Coach

Referee on a weekly basis and during the winter/summer comps 

Player (at Development NTS and Emerging MWTC level)

Manager for each of the Dev NTS ("Ignite"), Elite NTS ("Blaze"), MWTC (Men "Inferno", Women "Flames") teams – ensuring that all players are able to participate in competitive Touch (physically, mentally and financially) and general competition "dogsbody"

Weekly posts for Social Touch sessions (both pre and post) on Facebook, Instagram and Twitter

Promoting the success of our players at Regional and International level (and successes outside of Touch)

Ensuring the smooth running of the Touch sessions on a weekly basis (Summer twice a week and in Winter once a week)
Events such as local leagues, Elite NTS and Dev NTS require attendance to help 'guide' our young squad (with an average age of just 22 for our elite squad) members through days/weekends of competitions.
As a club, we strive to get more referees qualified and now have numerous L1 qualified officials, four L2s and are very proud to have one L3 amongst our ranks.
On the playing side we have also had the joy of seeing a number of our players represent the Regional teams and subsequently the International stage with representation in most age categories - an amazing feat for a team from such a small pool of local players.
I would like others to experience what I have had the pleasure of being involved in - and being able to facilitate that has been a joy to be part of, let's hope we see many more years of enjoyment.