Selection Pathway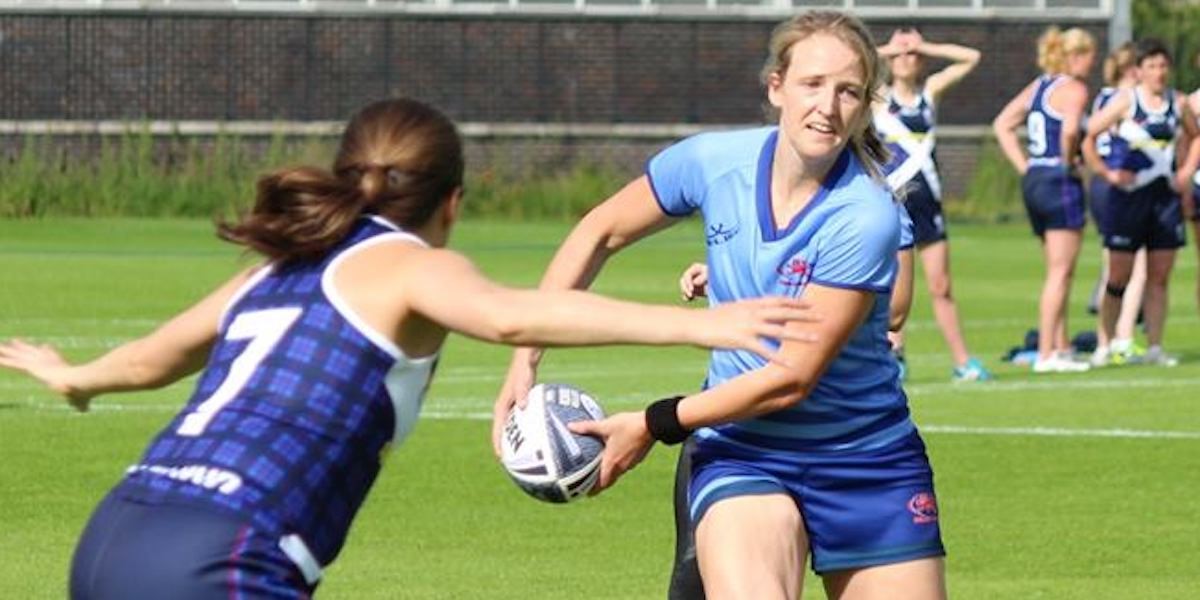 The purpose of this policy is to ensure a fair and equitable process is undertaken for the selection of England Touch representative teams.
This selection policy consists of three sections. The first section states the England Touch High Performance vision and values. The second section defines the application of the policy. The third and final section details the player selection policy under the following headings:
Talent Identification Program
Player Selection Process
Player Eligibility
Talent Identification Events
High Performance Training Squads
Final Team Selection – Touring Teams
Team Composition
Post Selection
High Performance Vision and Values Statement
The England Touch High Performance (HP) Vision
It is the aim for England Touch's High Performance programs to engage the most talented and well-rounded individuals to represent England's qualities, ethos and performance standards at International events
England Touch's Value statement defines what is good about our sport and are central to what we do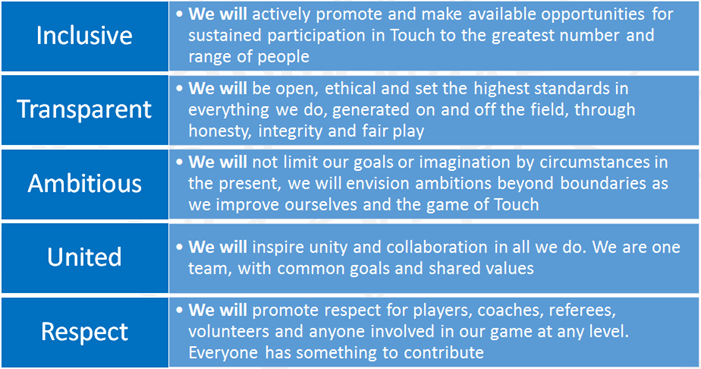 Policy application to squads/teams and divisions
This policy outlines the guidelines that will be in place for the selection of all England squads or teams. Merit teams will not be selected in any divisions.
This policy should be used as a starting point for selection of all England representative teams, as it will ensure the selection process is consistent at all levels and is not compromised in any way.
Throughout all, an England perspective should be applied to all selections. With this in mind players selected to represent an England team/squad will be selected in the divisional team/squad that England Touch, through the High Performance Program, deems best meets the needs of England i.e. players who make themselves available for England selection may be selected in any team they are eligible for.
Where a player has been selected in an England team and subsequently withdraws from that team with a valid excuse, such player shall be deemed ineligible for selection in any other England team for that tournament/series.
Where a player has been selected in an England team and subsequently withdraws from that team without a valid excuse, such player shall be deemed ineligible for selection in any other England team for that tournament/series and, shall show cause why they should be considered for any further England team in the future.
The selection/TID process shall be undertaken by the Head Coach and his/her duly appointed Assistant Coach in each of the relevant divisions. The High Performance Director will oversee the process and be part of all deliberations in all divisions. (Note: High Performance outcomes shall be the priority in all selection deliberations and final decisions)
England Touch player selection policy
Acronyms
HP = High Performance
HPTS = High Performance Training Squad
TID = Talent Identification
TT = Touring Team
Talent Identification Programme
Objectives
To identify players with the skills and attributes to be excellent open level touch players and representative ambassadors for England Touch.
To identify potential future open players already playing touch and monitor their progress with a view to inclusion in the relevant HPTS.
To monitor players currently in the HPTS.
Process
Players who wish to be considered for England selection shall be required to be TID'd in at least one of the following, noting that the England Touch Nationals event is the primary event for selection purposes and athletes are strongly encouraged to be at this forum. The other events are considered secondary events for TID purposes.
England Touch Nationals inc Junior/Master Nationals
European Permit Premiership and Championship tournaments
European Junior Touch Championships
Other sanctioned England events or tournaments
The England Touch High Performance Panel, which consists of the England Touch High Performance Managers, England representative coaches, and any other appointed England Touch personnel, will assess players at the above competitions.
Players will be assessed using the England Touch Talent Identification Assessment Form. The comments section is for information gained from the player and/or their coach that may be relevant e.g. goals, attitude, maturity, experience, response to training, etc.
Assessment is based on four main areas: physiological, core skills, game play and psychological. These factors are rated according to the standard seen at the specific event, not as a comparison between events.
This information forms the basis for discussion about individual players when reviewing the current and potential players in the England squads/teams.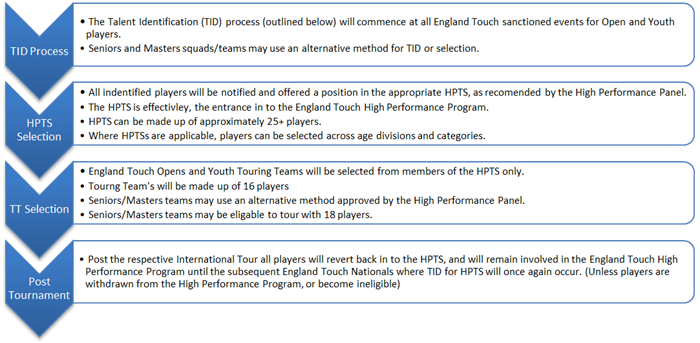 Player Eligibility
Players are to be deemed ineligible if they participate in any unaffiliated competitions.
All players participating in England Touch Nationals are automatically deemed eligible for selection unless they do not meet any of the other eligibility criteria stated below and within this document.
Players must have:
full and valid England Touch membership
agreed to the terms stated within the England Touch Code of Conduct, which will be updated as and when deemed necessary and appropriate by England Touch
no outstanding debts to England Touch
Players must remain fully financial (i.e. no debts) with England Touch and meet all payment deadlines.
Talent Identification Events
Tournament selection
Players can be selected across age divisions. However, players can only be selected from a division regarded to be of a higher standard if those players are eligible. For example, if a player is eligible for the Men's 35s division and is playing in the Men's 30s, then he can be considered for the Men's 35s team. This does not apply to Youth players who may be deemed to be suitable for an open division but who have never have played at the open level.
Eligible players will automatically be considered for other divisional squads/teams.
Injury or illness during selection events
Players should in most cases, participate in the designated selection event/s. However, consideration may be given to a player who suffers an injury or illness or has extenuating circumstances prior to and/or during the event/s. If the player is not actively participating, requests for consideration of an exemption must be put in writing and sent to the England Touch High Performance Director prior to the event/s.
Each exemption request will be assessed on a case-by-case basis. A late exemption will only be considered for a player who suffers an injury or illness past the deadline and prior to the event.
Notification of player injury, illness or extenuating circumstances at an event is the responsibility of the player concerned. This must be in writing and sent to the England Touch High Performance Director (or High Performance Panel in absence of HPD).
High Performance Training Squads
The following process for selection into HPTS will take place from 2017:
Direct selection into Men's, Mixed, and Women's training squads based on the player pool available from Nationals, JTC and exemption in 2017 will be replaced by a single unified elite training squad – the High Performance Training Squad
The HTPS would consist of male and female athlete lists
All players within the HTPS lists would attend training sessions led by head coaches (for the age-division level, i.e. Youth, Opens, Seniors)
Male players are therefore answerable to both Men's and Mixed coaches, and female players answerable to both Mixed and Women's coaches
HPTS members (where possible) will train together in either the Opens or Youth divisions. Seniors/Masters may use an alternative method approved by the High Performance Panel.  Training can be either weekly or camp based. Members of a HPTS will also be required to comply with attendance at required meetings or workshops.
Admission to the HPTS
Players are identified and assessed at eligible tournaments/competitions
The High Performance Panel meet to review and discuss assessed players against team/ division criteria
Players that are successfully identified and meet the criteria specified for entry will be notified and offered a position in the appropriate representative divisions HPTS
These players now become eligible for team selection
Players are monitored and assessed to ensure they are still able to fulfil the criteria
Admission to a divisional HPTS (Open or Youth) can occur at any stage. This will be down to the discretion of the Team coach in conjunction with the High Performance Panel
Exclusion from the HTPS
The High Performance Panel reviews and discusses any players that it deems are not meeting the criteria/expectations or England Touch Values
The player is counselled by a National Coach and /or a representative of the England Touch High Performance Panel or HP Director
Players that do not respond to counselling are informed, in writing, that their position is under review and what actions are required
Players that do not respond to the letter or are not able to show due cause, are advised of their exclusion
Exclusion from the relevant HPTS (Open or Youth) can occur at any stage if warranted
Player Conduct
Behaviour both on and off the field (i.e. social media) will be taken into consideration when determining the selection of National squads/teams. This includes, but is not limited to, the following behaviours:
Phantom Touches (deception)
Sledging or Swearing (use of inappropriate language or gestures)
Misconduct
Lack of respect for officials and other players
Non adherence to the England Touch Code of Conduct
Non adherence to the England Touch Values
Should a player be involved in any such situation, they may become unavailable for selection to represent England. Players will however be given the opportunity to state their case in writing to the England Touch High Performance Director and/or High Performance Panel.
Final team selection
Team selection will occur in the following order:
Men's Open, Women's Open
Mixed Open
Youth teams, Senior teams
Touring Teams (TT) will be made up of 16 players selected from the HPTS.
If once the TT is selected and a player has to withdraw a member of the HPTS will be called upon to fill the position.
Touring Teams will be based on the best-performing players according to the selection criteria outlined by the appointed coach of the division for the makeup of their respective team. Factors including team unity and cohesion will also be taken into account.
The best team determined by the Head Coach for that division will be selected, as opposed to the best-performed individual players, subject to performance.
All of the England teams shall be announced via the England Touch website when all teams are finalized and until that time, strict confidentiality applies to all involved in the process.
Upon announcement of the teams all selected players shall, within the communicated timeframe, be required to confirm their availability to serve as final confirmation of selection.
Shadow players: all members of the HPTS not originally selected in the final touring team will effectively be shadow players. These players will be advised in writing.
Players not selected in the final team will remain a squad member of their division and remain available for selection in the final team if a replacement is necessary. If a replacement player is necessary he/she must be selected from these remaining squad members.
Junior and Youth teams and squads
England Touch Youth team or squads can be selected in male and female under 15s and 18s squads. These players will be selected through the process outlined in the England Touch Talent Identification Program.
Team composition
This relates to the positional, skill and team related criteria for the team to be selected. The Head Coach will advise all HPTS members of their intentions around the TT composition as early as possible, if appointed at the time.
Post Selection
A panel consisting of the High Performance Director, a member of England Touch High Performance Team, and one other neutral person shall to be established to facilitate and manage all selection disputes and or dispensation requests.
Replacement of Players
Injured or unfit players may be replaced at any time, up to the commencement of the International event.
The Head Coach for affected team, in consultation with the England Touch High Performance Panel, will then decide upon replacement players.
Before any player replaces a selected player, the Head Coach of the affected team(s) may reconsider reshuffling the composition of the team.
Should a player withdraw from an England team the replacement method shall follow the process below:
The Head Coach of the affected team contacts the High Performance Director and notifies them of the withdrawal including relevant reasons. (Note – Players may be asked to provide documentary evidence of the reason of withdrawal if applicable)
The Head Coach of the affected team selects a replacement player from either the Mixed or the available shadows. (note – All replacements must come from the Mixed or shadow list first and additional players may be considered only after this list is exhausted)
At all times – High Performance outcomes should take priority when replacing players and the relevant Managers will have the final say in this regard
Should a player withdraw from the initial squad the replacement method shall follow the process below:
The Head Coach contacts the High Performance & Pathways Manager and a replacement is chosen from the shadow list