Mens NTS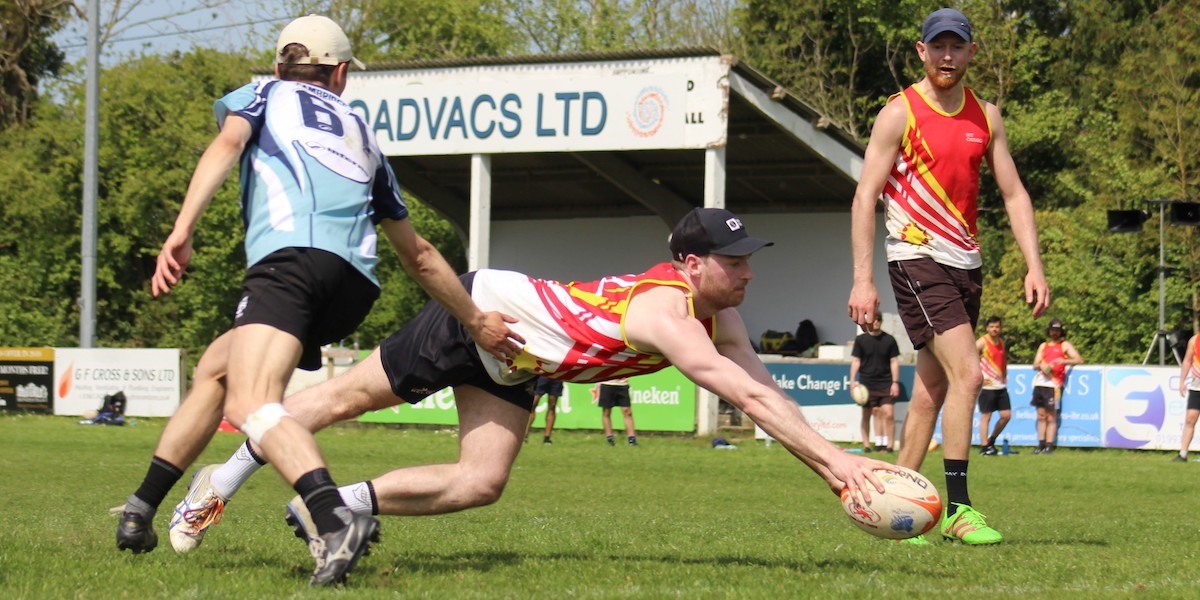 The Mens National Touch Series gives clubs the opportunity to compete in single gender competition.
For 2023 the Mens National Touch Series has been recognised as a tournament in its own right, reflecting its place within the England Touch pathway. The Mens National Touch Series has also been streamlined into Divisions, away from the previous 'Elite' and 'Development' competitions of previous years.
However, there are distinct formats for Divisions 1 and 2 (aka the elite level) and Divisions 3 and 4 (more suitable for teams in the earlier stages of their development). All divisions bring teams together who are more evenly matched, making for more competitive action.
All divisions will have two one-day events at Banbury RFC.
2023 winners
Division 1 Old Wesley
Division 2 Canterbury Invicta Touch (also promoted: Manchester Foxes)
Division 3 London Scorpions (also promoted: Bristol Jets)
CLICK HERE to see the full standings
CLICK HERE to see pics from both events!
Men
| | | | | |
| --- | --- | --- | --- | --- |
| Team | Round 1 | Round 2 | Round 3 | Total Points |
| (M) London Scorpions | 26 | 20 | 18 | 64 |
| (M) NQ Rebels | 24 | 22 | 14 | 60 |
| (M) Old Wesley Touch | 10 | 24 | 20 | 54 |
| (M) London Galaxy | 18 | 16 | 16 | 50 |
| (M) Wigan Warriors | 22 | 18 | 6 | 46 |
| (M) London Eagles | 20 | 12 | 8 | 40 |
| (M) Cambridge Touch | 12 | 6 | 12 | 30 |
| (M) Hot Custard | 16 | 14 | 0 | 30 |
| (M) Nottingham Touch | 2 | 8 | 10 | 20 |
| (M) Raptors | 14 | 5 | 0 | 19 |
| (M) Oxford Touch | 8 | 4 | 2 | 14 |
| (M) Canterbury | 4 | 2 | 4 | 10 |
| (M) Thames Valley Vikings | 6 | 0 | 0 | 6 |
Men
| | | | | |
| --- | --- | --- | --- | --- |
| Team | Round 1 | Round 2 | Round 3 | Total Points |
| (M) PFT | 32 | 32 | 28 | 92 |
| (M) Chester Cheetahs | 30 | 28 | 30 | 88 |
| (M) London Eagles | 24 | 24 | 26 | 74 |
| (M) Bristol Jets | 26 | 26 | 20 | 72 |
| (M) Oxford | 20 | 20 | 24 | 64 |
| (M) London Vipers | 16 | 22 | 14 | 52 |
| (M) St. Albans | 18 | 0 | 32 | 50 |
| (M) Cheltenham Tigers | 22 | 8 | 16 | 46 |
| (M) Revolution | 14 | 16 | 12 | 42 |
| (M) Thames Valley Vikings | 0 | 14 | 22 | 36 |
| (M) London Galaxy | 8 | 25 | 0 | 33 |
| (M) Crewe & Nantwich | 10 | 4 | 18 | 32 |
| (M) Exeter Eagle Owls | 12 | 10 | 10 | 32 |
| (M) London Scorpions | 28 | 0 | 0 | 28 |
| (M) Cambridge | 0 | 18 | 0 | 18 |
| (M) Nottingham | 4 | 6 | 4 | 14 |
| (M) Yorkshire Thorns | 0 | 12 | 0 | 12 |
| (M) Titans | 0 | 0 | 8 | 8 |
| (M) Wigan Warriors | 2 | 2 | 2 | 6 |
| (M) Norwich Rebels | 6 | 0 | 0 | 6 |
| (M) Camelot Jesters | 0 | 0 | 6 | 6 |
2021 results
R1

Sat 04/09/21

Cheltenham RFC

Men's Winners Turtles
Women's Winners Thames Valley Vikings

R2

Sat 18/09/21

Cheltenham RFC

Men's Winners Oxford
Women's Winners Oxford