Drama, twists and turns on final weekend of Men's and Women's NTS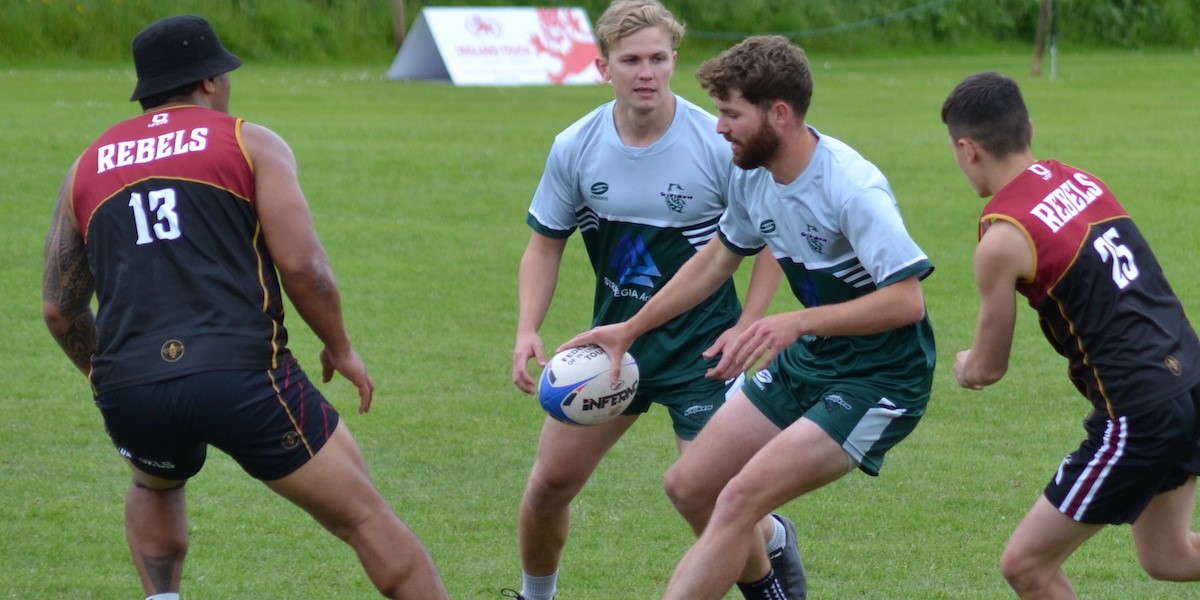 The destinies of the overall champions in both the Elite and Development Men's and Women's National Touch Series went down to the final matches on both Saturday and Sunday during Round 3 in Oxford.
After Round 2 both the Elite Men's and Development Women's leagues were tied between NQ Rebels and London Scorpions, and Revolution and Oxford respectively. This created opportunities for winner-takes-all clashes, and it took until the semi-finals for the eventual outcomes to be decided.
Scorpions and Rebels had been drawn in the same pool, meaning that the result between the pair was going to be crucial in establishing who was going to be facing Round 2 Cup winners, Old Wesley, in the semi-finals.
The two domestic rivals put on a humdinger of a show on Field 1, which Scorpions won 7-5 to put them in a semi-final against the runners-up in Pool B.
But who that would be was decided in rare circumstances and a first for England Touch. Both Galaxy London and Wigan Warriors had lost 5-8 to Old Wesley and drawn their own match 4-4. This meant that every deciding factor was tied, and instead of a coin toss the teams agreed for a straight-up drop-off shoot-out to sort who would progress as runners-up and who would be out.
Galaxy edged this 1-0, and their semi-final against Scorpions was just as dramatic, the team in grey and green going through 6-5. With Rebels pushing Old Wesley all the way but ultimately losing 6-7, this gave London Scorpions the overall title, even if Old Wesley did make it two Cup titles in as many Rounds.
Then on the Sunday Oxford and Revolution were kept apart from each other in the Pool stages, but knowing that whoever progressed further in the competition would be more likely to win the overall crown.
But Wigan Warriors had followed up their Plate in Round 1 with the Round 2 Cup, and quickly got on a roll back in Oxford, beating Chester 10-0. Even a draw with Cheltenham could not stop their momentum, and with wins over Thames Valley Vikings and Oxford they were back in another final.
Over on Field 3, Revolution were in a tough semi-final contest against London Eagles, which the West Midlanders edged 2-0, and by virtue of making the final they ensured that they, too, were overall champions.
Nevertheless, they did not let themselves get too relaxed, and in a tight and tense encounter with the Warriors, Revolution prevailed to win their second Cup title of the campaign.
But these paled in comparison with how the Elite Women's Series unfolded. As they had done throughout the three tournaments NQ Rebels, London Eagles and London Scorpions set the standard, going through their morning Pools with perfect records to set up a three-way afternoon Cup Pool.
Rebels' two Cup titles had put them four points clear at the top of the table, with Eagles' pair of second places keeping them in touch, but only just.
However, Rebels then drew with Scorpions, Eagles beat their London rivals by a try, and Eagles went into the final match not just with a chance of winning the day's Cup but also earning themselves with a share of the overall title by beating Rebels by a margin large enough to put the north-westerners into third place on the day.
The Eagles left their best performance of the Series until this last game, winning 4-1 to secure everything they needed to tie things up with 52 league points overall.
Compared to this, the Development Men's Series was relatively straightforward. PFT Foxes also led this by four points from Chester Cheetahs, but while both of these teams sailed through their morning pools unbeaten it was an unheralded team which threatened to upset the applecart.
St Albans had edged their way into the Cup knockouts by virtue of a one-better try difference than Revolution, but they made the most of their luck to see off Oxford 7-5 in the quarter finals, then PFT 7-6 in extra time in the semi-finals, and then Chester 4-3 in the final, also in extra time.
This earned St Albans their first Cup title in the Men's and Women's NTS, but by virtue of beating Chester – and PFT also beating London Eagles in their third/fourth place play-off – the overall title headed to Manchester.
Overall Winners
Elite MW NTS Women: NQ Rebels and London Eagles (shared); Men: London Scorpions
Development MW NTS Women: Revolution; Men: PFT Foxes
Round 3 Winners
Elite
Cup: London Eagles Women, Old Wesley Men
Plate: Hot Custard Women, Cambridge Men
Bowl: Nottingham Women
MVPs: Kensie McNaught (London Eagles), Matt Maynard (Cambridge)
MVR: Daren Roe
Development
Cup: Revolution Women, St Albans Men
Plate: Bristol Jets Women, Cheltenham Men
Bowl: London Vipers Women
MVPs: Clair Davis (Oxford), Mike Rice (PFT Foxes)
MVR: Dom Bes-Jeary