England Touch upskills Progressive Sports coaches to deliver Touch Rugby in schools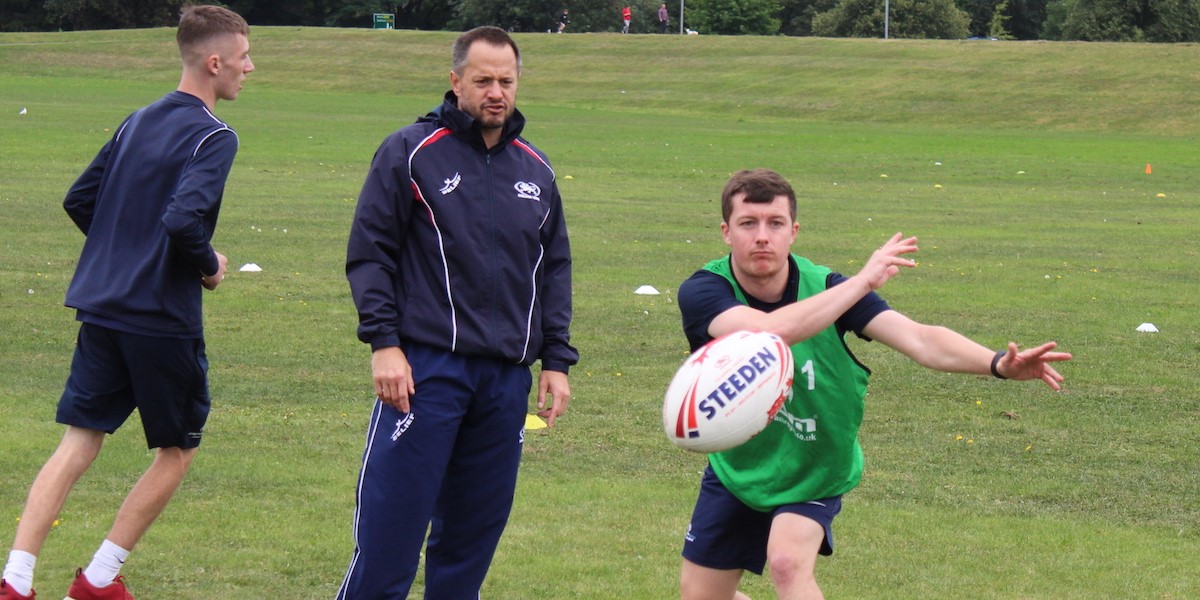 England Touch's National Development Officer, Sammie Phillips, and CEO, Chris Simon, were in Rugeley recently to upskill coaches from Progressive Sports' nationwide franchises ahead of the new school year.
Progressive Sports is one of the country's leading providers of sport within schools, their 30 franchises getting more than 75,000 children and young people more active each week and supporting hundreds of schools in realising their visions for PE and school sport.
As a company which is always seeking to live up to its name, Progressive Sports is always looking for new sports which will help them deliver more effectively within schools, which is why Franchise Manager Shaun Rashid is delighted to have added Touch Rugby to the mix.
"Touch Rugby is not something we've done in the past but it gives us a bit of an edge and something new to deliver in schools," he says. "We are in a highly competitive marketplace, so by being able to offer new services like Touch Rugby across the UK can give us some momentum.
"We don't have a great deal of time in primary schools and from personal experience putting tag belts on children can be quite time consuming, So Touch Rugby will eliminate that and children can get active more quickly. For us this will be a huge benefit and a huge positive and I know teachers will enjoy watching it as well."
For England Touch an arrangement like this, where workshops are delivered along with continuing support and resources to companies like Progressive Sports, is crucial in helping accelerate the growth of Touch Rugby among children and young people.
"We need to work with other deliverers to get Touch Rugby into schools and get more young people playing," Phillips says. "It's really important for us because that is where the sport is growing the most at the moment.
"We want to encourage that growth and to work with companies and coaches who can deliver into schools and at festivals, making those connections whereby we can grow the sport together.
"Progressive Sports' coaches all seemed to be having fun – I don't think they appreciated how fitness-intensive it is! But we've also had lots of questions about how to get kids to improve, understand the rules and enjoy playing the game, progressing into fuller games of Touch Rugby which can be played against other schools.
"Hopefully we can then look to get lots of schools together to pay Touch Rugby at festivals in both Mixed, Boys and Girls teams."
Phillips, along with other England Touch Development Officers and focus groups of teachers, has developed an amended version of Touch Rugby called Super6, which is specifically for schools.
Super6 promotes key curriculum skills such as running, agility, catching, throwing, jumping and balance, utilising core Touch Rugby skills such as catching and passing, evasive running, making a defensive touch and scoring a try.
"We developed the kind of game which could work well in schools, not just for sports coaches to teach but also teachers to teach, especially in primary school, and you don't have to worry too much about things like specific tactics or offside," she adds. "It's a good fun game to play and we hope it will grow well in schools."
CLICK HERE to find out more about Progressive Sports.
CLICK HERE to email Sammie Phillips if you are interested in delivering Touch Rugby within your own school, or if you are a coaching company looking to add the sport to your portfolio.