Soggy Sussex Saturday cannot dampen spirits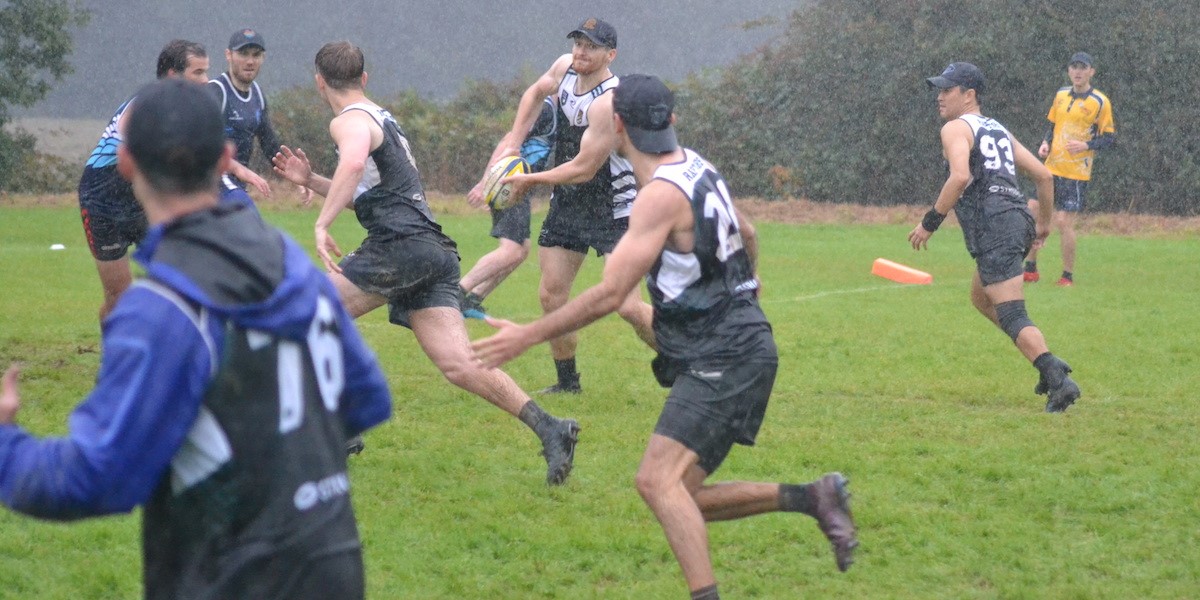 The Elite Men's and Women's National Touch Series had the soggiest of starts in Sussex, so much so that two rounds of matches from the afternoon have had to be postponed until Round 2!
While conditions in the morning had been promising, by the time the action tapped off the first drops of rain were falling in what would become the most biblical of torrential constant rainstorms during the course of the day.
So it was to every team's credit that the skill level remained extremely high and some of the pools could not have been more competitive.
Women's Pool B was exhibit A, where two of the three games played ended in draws and the third was decided by just one try. By virtue of that win Raptors progressed through to the Cup round-robin, with Galaxy London's loss putting them into the Bowl and Nottingham into the Plate.
Meanwhile in Pool A NQ Rebels saw off London Scorpions and Thames Valley Vikings to go into the Cup, with the 2019 champion Scorpions into the Plate and the Vikings into the Bowl. And Pool C belonged to CSSC London Eagles, with Cambridge into the Plate and Wigan into the Bowl.
The Men's side of the day belonged to the three London clubs, with Scorpions winning Pool A, Galaxy Pool B and Eagles Pool C, all with perfect records. Nottingham and Wigan both progressed into the Plate with a win and a loss each, but Thames Valley Vikings needed try differential to split them from Raptors in Pool C, with Raptors joined by Oxford and Cambridge in the Bowl.
The worsening weather and resultant dangerous pitch conditions meant that while two rounds of the trophy pools were played, the final set of matches in both the Men's and Women's competitions were postponed until Round 2 in Oxford on October 16th.
The Men's in particular could not be more finely poised. The Cup will go down to a de-facto final between London Scorpions and Galaxy London, who both have one win each. In the Plate Wigan still have a chance of overhauling Thames Valley if they turn on the tries in their final match against Nottingham, while Raptors cannot be overhauled for the Bowl.
Over in the Women's competition the Cup also goes down to a final match, with a winner-take-all clash between NQ Rebels and Raptors, with every game played so far having ended in draws.
In the Plate, London Scorpions need a win or a draw against Nottingham to lift that trophy, while Galaxy have been awarded the Bowl.
CLICK HERE to see photos from Horsham
CLICK HERE to see the results