Coach Smith leaves with immediate effect
Starting his UK Touch career at Oxford Touch back in circa 2010, Ben Smith made a huge impact on the scene ripping teams apart in his 'Golden Boots'. Over the next seven years, he played for pretty much every team in the country due his love of the game.
His England coaching started in 2011 as a late-appointed assistant coach for the Senior Mixed side at the Edinburgh Touch World Cup, where he mentored the team to a very respectable fourth place. The following year saw Smith take on the Wildcats regional team and the head coach role of the Men's 30s team in Treviso at the 2012 European Championships, leading the team to a silver medal spot, whilst making a cheeky playing cameo along the way.
The 2013 Home Nations saw Smith take the reins of the Men's Open, injecting his enthusiasm, hindsight and foresight to the boys heading to Dublin. His team came away as champions, the victory he'd been seeking. This trend continued the following year in the 2014 Euros too, with another gold medal earned along with the accolade of coach of the tournament. A true credit to his leadership and vision.
[caption id="attachment_32338" align="aligncenter" width="960"]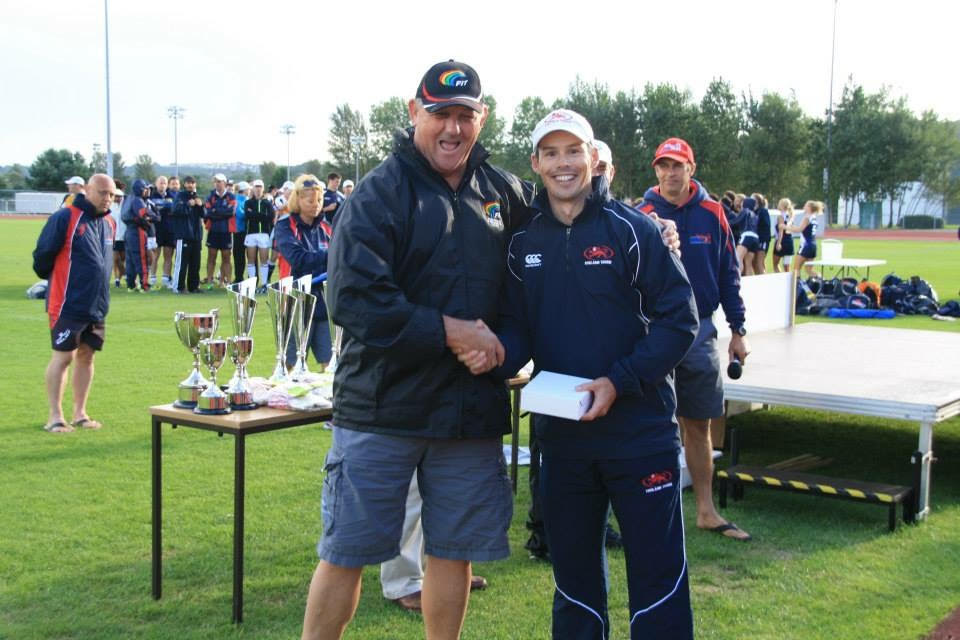 FIT director Peter McNevin presents Coach Smith with the coaching accolade at the 2014 European Championships[/caption]
The next competition was the 2015 Touch World Cup in Australia, which brought a very tough draw for the men's side.
Despite horrendous weather conditions, England battled it out against some of the best Touch teams in the world, but disappointingly the side bombed out of the Cup in day one and finished in 10th spot overall at the end of the five-day tournament.
Proving it's not how many times you get knocked down, but how many times you get back up, Smith regrouped the squad and led a great European Championships campaign in 2016, completing the tournament unbeaten and taking home the winners' trophy from Jersey.
In 2017, Ben has helped mentor the six EFT Permit Coaches and passing on his invaluable knowledge. As his final tour with England's Elite Men's Open squad he led a team to the prestigious NSW State Cup in Australia, which saw them compete against the country's top players. The lessons learned were invaluable and will stand the players and coaching staff in good stead going forwards.
"It is with deep sadness that I am standing down from my role as Men's Open Coach. I've enjoyed the role immensely and have always considered it a huge privilege," Smith commented. "I'll miss working with each of the players, and I wish everyone all the best in the lead up the Euros, the World Cup and beyond. I feel the road England Touch is on is going in the right direction and as with all roads there might be a few roadworks along the way but that's part of improving.
"I want to thank everyone for their kind words. It means a lot to me to have the friendships and respect of my fellow HP colleagues. Better never stops - it just gets better."
Tim Osborne will take over as caretaker Coach, and will be taking charge in the interim until such time a new head coach is appointed.
"It is indeed very sad that England Touch is losing one of its best and most experienced coaches," Osborne added. "We will miss Ben's critical insights and expertise, as well as his drive and passion for developing a distinct England style.
"It has been great coaching alongside Ben and working with him in the HP team. His time with all those athletes he's coached will surely be very appreciated too."
Chief executive Gregg Cropper thanked Smith for his contribution.
"Ben has been an excellent Men's Open coach," he commented, "and under his leadership the group of players were setting themselves up for a successful 2018. We're really sorry to see him return to Australia, and on behalf of everyone at England Touch we thank him so much for all the hard work and time he's invested in England Touch and wish him all the best for the future.
"The successful applicant to take over the team will be able to build on solid foundations, and it is an exciting opportunity for an experienced and ambitious coach.
[caption id="attachment_32340" align="alignright" width="281"]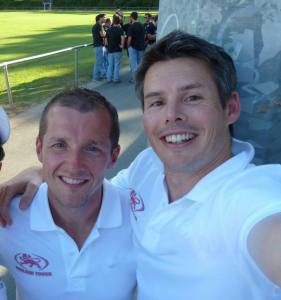 Cropper will be sad to see colleague and friend leave[/caption]
"On a personal note, I first met Ben back in 2010 and had the privilege of being under his tutelage for the 2011 World Cup as he came in as assistant coach for the tournament. His insight was second to none and his style was very similar to mine - straight talking - I think this is why we got on so well. Ben and I have become friends not just colleagues over the years and he'll be sorely missed. I wish him, wife Suz and his daughter Maeve all the very best for their new life in Australia and I'm sure our paths will cross again!"
Got what it takes?
Head to our
vacancies page
to find out more about the role and how to apply.