England Touch Leagues - Be Part of it!
About us
We are the governing body of Touch (Rugby) in England and as custodians of the sport, we encourage, promote, foster, develop and extend the sport of Touch in England, under the Federation of International Touch rules and guidelines.
With national coordination and administration of the sport, England Touch ensure standards are preserved and maximum cooperation and competition is provided countrywide. We're dedicated to the development and growth of Touch in England and the promotion of Touch as a sport that's accessible to all.
Why choose us?
We are currently expanding geographically and looking for individuals in areas without existing leagues to partner with, to provide England Touch Leagues to ensure anyone wanting to play can do so in a safe, fun and enjoyable environment. Following a review of similar sports and businesses, we've developed a model to suit both individual lifestyles and entrepreneurial ambitions. Little outlay and flexible operational hours are just two key advantages our new partners will see, whilst preserving and improving their work/life balance.
Expect more, Be more
Running an England Touch League is about encouraging participation in the sport and providing a quality experience for all involved. It's also about creating and maintaining the social buzz around it too.
We know that Touch players are like minded, like to have fun and socialise together, so it's our job to help them do this! Join us and you will benefit from an authorised 'League in a box' product, with first class training, continuing support and backroom assistance.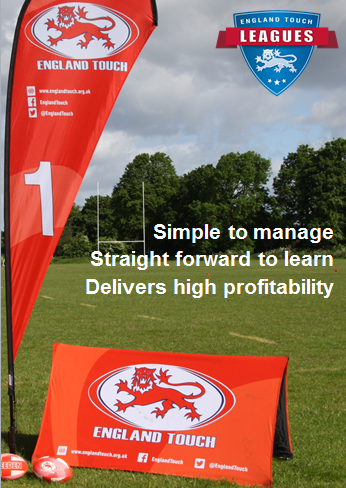 ENGLAND TOUCH LEAGUES set to take the country by storm
Leverage off a trusted and reputable brand and organisation. Characterised by professionalism, organised and utmost customer service, England Touch, with your help, are aiming to rapidly bring the excitement of competitive match play to many more players in underserved areas.
Be a part of it!
Why are we Expanding?
Touch is becoming increasingly popular across England, in many forms, with well over 25,000 registered players participating in both social and coached sessions in 2015, with over 150,000+ hours attended. Existing league partners are a big part of this success and will continue to be vital for introducing new players to the game. Now the time is right for us to spread our reach and take our sport to more communities and sports clubs nationwide. By creating a UK-wide network of England Touch leagues, we can make the sport more accessible, more competitive and more sociable for all those who want to play.
CHANGE THE FUTUREof social sport in England
For too long, many players, referees and teams have settled for mediocrity and below average standards when it comes to customer experience at social sporting events and competitions. Many existing touch leagues provide an excellent experience and will continue to do so. Through the
England Touch Leagues
blueprint, we aim to ensure the successes are replicated in other parts of the country, helping new providers deliver an excellent experience with superior competition administration, organisation, referees and ultimately,
the game itself.
We are growing rapidly, with over 40 registered clubs and more than 850 individual members. Let alone the 20+ affiliated leagues already running with around circa 4000 individuals involved. There's no better time to get involved with England Touch.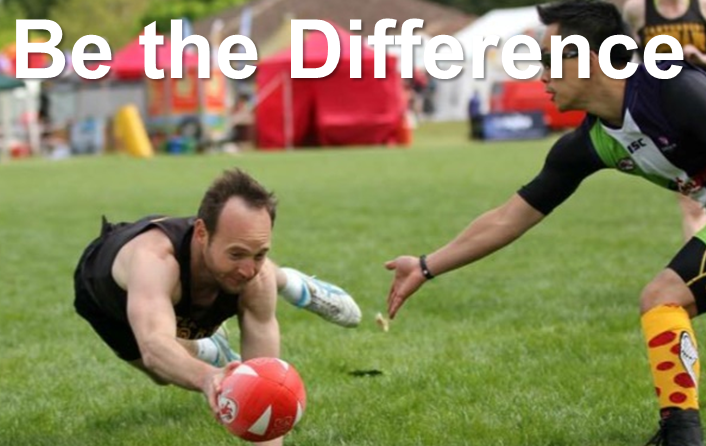 YOU ARE IN BUSINESS FOR YOURSELFbut not by yourself
As we launch the England Touch Leagues, we are looking for enthusiastic individuals, who are keen to grow the sport and a business at the same time. To take on England Touch Leagues franchise you need to be enthusiastic, organised and excited by the idea of building a fun, exciting and competitive league. It's likely that you'll already be involved with a local sports club or have good knowledge of the local Touch and sport scene.
For a customary primary set-up fee, you will be buying into the business and receive the following:
The permission to operate under the England Touch League brand name
Full technical and practical training
Online access to England Touch League registration site inc access to players, fixtures, results and site management and central administrative support
Turnkey package and easy administration
Equipment: Banners, balls, cones, equipment bag, whistles and branded staff kit
Insurance cover
Affiliation to England Touch and access to our partners and sponsors deals too
Marketing collateral - England Touch League branded banner/pop up
Promotion of your programme(s) on the NGB central website
Access to exclusive PR support package including templates and promo flyers
Invite to celebration evening, including England Rugby Tickets
National marketing and advertisement campaigns and support
Dedicated webpage for your business inc central support for IT issues
And much more!
3, 2, 1… GO!
Make contact. If you believe this opportunity is for you, register your interest by completing the online contact form, with no obligation.
Let's chat. Having registered, we will contact you, at a mutually convenient time, to begin discussing if you feel this opportunity is definitely for you.
Review. Once you've considered the concept, we will cover any questions you may have, send you the partnership agreement and begin to plan.
Launch. The exciting part! You'll receive software login and training along with the promotion and launch of your new league!
ENGLAND TOUCH LEAGUESbe a part of it
Contact us: 
Leagues@EnglandTouch.org.uk