Simon Yarrow Memorial Cup
When England take on Scotland in the M40 division on day 2 of the European Touch Championships in Jersey this year, there will be more to play for than just points and bragging rights. Traditionally this fixture also sees the winner take home the first piece of silverware handed out at the Euros – the Simon Yarrow Memorial Trophy. After winning the cup on home soil in 2010, England retained it by a couple of scores in Treviso. However, Scotland are the current holders, producing a second-half comeback in Swansea to take the cup north of the border for the first time.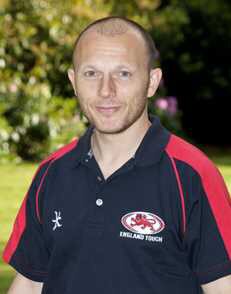 Simon accrued dozens of caps playing for Scotland at the highest level before moving down to Cambridgeshire. His passion for senior Touch was exemplified in his becoming the first M40 coach for the England national side, a side that continues to develop year after year as the division gets more competitive with every Euros.
Jon Lovell, captain of the England M40s commented: "If both sides show the commitment for the game Simon demonstrated every time he stepped onto a field this should be a great game of Touch. As a team mate of Simon during his time in a Cambridge shirt I'll be making sure the England team performs to their best so we can regain a hold of the trophy that honours him."
Scotland M40s captain, Ali Crozier said: "I didn't have the opportunity to know Simon personally but being part of the team to win the trophy in Swansea 2014 it was clear how much this means to both teams, coaches and the wider touch community. His legacy is one of continued development evidenced by the ever increasing skill, fitness and performance levels of both teams. I personally consider it an honour to continue his memory and we are determined to build on the tradition in the best way possible with a competitive and entertaining contest in Jersey."
Who will win this time? One thing is for sure – both sides are playing some great Touch, full of skill, flair and determination. It's going to be a cracking game, played in the best competitive spirit - just as Simon would have wanted.