England Touch Association and Rugby Football Union partner to grow Touch in England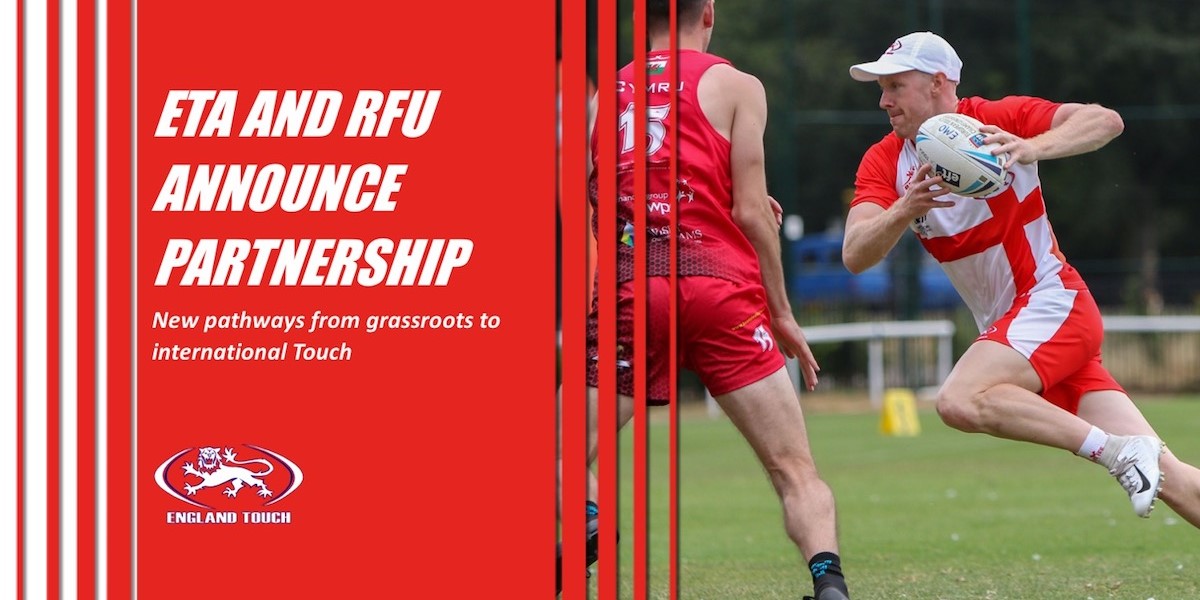 England Rugby and the England Touch Association (ETA) have formalised a new partnership to grow Touch across the country to coincide with the European Touch Championships currently being staged in Nottingham.
This new partnership will see England Rugby and the ETA work together to increase adult participation in O2 Touch and the ETA performance Touch leagues, underpinned by increasing the number of referees and coaches.
England Rugby will support the ETA to deliver wider pathways for players to progress all the way to the international stage.
Touch has undergone massive growth as a sport in the last few years, both domestically and overseas. England Touch now has 16 international teams across all ages, from mixed teams at Under-15 level all the way through to a men's team for players aged 45 and over.
All of these teams have regular international competitions, such as the European Touch Championships through to the quadrennial Touch World Cup, the next instalment of which will be held in Malaysia in April 2019.
England has been the leading country within Europe for the last three European Touch Championships and is looking to retain this crown in Nottingham. Over 1,500 players, referees and staff are making up 61 teams from 17 countries, with the main pitch being broadcast on BBC Sport Online – the first time the national broadcaster has covered Touch in this way.
Success on the international stage has been built on growth at club and grassroots level, and nearly 100 clubs are affiliated to the ETA. The ETA organises two competitions for Elite teams – the Mixed Elite National Touch Series and Elite Men's and Women's National Touch Series for single gender teams – with a further two for clubs and players earlier in their development. All of these competitions are staged across multiple tournaments during the year.
All of this recent growth has been built on the hard work of volunteers up and down the country, and England Touch Chief Operating Officer Gregg Cropper says that the partnership with the RFU and accompanying investment can help the ETA grow across its whole operation.
"We're delighted to have finalised and signed this new partnership," he said. "Having the support of England Rugby means a great deal to us, especially with the recognition that the England Touch Association provides the pathway for players to progress from grassroots all the way up to the international level. Our partnership with O2 Touch will enable us to expand this work, and we're looking forward to seeing it develop in the future."
"O2 Touch has been a real success story in terms of growth with 25,000 registered players in England," added Ben Lowe, Head of Growth, England Rugby. "Whilst O2 Touch is predominantly about recreational participation, this partnership with the ETA is important as it will enable us to grow support structures for those more competitive players and support more competitive playing opportunities.
"It's great to see players who have been introduced to the game via O2 Touch turning out for England in the upcoming European Touch Championships."