Notes From The Big Island - Part 4
By Martin Wright
Firstly the big news of the day is that I have yet to insult another Australian man. My search for the third biggest insult goes on! Oh and there is a small matter of the NTL Grand Finals today as well.
Mens Elite 8 Grand Final
In the men's competition we have an all Queensland affair with the Cowboys vs the Titans. Neither cruised to victory in the semis but both got up eventually. Tense games which were littered with errors and the odd flourish of brilliance.  In the women's competition it is the Broncos vs the Scorpions in the final. Both made it through to the finals reasonably easily by comfortable margins.
Perhaps the game I am most looking forward to is the Mixed Final which sees the Queensland Sharks take on the Sydney Rebels. A few of the Rebels players were opponents two years ago in the SMX World Cup Semi-final and memories of the ease with which they beat my team then are still with me. I have watched them a few times and the simplicity of what they do is striking. Economy of movement but maximum impact with each flick of the wrists or nod of the head. The main player I remember for the Australian SMX from 2015 is Manu Wakely so I wanted to see him in action again. Two years on when I saw him on the field my first thought was "Wow, he has aged". Not sure what he'd say about me if he saw me on a pitch again (actually I expect he'd say "who are you?")!
A word here about the setup. The tournament itself is a big deal, in fact I think they even rate the competition more highly than a Trans-Tasman or a State of Origin event. Coffs Harbour is an excellent venue for this with lots of high quality pitches, room for tents and infrastructure and also a good Pitch One and grandstand setup.  t makes for an excellent spectator and player experience.
On top of that though, they also live stream all games played on Pitch One with very professional camera work (I'm sure you've all been able to watch back home). This makes coaching analysis of the opposition much more effective and significantly enhances the standard of play. As you'll see from the above photo, the men's final, played under floodlights is without doubt a show piece affair with fireworks and pumping music accompanying the game. Whilst I like Cambridge as a venue for our Nationals tournament (and this is by no means a criticism), the grand finals of those events are still quite low key affairs. One can't help but think that if we want them to be the real show piece affair that makes the experience worthwhile, we might be well served to identify a venue which helps us create this.
A showcase event
I've added a photo of the Queensland Elite 8 squad tent tent below which is a good example of how they are just one notch above where we are in the UK.  Along with the usual changing areas with tables and chairs etc, there is a catering area where all teams get their lunch provided for them. This is in the form of a buffet which is provided all day long.  There is also a mobile wifi facility which can be used by all players and which enables the livestream to be shown on a big TV screen throughout the day.
The tournament experience for the Elite 8 players is very good and I think we should be trying to take a leaf out of their book with England Touch. I do accept that this all costs money and that Queensland Touch have ten full time employees who are dedicated to achieving this but with a few little touches we can make our playing experience a little less amateur and probably enhance our performances as well.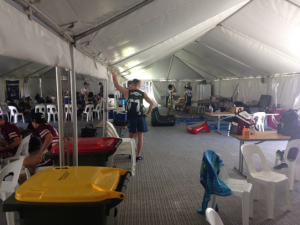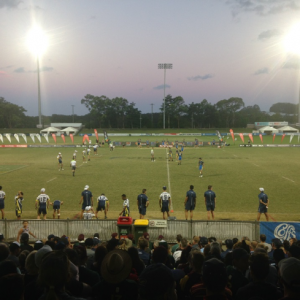 A professional player experience created by Queensland Touch
Time to kick back now and enjoy the experience of the finals. I'll sum up my trip tomorrow when I'm waiting in the airport for my ride back the UK.