Manchester: A Hive of Activity!
The worker bee was adopted as a motif for Manchester during the Industrial Revolution, and those running Touch in the area have certainly took on this mantle from the off in 2017. From the Manchester Chargers Touch Boot Camp, Manchester hosted Touch Championships, and Level 1 and 2 Referee courses to local derbies, the England Touch AGM, Junior Touch Discovery day, and even a Touch Stag Do, Manchester's got it all!
Manchester Chargers Touch Boot Camp
The Touch Boot Camp was hosted by Manchester Chargers and managed to recruit over 40 brand new players, who've never played Touch before! It ran over a six-week period every Sunday morning at Mancunians Rugby Club, where players were introduced to a wide range of Touch skills and techniques, taking them from total newbies, to comp ready, So much so that many of the new players felt confident enough to enter into the Manchester Championships with Manchester Chargers!
The Boot Camp was designed not only to up skill both new and existing players, but also to give players the chance to get fit in fun and playful ways. The Boot Camp included a wide range of activities including touch netball, and enabled many of the players to join a team and learn about the world of Touch. At the end of each session, one of the Chargers players brought in a huge batch of healthy banana bread and fruit, giving the players chance to make new friends over some nibbles and a brew.
[caption id="attachment_31193" align="alignleft" width="425"]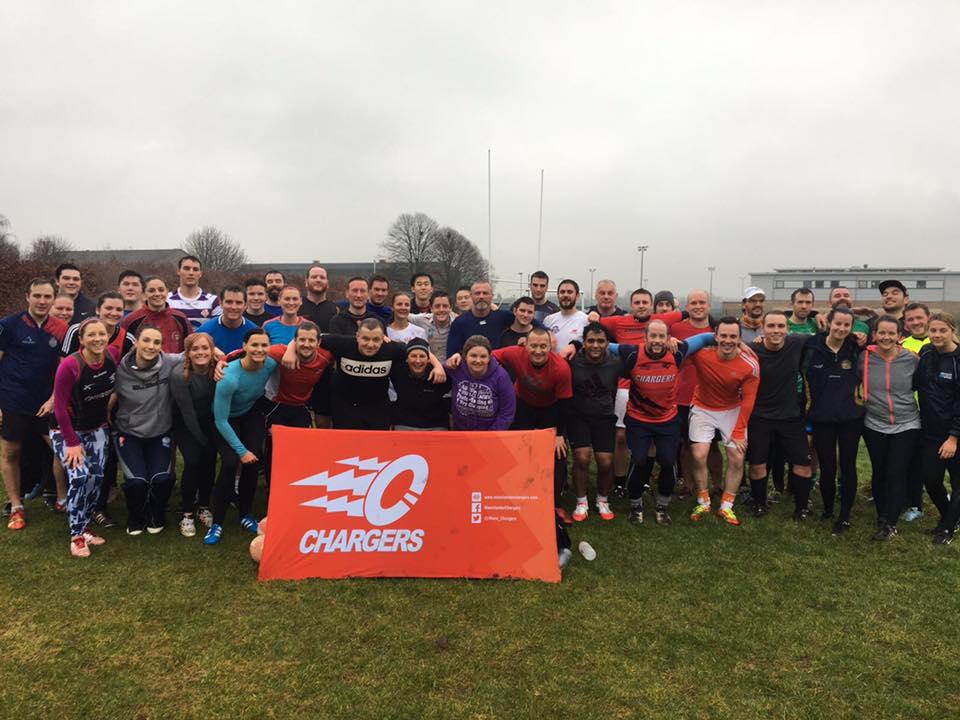 All smiles at BootCamp[/caption]
[caption id="attachment_31194" align="alignleft" width="425"]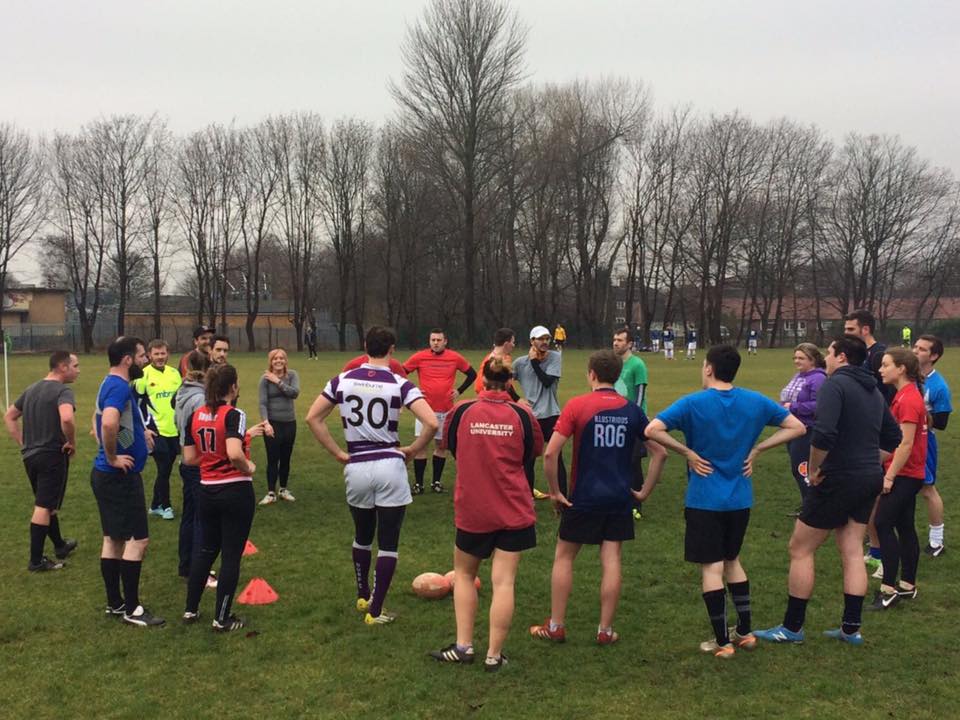 Ready to go![/caption]
The Boot Camp was so successful that it will continue to be hosted by Manchester's premier Touch club every Sunday morning at 10:00. You can follow Manchester Chargers on social media (Facebook and Twitter) or email manchesterchargers@hotmail.co.uk for more info.
Manchester Touch Championships
[caption id="attachment_31196" align="alignleft" width="300"]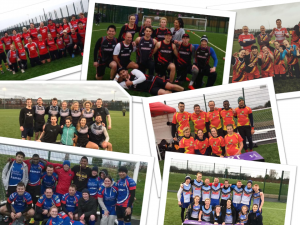 Team pics from the 8th Annual Championships[/caption]
The #NoMoreMud competition kicked off the season in style, with 16 mixed teams battling it out for silverware over the day on state of the art 3G fields. A great annual event that welcomes newbies and established team alike, giving everyone the chance to come away as winners! To see the full report of the Manchester Championships click this link.
---
Manchester host Level 1 and Level 2 Referee Courses
These referee courses took place in sunny Manchester with delegates from Manchester Chargers, Orrell St James, Halton Storm, Crewe & Nantwich Blaze, Stockport Rugby Club and Orrell Anvils. We had 12 attendees who all enjoyed the course, which was run by Jordi Bitlloch and Gregg Cropper.
[caption id="attachment_31195" align="alignleft" width="960"]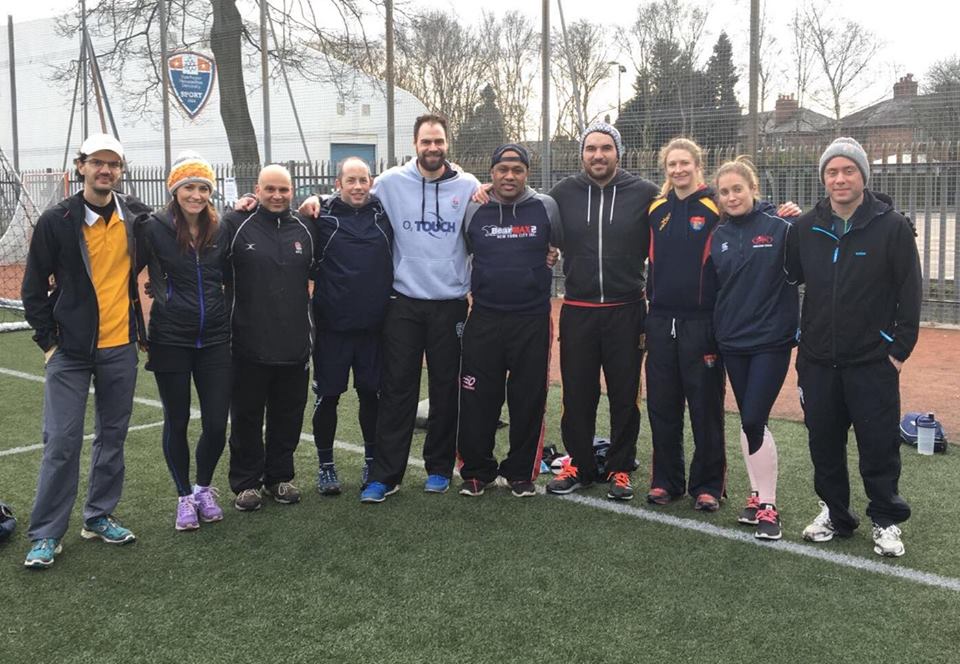 Level 2 Referee Course with 4.5 Chargers[/caption]
All participants developed their understanding of the rules of the game, the importance of communication, practical examples, and were then tested to consolidate their learning.
It was great to see so many youngsters getting involved too! Further courses are advertised on our website, along with referee apparel, to make sure you look at part too!
Give your Stag a Touch to remember!
Looking for a fun activity for a Stag Do? Well Manchester Chargers have just the thing!
They get lots of requests from beginners and experienced players alike who want to come and try Touch … but this one had a slight twist!
Manchester Chargers received an email asking if they could put on a fun beginners session for a Stag Do. In true Chargers style they jumped at the chance and had an awesome time designing the session and delivering it! The Stag and friends learnt a range of new skills, which they then put into practice in a VERY competitive game.
CLICK HERE to find out more!
Local Derbies – Manchester Chargers Chicks Vs. Chester Cheetahs
Chargers welcomed local North West club, Chester Cheetahs ladies, who made their way to Manchester to have, what was, a great game against the Chargers Chicks. And here's the mandatory after match team pic to prove it.
[caption id="attachment_31197" align="alignleft" width="960"]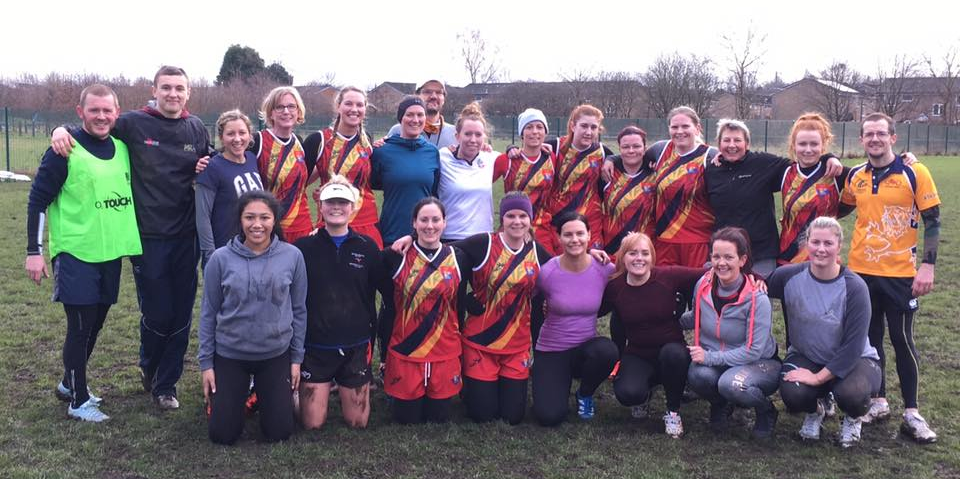 Local Derby - Chargers Chicks vs Cheetarahs[/caption]
This was a great opportunity for an all female game, whereby players could put into practice their leadership skills, driving the ball and communicating with other players. Local friendlies are a great way to get all your club players involved, without the expense and travel. Get in touch with clubs in your area, with our
club finder
and
where to play map