Hello to Wandsworth Touch!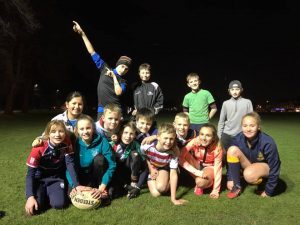 A brand new Touch club has been started in Wandsworth, south London, by 
Andy Penniceard and Ian Priest
. Here's Andy's update as to how their first session went...
The fundamental reason for doing this club is 
that both Ian and I are passionate about inclusion and keeping 
and encouraging 
kids 
to stay 
involved in
 sport
. S
port builds them up as individuals and teaches them
leadership, Integrity, professionalism, diversity and
a lot about themselves
 and how to deal with others
. There are 
way 
too m
any kids spending too much time 
in front of
 screens
,
which can't be healthy (mine included), 
this
 sport
 gives them
and their parents
 an opportunity 
to 
get outside.
At Wandsworth Touch our aim is to promote the sport, develop a community and open it up to other younger and older age groups. 
Provide equal opportunities for children regardless of their gender, race, ability, cultural background, religi
on and e
ncourage and actively cater for the development of talented children. 
We would like to develop 
pathways for children 
for them to
 develop skills in r
efereeing, coaching, selecting, managing and administration and try to develop
 programs in both
 the school and the community.
Since deciding to stop doing contact rugby I have been involved in playing touch at a social level. Sixmonths ago, I got introduced to CSSC touch who have shown me what an amazing sport and how diverse and skilful it is and I wanted to share it with my kids who I knew would love to play. Looking around London there were no clubs offering Touch for kids. I decided to set up a club and approached Ian who had been having issues keeping Edie playing with the boys. My three boys play rugby and my daughter has always been keen if a game involved a rugby ball being thrown around. After speaking to other parents this seemed like a no brainer.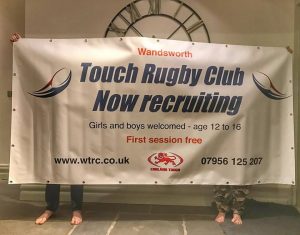 Ian comes from a rugby family – his grandfather played for the Barbarians, trialled for England and then became an international referee and his father played for Surrey and the Army. He played for the Old Whitgiftians after a brief spell at London Scottish before retiring at the age of 40. Edie, his daughter, was a keen rugby player but due to the changes brought in by Surrey RFU this season, she was not allowed to play with the boys (which she has done for years) as she is now in the Under 12's. Girls rugby didn't appeal to her but Touch did as both boys and girls play together. So, after chatting with Andy he agreed to join him in helping to start Wandsworth Touch Club to help organise and coach a group of local youngsters and help develop their interest in the game and keep his active interest in it too.
We had our first ever training session on January 11th and there was a great turnout of 14 kids, 6 were girls. There was a slight lack of space due to not being able to use the main pitch due to the weather, but we made good use of what light and space we had. The kids were not bothered by the cold or the light.
The ability of all the kids was really very good and they picked the basics of the game up very quickly. We started with a basic introduction to the rules (for those who did not already know). The players then did drills looking at these basic drills, passing, catching and the roll ball.
For the last 30 mins we split the group into two teams and proceeded with their first game, introducing the rules one at a time and slowly. Considering there was little experience on the field the game ran very smoothly and they picked up the rules really quickly. A really good effort, long may it continue. We are also very fortunate to have Chris Wall come down and help which was amazing.
Between lots of laughter everyone had great fun. Why would anyone else not do this...?!
Email wandsworthtouch@gmail.com to find out more about this new club!