Spring Chick 2015
Saturday 21th March saw the second Spring Chick women's Touch tournament take place at Chippenham Rugby Club.
This tournament was jointly hosted by the Bristol Fijians and Chippenham Rugby Club. It was also partnered with Belief Sports ltd and #ThisGirlCan campaign.
It was the biggest women's Touch competition in the Northern Hemisphere with 20 teams taking part from all over the UK. This was an increase of over a third from last year's tournament.
We were once again overwhelmed with the number of teams that entered, with many travelling from afar, including a team that flew in from Dublin. Due to the high level of interest, we were unfortunately unable to accept all entries this year, but hope to accommodate all teams who missed out next year.
Thankfully the weather had some flashes of spring throughout the day helping with the tournament living up to its name.
One of the main aims of the tournament was to develop women's Touch, therefore each club was encouraged to bring along girls who were relatively new to touch or had maybe only played mixed Touch to show them what the women's game was all about. It was great to see so many new faces mixed in amongst some of the more experienced players.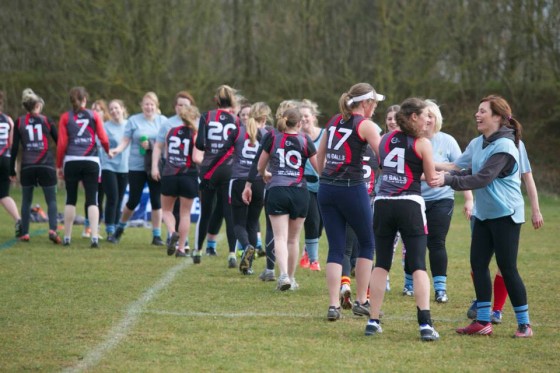 As well as developing players we also used this tournament as an opportunity to develop referees in the South West. There were a lot of new or relatively inexperienced refs who did a great job.
The winners of the prizes that were up for grabs were as follows:
Cup Final – No Balls Allowed Bristol vs Galaxy. NBA Bristol won 4-3 in a drop off
Plate final – Vikings vs Chargers Chicks. Vikings won 5-2
Bowl Final – Oxford Touch Ladies vs Oakmeadians Touch RFC. Oxford Touch Ladies won 2-1
Shield Final – Bath Hawkers (Bath Uni) vs Chippenham Cheetahs. Bath Hawkers won 3-2
Salver Final – Tena Ladies vs London Business School. Tena ladies Won 2-1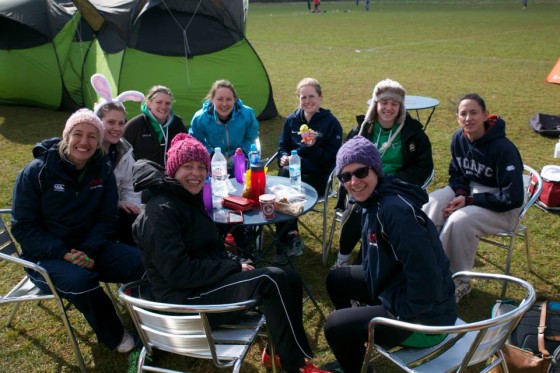 Most Valuable Player award
Martine Coombe – Kingswood Rugby Club
Most valuable Referee
Due to the huge success of the tournament once again, The Spring Chick will certainly be an annual event, therefore look out for it this time next year and hopefully it will be even bigger and better. Please get your entries in quickly to avoid disappointment!
The Big red bus bar went down a treat providing food and drink to players and spectators throughout the day. It also provided a good place for a team talk as demonstrated by the London Business School team!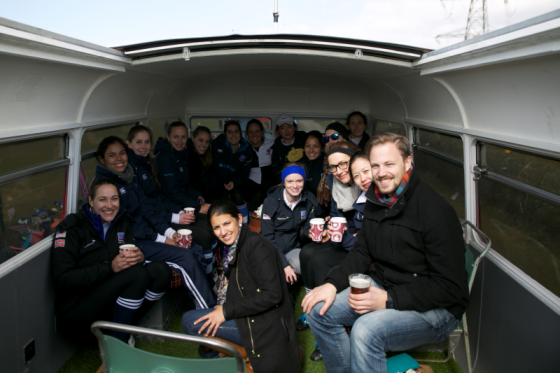 See the video of the day...