Worlds leading Touch Coach - UK Tour
Would you like the opportunity to be coached by one of the world's leading Touch coaches?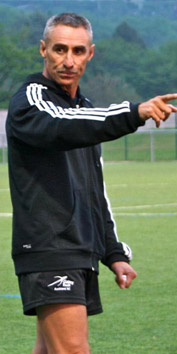 The ETA are pleased to announce that Peter Walters or better known as 'Mr Touch' is coming to England once again!
Peter is Head of National Coaching and Elite Development in New Zealand, and those involved with Team England last year will know of his expertise and undeniable knowledge and enthusiasm for Touch over many years.
Pete is not only one of the best coaches in world Touch, but has been involved in every New Zealand National competition and most impressively has played for NZ in all 7 World Cups.
Pete will be travelling the UK and delivering a number of development sessions;
Manchester: Monday 26/5/2014
Time: 6.00pm-8.00pm
Cost:
£5pp
Venue:
Burnage Rugby Club
Battersea Road
Heaton Mersey, Stockport
SK4 3EA
Nottingham: Tuesday 27/5/2014
Time: 6.30pm-8.30pm
Cost: £5pp
Venue: Gresham Sports Park
West Bridgford, Nottingham
NG2 7YF
Bristol: Wednesday 28/5/2014
Time: 6.45pm-8.00pm
Cost: £5pp
Venue: Oaklands
Gloucester Road, Almondsbury
Bristol
BS32 4AG
Cambridge: Thursday 29/5/2014
Time:
6.30pm-8.30pm
Cost: £5pp
Venue: Coldhams Common
Cambridge
CB5 8NT
London: Friday 30/5/2014
Time:
6.30pm-8.30pm
Cost: £5pp
Venue: Wandsworth Common,
Wandsworth, London
SW18 3RT
Reading: Monday 2/6/2014
Time:
7.00pm-8.30pm
Cost: £5pp
Venue: Berkshire County Sports Club
Sonning Lane, Reading
RG4 6ST
The cost for the session is £5 per person, per session and can be payed on the evening of the session.
If you would like to join Peter on one of the coaching sessions he is running around the country, please click on the following link to register your name/team:
REGISTER HERE
For more information on Pete's visit or the Development sessions, please email 
Ben@englandtouch.org.uk
Related post
http://www.englandtouch.org.uk/index.php/2014/04/peter-mr-touch-walters-coaching-sessions/