MX30 - 2014 European Championships
After the tough competition of the Home Nations back in Dublin last year, the Senior Mixed knew that this years European Championships was going to be a hard fought campaign.
There were 5 teams in the Senior Mixed division - England, Ireland, Scotland, Wales and France - and all countries had something to prove.

[caption id="attachment_8670" align="aligncenter" width="553"]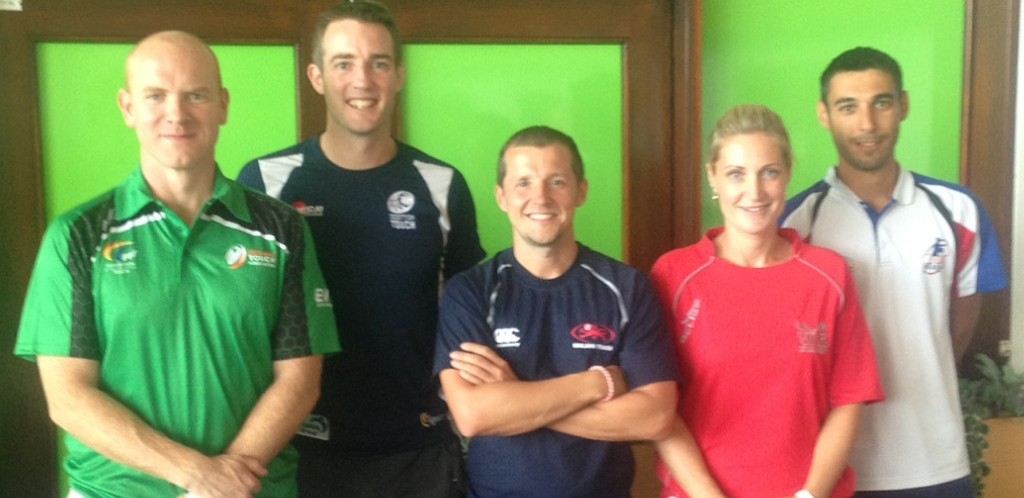 Captains Lunch[/caption]
Favourites in the race for the Gold Medals, having bagged the previous European Title and secured Gold in the Home Nations, England were quietly confident that they had the ability to perform well and this should give them the confidence to go in to the competition with strength and composure despite what the opposition may have waiting to throw at them.
It proved to be the tightest division of them all with the gold title having the potential to go to any of the Countries. There were to be no easy games!
Preparations began in October 2013 after the initial selection of a training squad that included 6 players being selected for England for the first time in their Touch careers. New coach, Martin Wright, knew that failing to prepare properly would be a sure way of preparing to fail, and each subsequent training session reflected the key principle of "train hard, play easy".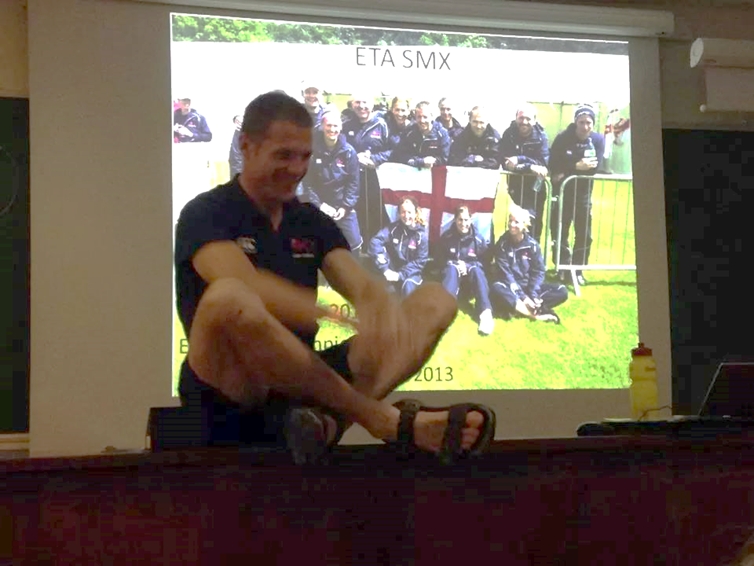 An intense, player-specific training schedule was mapped out over the 9 months to prepare players for the intense physical demands of the Euros. These sessions were also invaluable in bringing together a relatively new squad who would travel through their unforgettable journey towards their ultimate goal, the 2014 European Championships and to retain their title as Gold Medalists.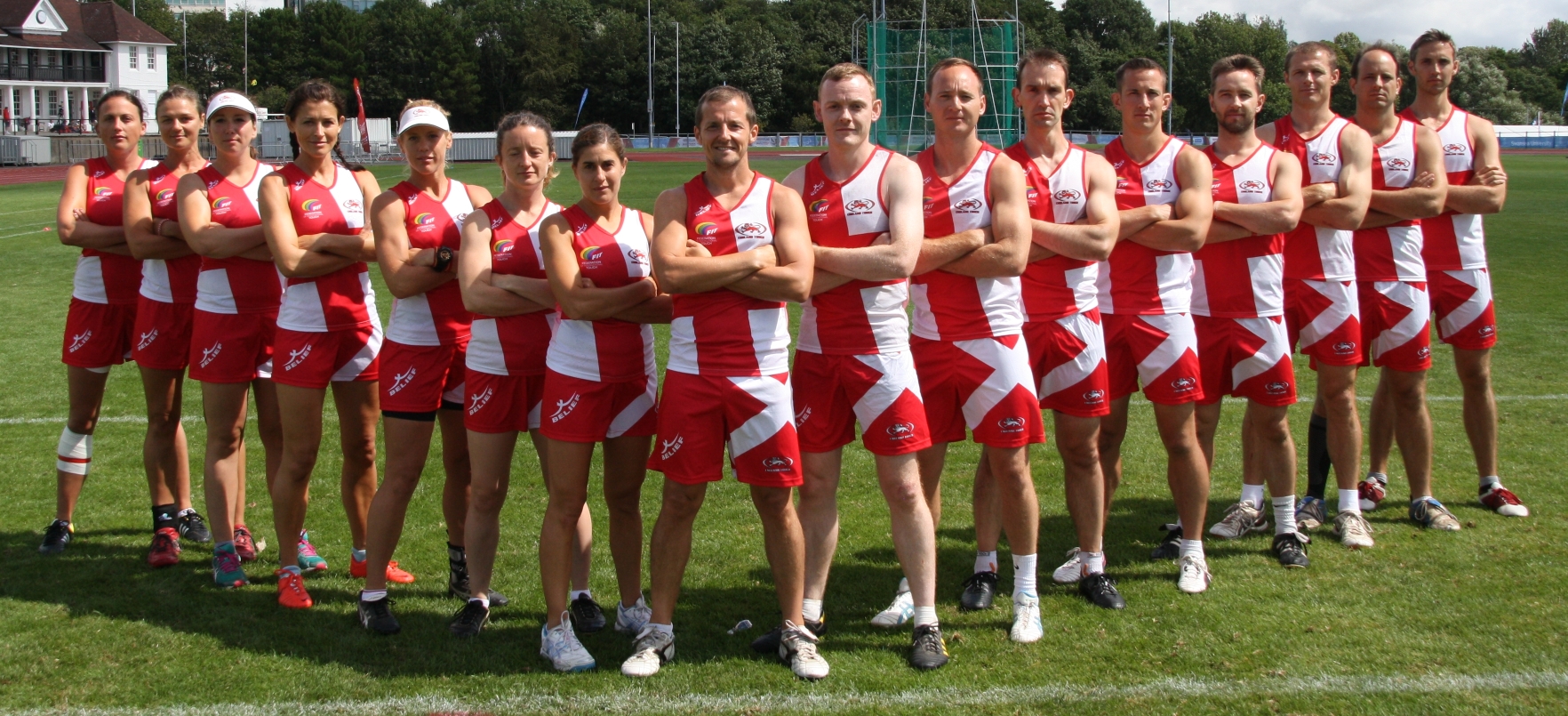 Game 1 day 1
England met Scotland on day 1 of the campaign. Scotland, who didn't feature in the last Euros SMX division, were not a team to disregard. Their squad consisted of several 2012 MXO players who had made the transition in to an older established squad.
The scores came thick and fast, going in favour of tap off and at the final hooter both teams were relieved to settle for a 7-7 draw. What a start to the race to the finals.
Meanwhile, Ireland had beaten Wales 5-3 so England's game with them on day 2 would be crucial to stay at the top end of the table.
Game 2 day 1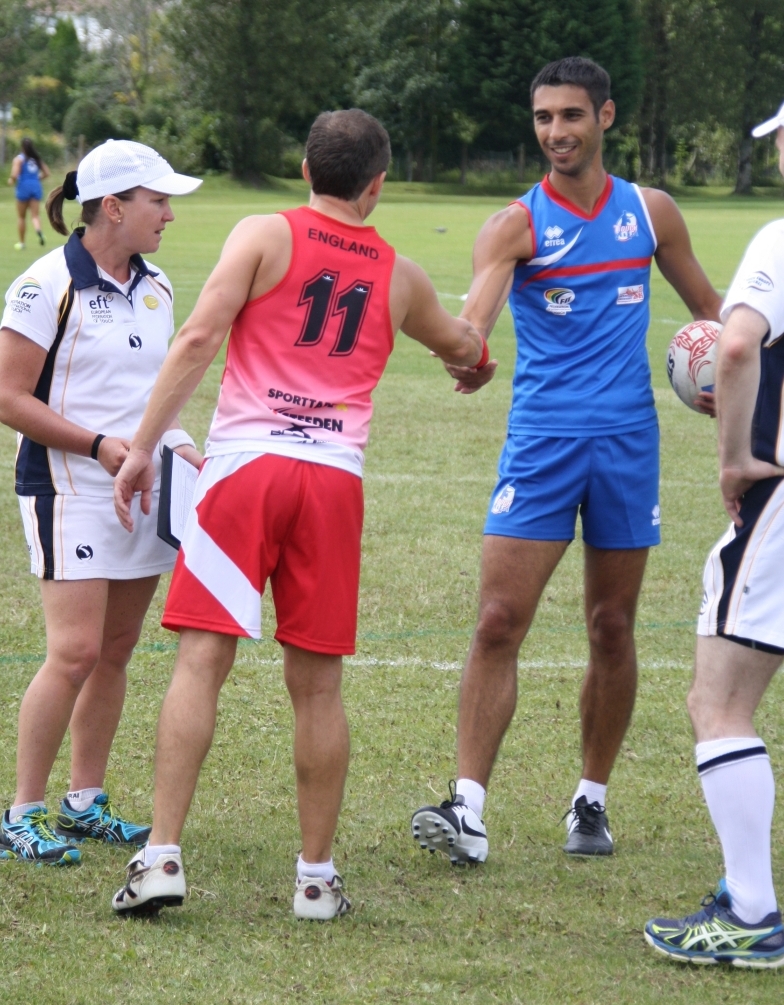 The French were also new to the Euros SMX division, and as such were an unknown entity. Certainly not a team to be taken lightly. The French appeared well drilled as they warmed up confidently across the pitch.
They exhibited some flare and great set play that caught England by surprise. This being their first match they were still finding their feet a little, and we grasped our chance to strike and pulled away in the touchdowns to secure a 9-5 win.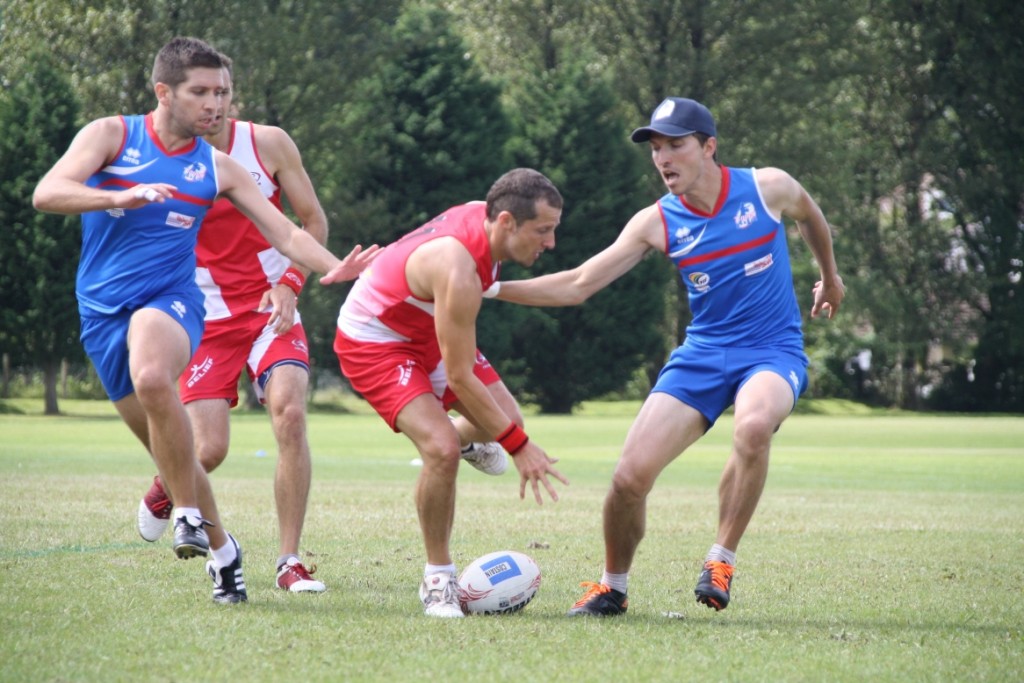 At the same time, Scotland had beat Ireland in another high scoring game 11-8 placing Scotland now in to a very favourable position at the top of the table. We knew we must work harder to secure the slot in the finals.
Game 3 day 2
The Irish were up next and they had everything to fight for after losing to Scotland the previous day. They would come out determined to bag some points for a win. Another extremely close battle that went again with tap offs. The game could easily have been won by either side but advantage in the end went to England who were 1 TD ahead on the final hooter. Another win, 6-5 to England.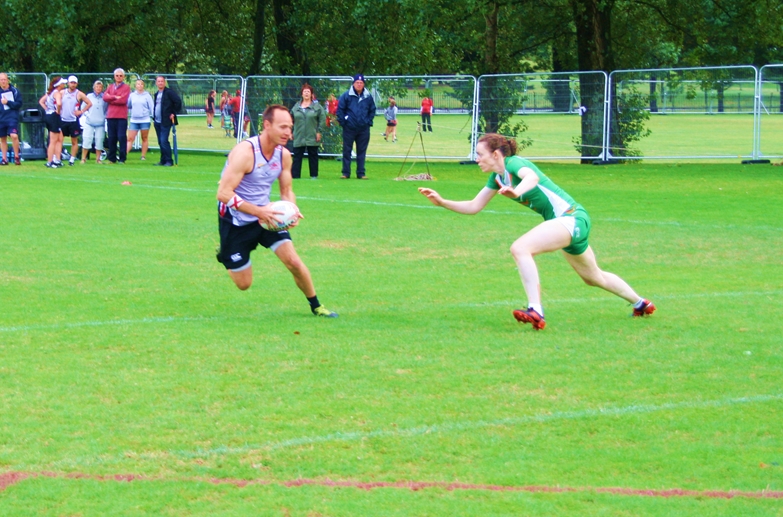 Game 4 day 2
Next up were the Welsh; a little knocked in confidence having lost twice the previous day. England would use this to their advantage and having studied their previous performances were ready to halt their attacking strategy through the mids.
Wales exhibited less structure in attack than the Irish or Scots, but drove fast and fierce and would readily take advantage of a gap if it appeared. A scrappy game ensued but structure and discipline paid off and England were able to shut them out just enough to scrape another win 6-5. Another tight victory to England meant that the pressure was still on, and the opportunities were there for every team in the division.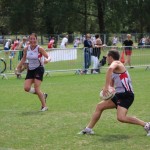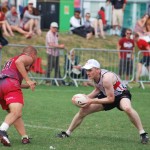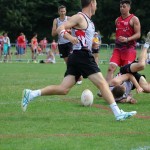 Game 5 day 2
Time to show the Scots that we were as good as they were and that we could beat them on our second meeting. This was to be another predictably tight game as all our others had been so far. The Scots were extremely confident having clocked up 13 scores against the French reply of only 5.
Tiredness was setting in as we headed for the third intense game of the day but we knew we could step it up a gear and the 4.00am wake up calls at Martin's boot camp weekend came back in a flash as we pushed our tired and bruised bodies on harder still.
The game witnessed end to end flare, each team sneaking through the other teams frustrated defence. Another close fought and gripping match! Relieved on the final hooter as England had come out in top. 9-8.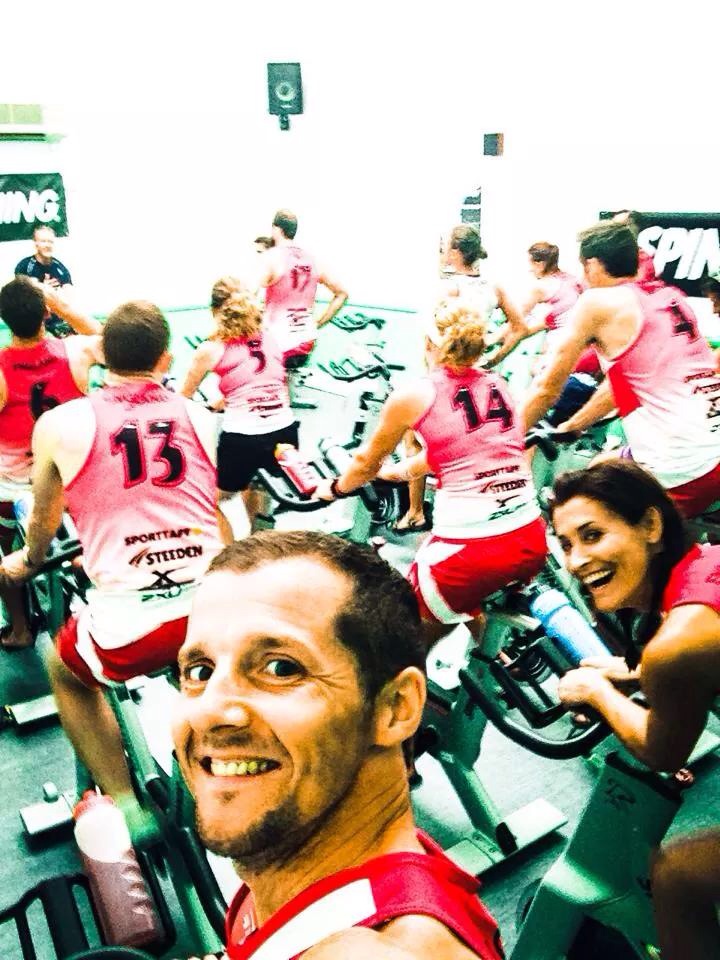 Time for assistant coach Peter Cook (Cooky) to take over as he led the warm-down spin class and the all too familiar ice bath regime to allow our athletic bodies to recover to their best and be prepped and ready to fight another day.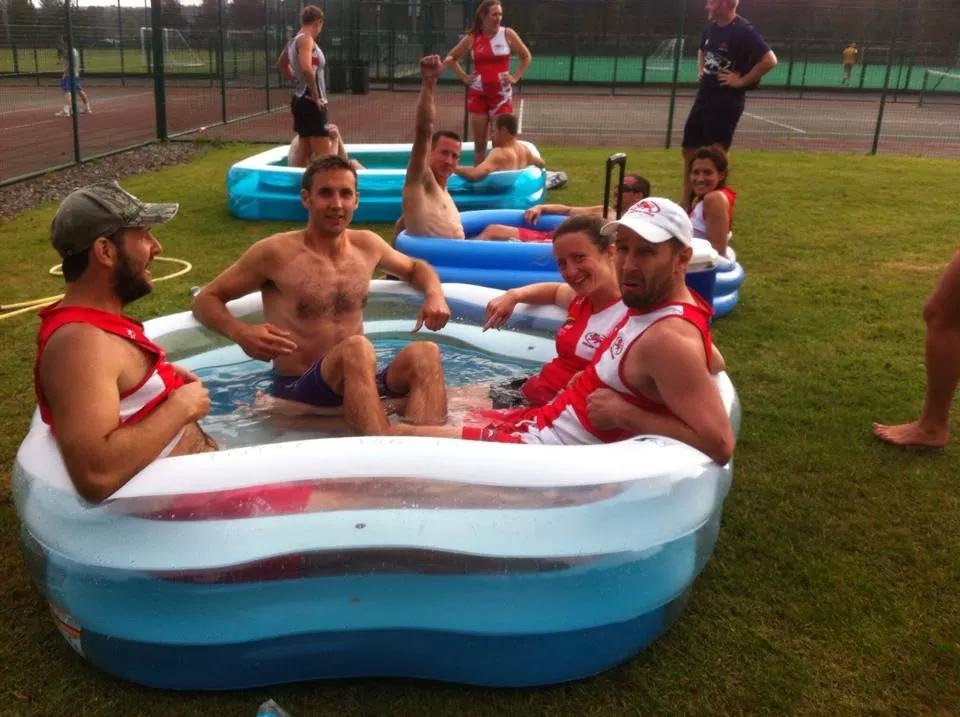 We could go to bed confident that we were now the only team to have not conceded a game and would sleep restfully (at the mercy of the seagulls!), ready for day 3.
Game 6 day 3
A welcomed late start going in to day 3 after our second bye of the tournament, we hit the beach for a morning stretching session in the sun. A great rejuvenation was felt throughout the team... Feeling brand new, we headed back to get prepared for the day.

The welsh would be our next opposition. Still knocked from their recent defeats they were hanging low and knew that their hopes of reaching the final had slipped away.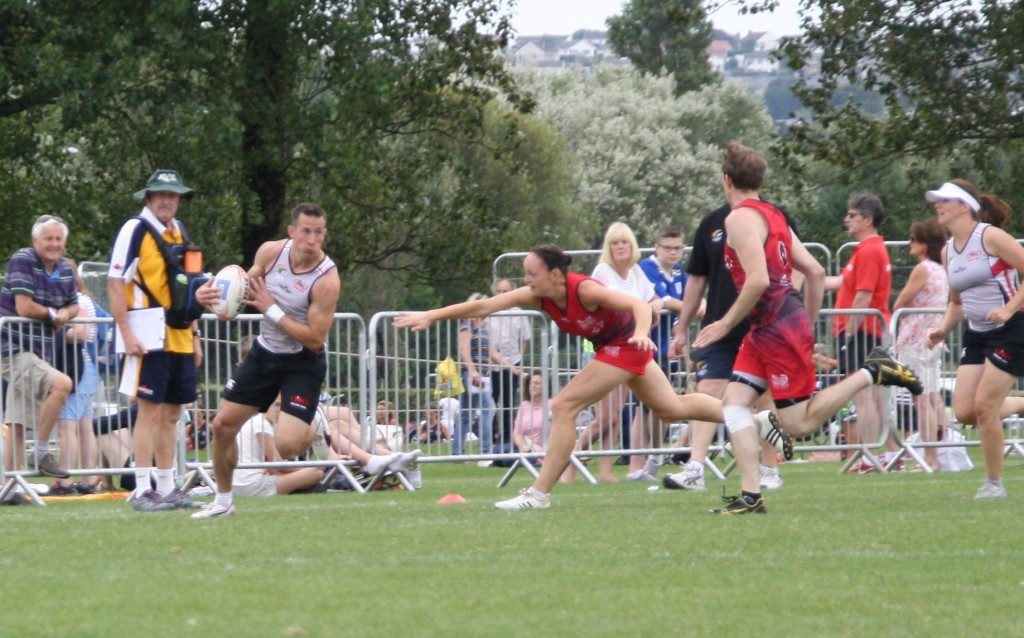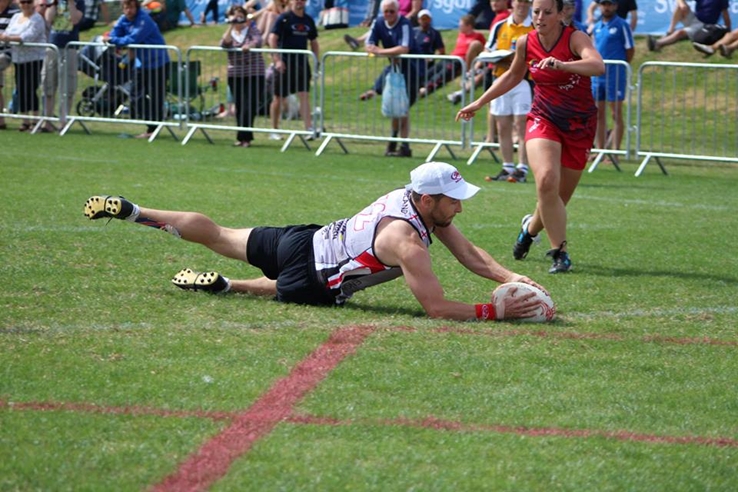 England, in the meantime, needed to win to keep out the Irish from a highly coveted slot in the gold medal contested final. The end of the game England had confidently defeated the welsh 8-5 to head top of the playing table with only the French left to play that day.
Game 7 day 3
The French would now be an easier game as England were strengthened by their growing game confidence and flawless game history. There was still some uncertainty how France would fare, having seen them battle with Ireland to hold an 8-8 draw, but winning this would mean the pressure was off us for day 4 in our final round against Ireland and we would be in contention for the final gold position regardless.
A great exhibition of well drilled play, the recent training sessions paying dividends.
England looked strong and reached their highest TD score of the tournament with a decisive 14-5 win over France.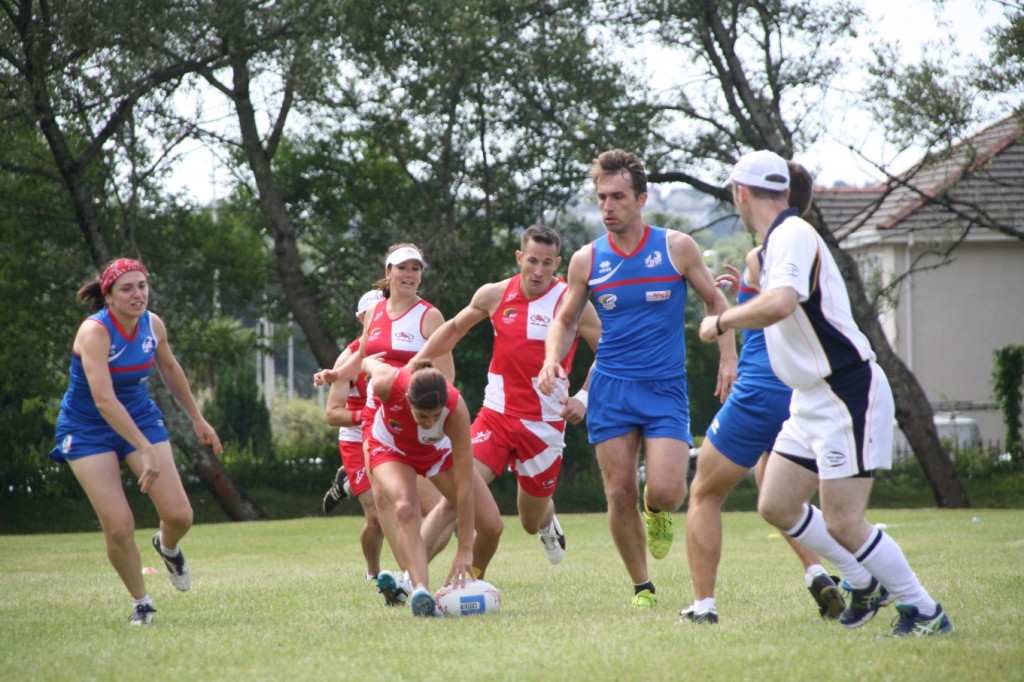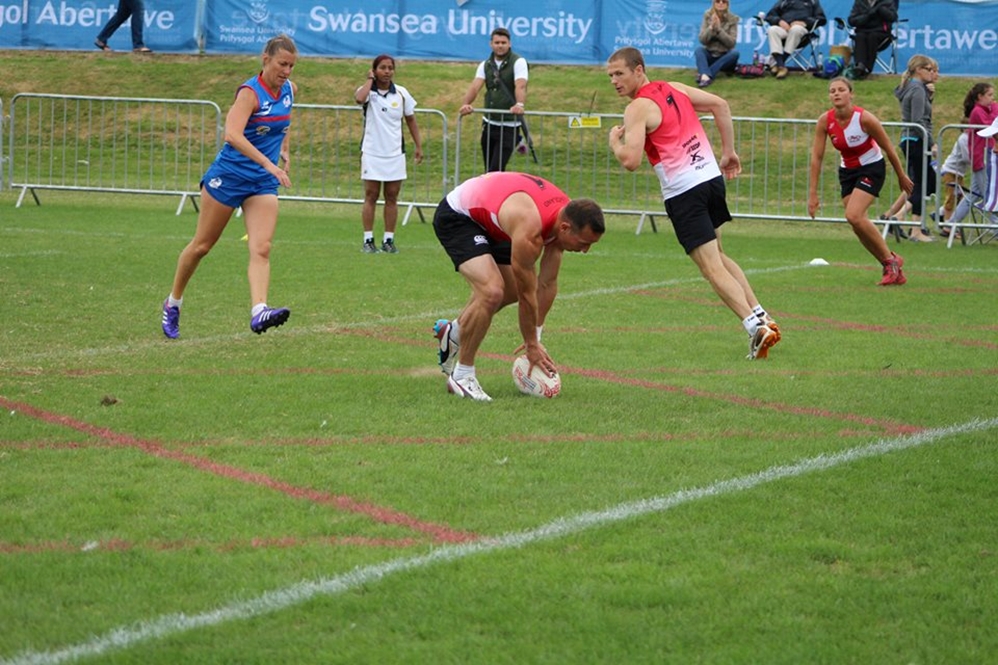 Notably, the scores were spread between 11 of England's 14 players - a clear demonstration of the team's ability to use (and score with) all players in the team.
Video highlights of the French and Welsh games
http://www.youtube.com/watch?v=HXfRP9qjqAc
Game 8 day 4
Ireland left to play, the pressure off our shoulders. We could use this game as a warm up for our final against Scotland.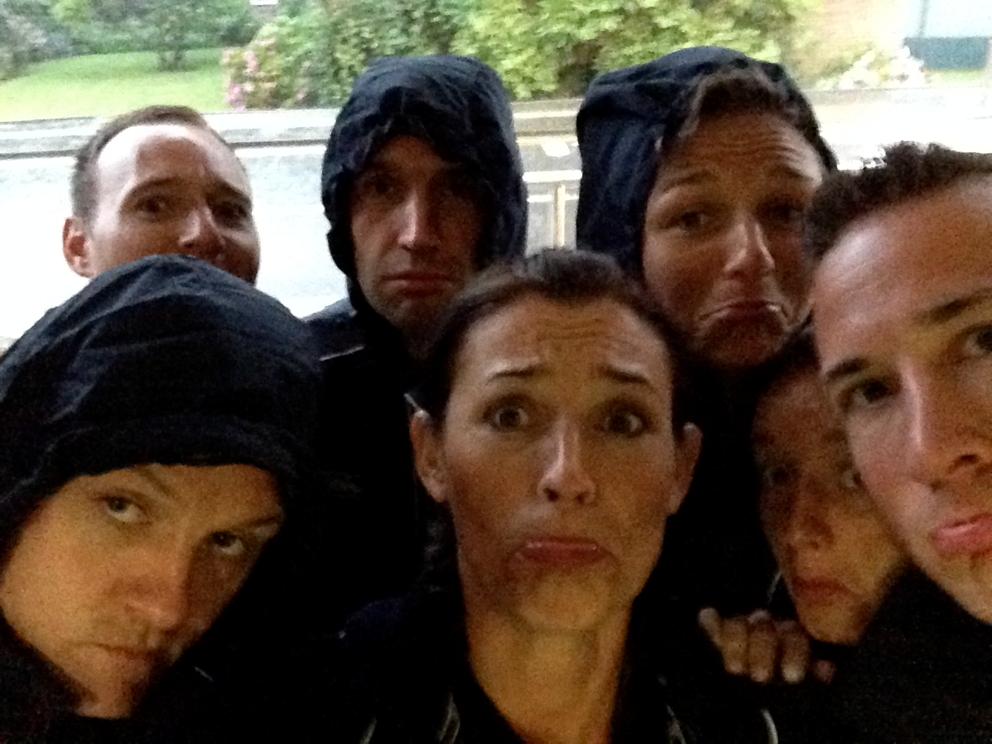 As the weather turned, so it would seem did our good fortune!
Gales, lashings of rain and a delayed start for finals day.
This was to be a wake up call that we weren't quite ready for.
Ireland rolled away with a 5-2 lead at half time. England had some work to do if they were to step up their pace for the finals. The Scots surely would take no prisoners in their one and only game of the day and were waiting patiently to pounce on England having studied their form against Ireland.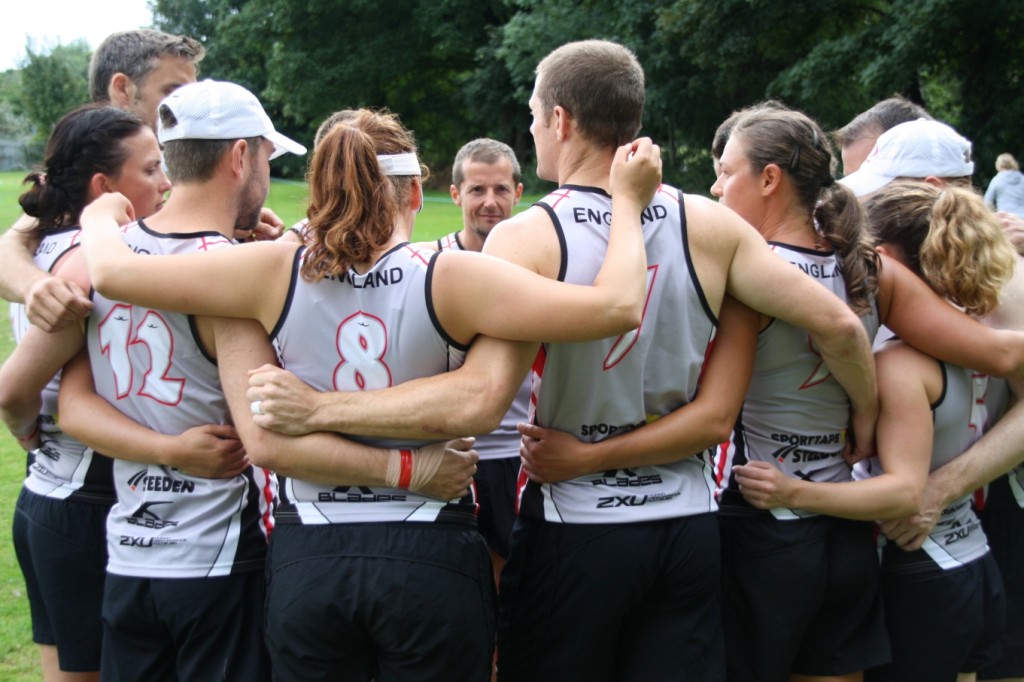 Half time team talk from Captain and Coach and time to regroup.….composure and we were back in the game.
Final whistle 7-7 and the second draw of the tournament.
Game 9 - The grand final
Undefeated, England were going in to this game as favourites. Nothing in it between both teams. Both teams desperate to come out on top. England had tasted the sweetness of victory at the last Euros campaign and this had driven them a long way on their arduous journey.
Earlier in the week had any team been told they could guarantee a place in the final if you take silver now, many would have grasped at that opportunity. At the start of the week all teams were on an equal footing. At the start of the week all teams were fresh and in the moment. At the end if the week however, when you've battled hard in every game to prove your worth and a place in that final, there is no acceptance of second place! England were in it to win it!
A thorough warm up and the team were ready to hit the field.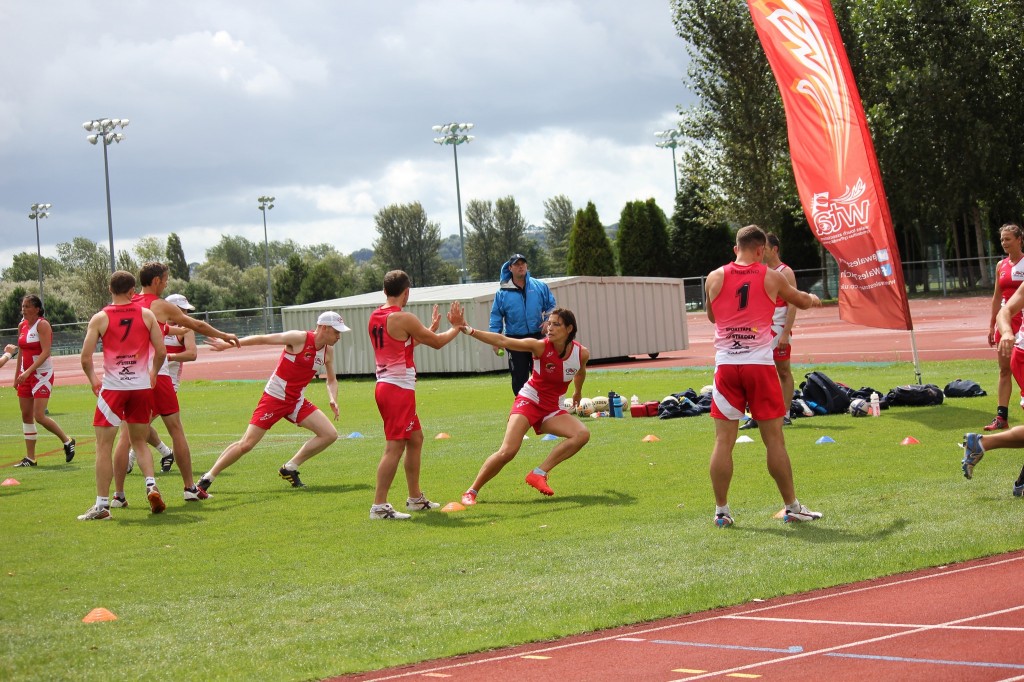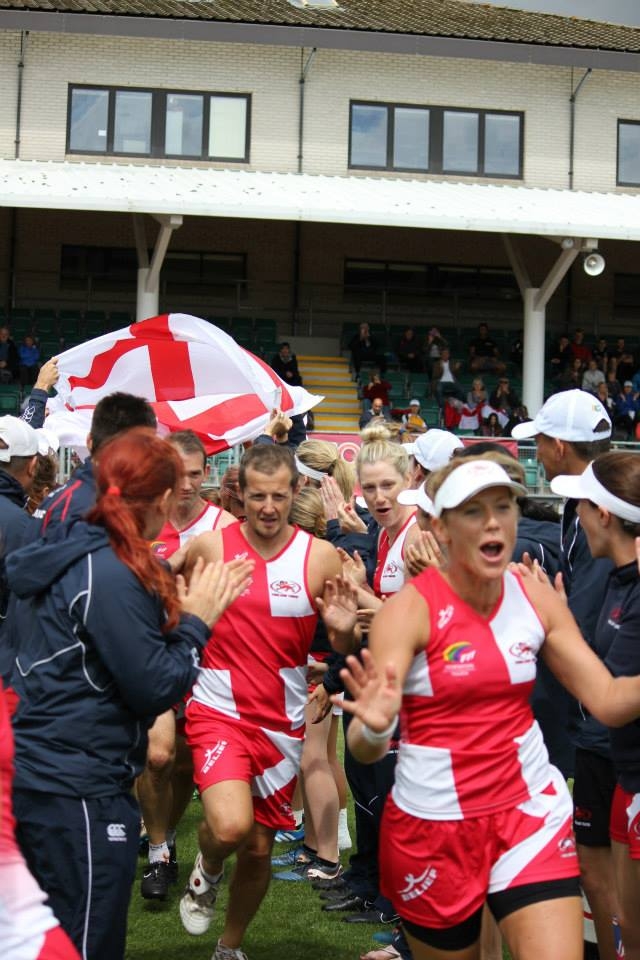 At half time the scores were tied on 3-3 having seen some dramatic scores from both teams.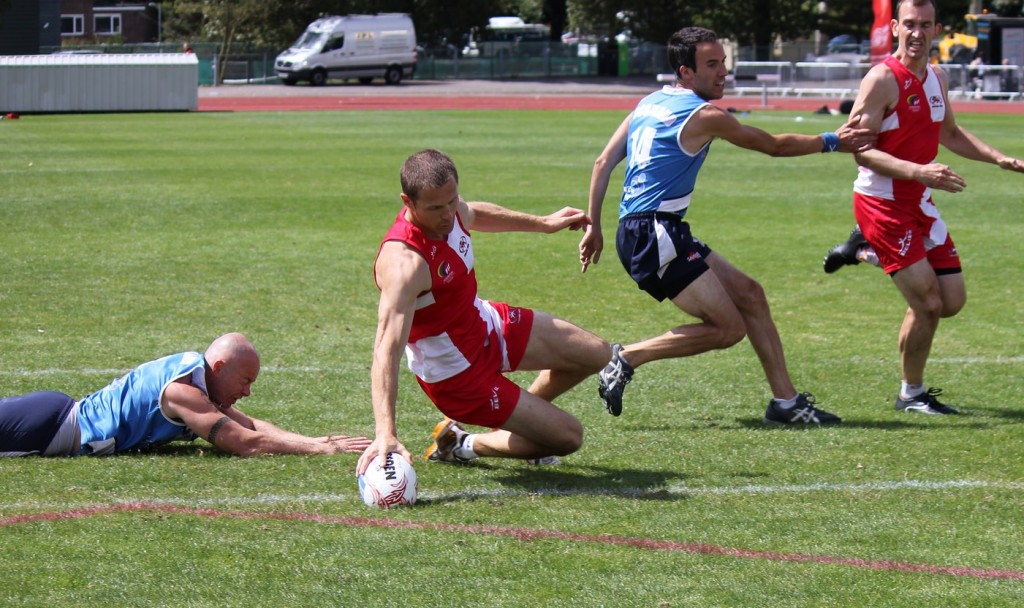 The second half the Scots stepped up that all important gear and crept out in front. We struggled to hang on to them and the margin got wider. On the final whistle they had conquered us.
The disappointment showed in all of our faces as their joy and excitement spread like wild fire from the pitch and in to their supporting crowd.

However, we must remember that to lose will only strengthen our team. To lose will make us more determined to win again knowing how sweet that moment will be when it happens to us once more. And it will happen to us again.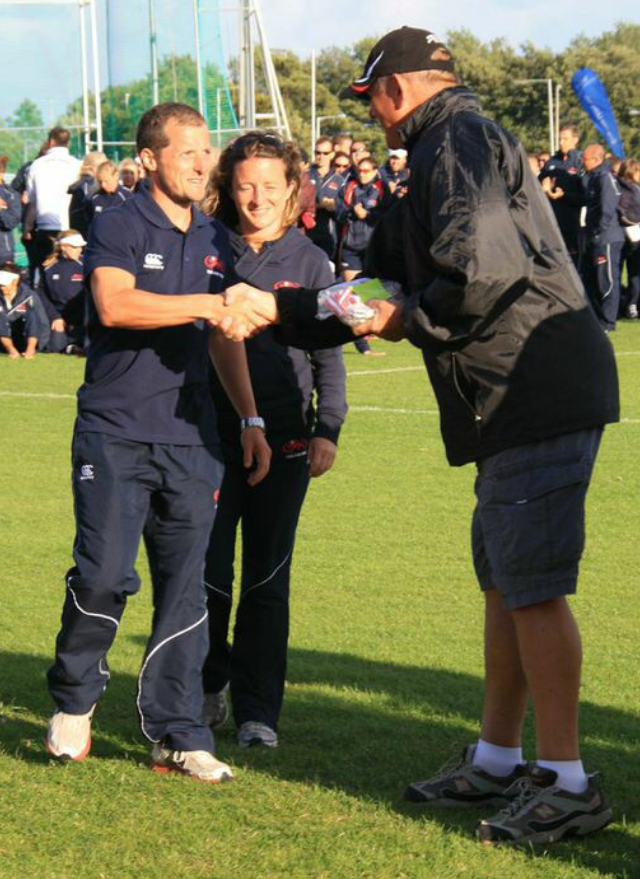 We should not be disheartened by our achievements to date. We have proved that we are up there with the best having rebuilt the team following player changes from HN13 and gained our well earned silver medals. Not the result we had hoped and dreamed of, but finishing as the second best team in Europe should also be something that we can be proud of.
We are undoubtedly a very strong and united squad. We have all traveled together on an unbelievable journey and have been part of an amazing campaign. We have set ourselves up on the right foot as we head to the World Cup in Coffs Harbour 2015, and we are all eager to begin our journey.
We are England SMX and we will be ready.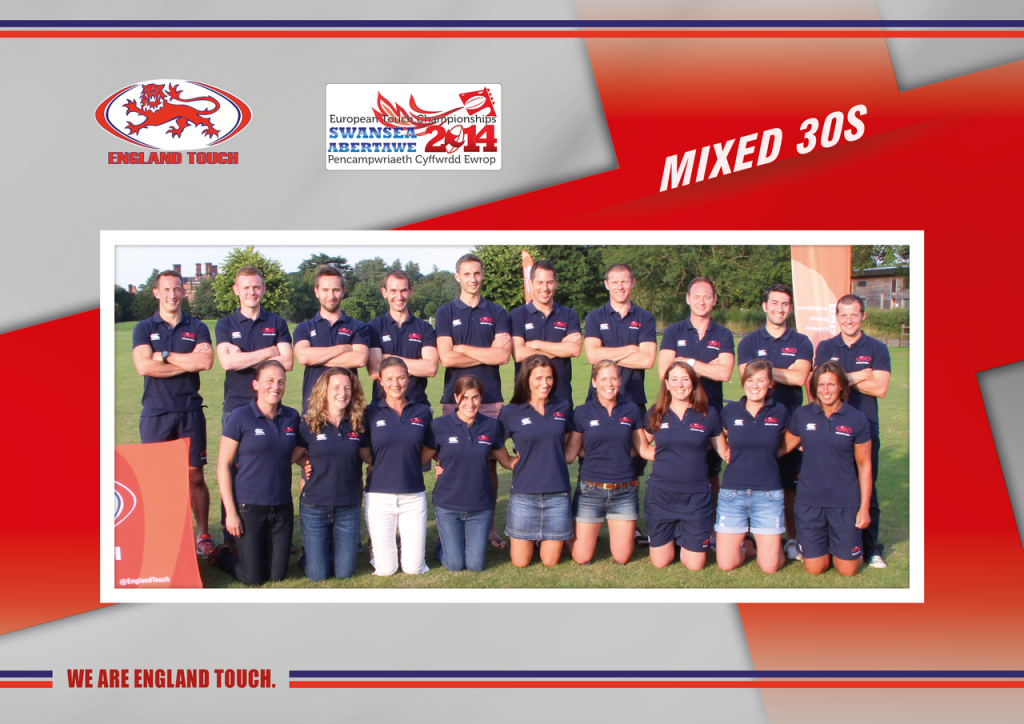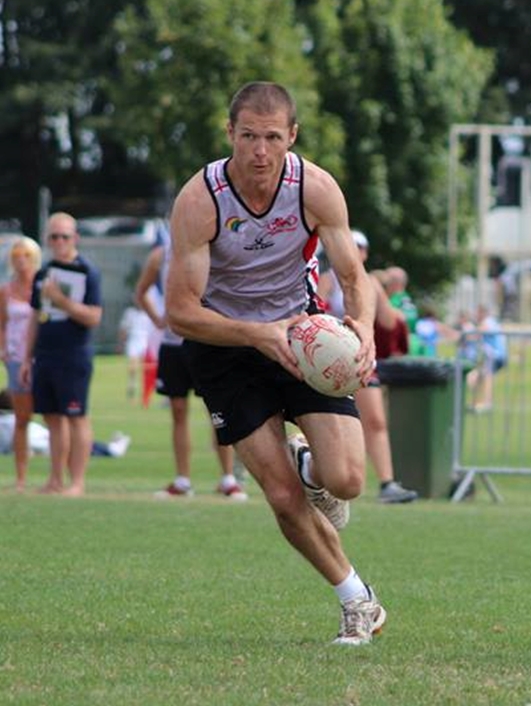 Special thanks must go to coach and player Martin Wright who devised and delivered the most comprehensively enjoyable and exhausting training schedule for the SMX this year, and who led from the front when the whistle blew.
Thanks and recognition are also in order for assistant coach and captain Gregg Cropper and also Peter Cook (Cooky) who supported the squad throughout the 9 month campaign and raised the level of professionalism on the pitch as well as off the pitch when it came to physical preparation and recovery.
 Player Stats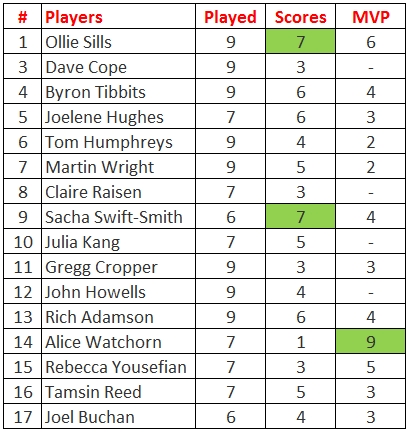 Results
Ladder - Pool Rounds