Teams named for 2018 Junior Touch Championships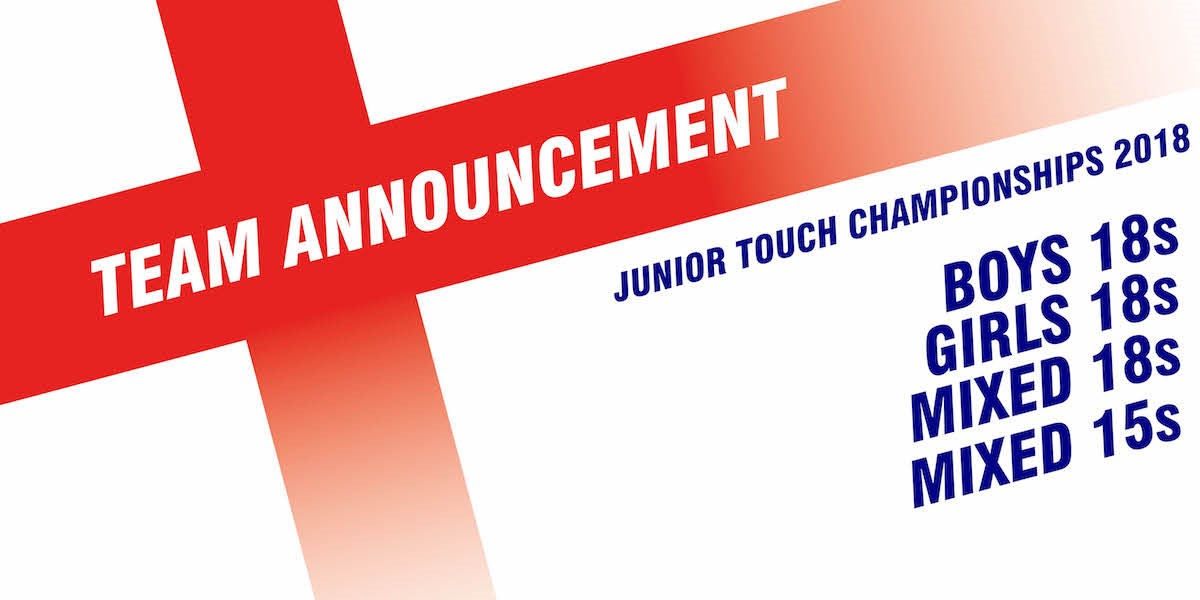 England's teams for the 2018 Junior Touch Championships have been announced.
The groups have been chosen after an extensive selection and training process, and the decisions were harder than ever with the quality of players increasing all the time.
The four teams will be heading to the University of Stirling in Scotland on the weekend of August 17th to 19th, where they will face teams from across Europe and beyond, with entrants confirmed from Abu Dhabi, the Czech Republic and France, as well as the four Home Nations.
Congratulations to all the players who have been chosen!
Boys 18s
| | | |
| --- | --- | --- |
| 1 | James Anderson | Manchester Chargers |
| 2 | Angus Lister | Canterbury |
| 3 | Cameron Birkett | Wigan Touch Warriors |
| 4 | Charlie Delaney | Nomads |
| 5 | Christian Scott | Thames Valley Vikings |
| 6 | Evan Michaels | O2 Upminster |
| 7 | Harry Hardman | O2 London Scottish Red Lions |
| 8 | Jez Traynor |   |
| 9 | Keir Clark |   |
| 10 | Logan MacDonald |   |
| 11 | Matthew Bate | Chester Cheetahs |
| 12 | Matthew Maynard | Cambridge |
| 13 | Max Loveridge | Nottingham |
| 14 | Oliver Maynard | Cambridge |
| 15 | Samuel Missin | Cambridge |
| 16 | Will Lupton | Lincoln |
Girls 18s
| | | |
| --- | --- | --- |
| 1 | Amelia Paton | Crewe and Nantwich |
| 2 | Anya Lewis |   |
| 3 | Catherine Walker | London Galaxy |
| 4 | Ellie Costello |   |
| 5 | Emma Oliver | Nottingham |
| 6 | Erin Payten | Canterbury |
| 7 | Evie Pickup | London Galaxy |
| 8 | Freya Aucken | O2 London Scottish Red Lions |
| 9 | Hannah McLaughlin |   |
| 10 | Isobel Hobson | Nottingham |
| 11 | Izzy Thesiger | London Galaxy |
| 12 | Lucy Norburn | Cambridge |
| 13 | Megan Green | Cambridge |
| 14 | Megan Begum Richards |   |
| 15 | Orla McCallion | Percy Park Pirates |
| 16 | Lydia Ticehurst | Canterbury |
Mixed 18s
| | | |
| --- | --- | --- |
| 1 | Adam Bimson | Wigan Touch Warriors |
| 2 | May Burke |   |
| 3 | Tamzin Corcoran | Orrell St James |
| 4 | Benjamin Dobson | Peterborough |
| 5 | Josh Henderson | Thames Valley Vikings |
| 6 | Oliver Holmes | Crewe and Nantwich |
| 7 | Sophie Lloyd | Nottingham |
| 8 | Bradley Murphy | Cambridge |
| 9 | Ben Nurse | Crewe and Nantwich |
| 10 | Edward Pizzey | Nottingham |
| 11 | Aaron Povall | Wigan Touch Warriors |
| 12 | Niall Povall | Wigan Touch Warriors |
| 13 | Ellen Scantlebury |   |
| 14 | Emily Simon | Nottingham |
| 15 | Lucie Skuse |   |
| 16 | George Worboys | Bristol Fijians |
Mixed 15s
| | | |
| --- | --- | --- |
| 1 | Alana Gauntlett | Crewe and Nantwich |
| 2 | Anna Reeves | Percy Park Pirates |
| 3 | Flori Nasir | Canterbury |
| 4 | Olivia Walker | Wandsworth |
| 5 | Phoebe Simon | Nottingham |
| 6 | Thea Dawson |   |
| 7 | Connor Hughes | Canterbury |
| 8 | Elliot Nye | Canterbury |
| 9 | Harry Missin | Cambridge |
| 10 | Isobel Penniceard | Wandsworth |
| 11 | Logan Noble | Peterborough |
| 12 | Matthew Mayall | Canterbury |
| 13 | Max Penniceard | Wandsworth |
| 14 | Tom Penniceard | Wandsworth |
| 15 | Tom Lawton-Davies | Thames Valley Vikings |
| 16 | Tom Pollard | Nottingham |