England Touch announces new competition structure for 2018 (1)
The 2018 England Touch season has a new look to its competitions and structure.
This new structure brings greater cohesion to the Mixed and single gender competitions at the elite end of the club game, while also providing the opportunity for clubs to develop within a larger national framework throughout the course of the season.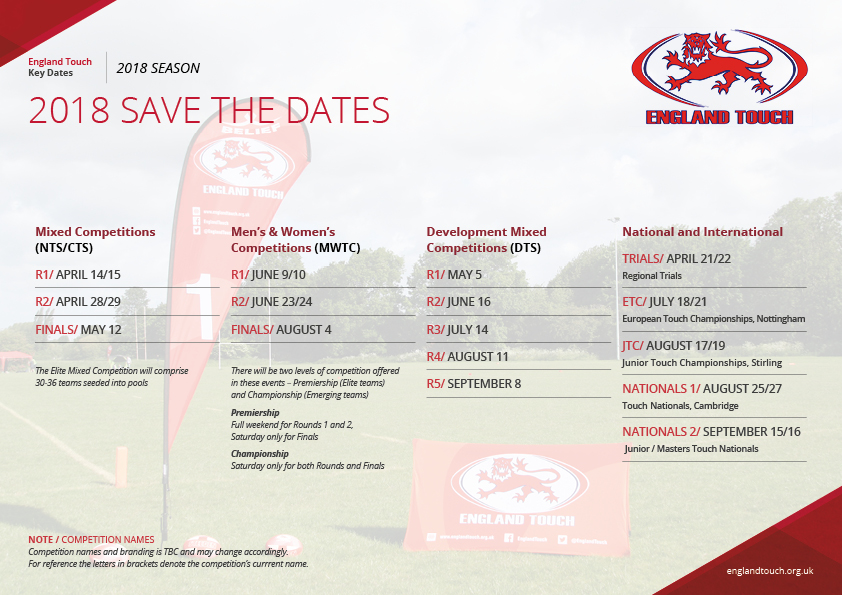 At the top level clubs will be able to focus their training on their Mixed teams in the spring, and then their single gender teams in early summer.
Attention for Elite players then turns to the 2018 European Touch Championships (ETCs) in mid-July, and then August's Junior Touch Championships and Touch Nationals. The representative season ends with the Junior and Masters Touch Nationals in mid-September.
Meanwhile throughout the year there will be one development tournament each month between May and September. The same number of days has been allocated to each series during the course of the season, five in total.
And for the first time a dedicated weekend has been set aside in the calendar for regional trials, with each region given the flexibility to decide how this is formatted for their area.
This year both the elite Mixed and Men's and Women's competitions will have a pair of two-day tournaments followed by a one-day finals event. The Men's and Women's competitions will have two levels – a Premiership tournament played over two days and a Championship tournament for emerging teams for the Saturday only.
The two-day tournaments will see clubs have pool matches on the Saturday, with knockout games played on the Sunday. This format, which is based on longer matches than in the 2017 tournaments, is similar to that seen at international competitions and at Touch Nationals, and will give players both more experience of this style of tournament and the opportunity to watch more games than they might otherwise have been able to in the past.
All club competitions are open for every England Touch-affiliated club to enter, with no obligation to enter every competition in the relevant series. As in 2017 all players who participate also need to hold current ETA membership.
Dates have also been set aside in the calendar for England's Elite teams to prepare for the ETCs; players will be contacted by their respective coaches with this information.
Email events@englandtouch.org.uk with any specific questions.