England Touch entrenches relationship with Belief
England Touch Association agrees new extensive partnership with kit manufacturer Belief
New partnership applies to England national teams and regional teams competing in 2017 Nationals onwards
The new deal is crucial in helping the England Touch Association achieving its organisational goals and ambitions
The England Touch Association has today announced a new three-year partnership with kit manufacturer Belief that will play a crucial role in helping the association achieve its growth ambitions and provide the country's leading Touch players with state-of-the-art on and off-field apparel.
This new deal also sees Belief continue as the title sponsor of the England Touch Association's (ETA) National Touch Series for elite club teams.
Belief has been providing the England national teams with their on-field kit since 2014. In addition, the ETA and Belief recently designed and launched a new England #TeamRef kit for ETA-organised events.
Over the past few years Belief has become the world's leading manufacturer of apparel specifically designed to meet the athletic demands of elite and casual Touch players. This new deal will see this provision expand to all off-field leisure and training wear, along with all of the regional teams competing in the Ryvita Touch Nationals from 2017 onwards.
All kit will be ordered by a microsite on the Belief website to ensure rapid and smooth fulfilment of orders, with the ETA receiving a percentage of the associated sales revenues.
Regional teams will still have their bespoke identities within this new agreement, with leads having an input into the design, look and feel of their individual playing kits. However the sponsorship will have the added benefits of providing all teams with a consistent standard of quality and value.
[caption id="attachment_31138" align="aligncenter" width="2424"]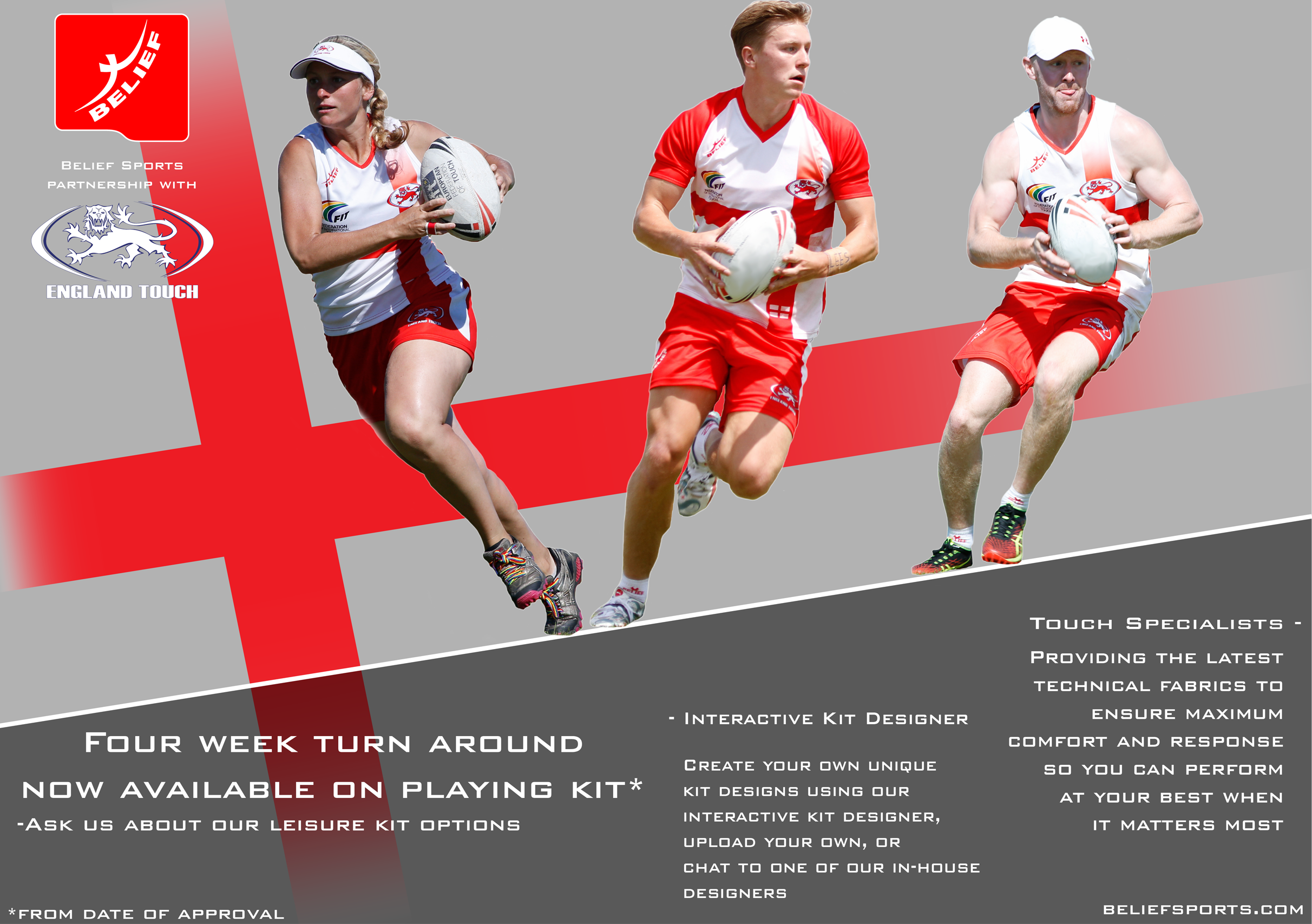 Belief provide an exceptional service and quick turn around.[/caption]
Touch has grown rapidly in England over the past few years and is one of the only sports that actively promotes inclusivity through mixed team competition. The ETA has strong ambitions for continued expansion ahead of England's hosting of the 2018 European Touch Championships and chief executive Gregg Cropper says that partnerships such as the one with Belief are crucial if the association's goals are to be reached.
"We value our partnership with Belief and are excited to be announcing this new extended and diverse deal," he said. "Touch is among the fastest growing participant-based sports in England, and it is great to be renewing the support of Belief, which has quickly become an iconic apparel brand within the sport. They share our values and dedication to supporting the growth and development of our sport, and their innovations make them more than just a sponsor, they are quite literally part of the fabric of Touch in England."

"We have an integrated approach to product development, allowing us to produce the highest quality, custom and bespoke products for elite athletes and the everyday players alike," added Mason Najmi, director, Belief Sports.

"The ETA is a forward-thinking association and we have a very honest and open relationship with them that has flourished in recent years. All of us at Belief are excited to have agreed this new partnership and are looking forward to a continuing and prosperous relationship in the future."
FLASH SALE
The new Belief kit will be available soon. In the meantime the ETA has a special end-of-line sale on all its current Canterbury kit, with a whopping 30 percent off all products! Elite players will be able to use this Canterbury kit throughout the 2017 season, before making the full transition to Belief kit in 2018.
To order just CLICK HERE and use coupon code ETA30CCC at the checkout!