NTL Blog - A Southern Crusade
NTL Blog - A Southern Crusade. By Thomas Devereux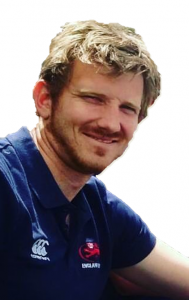 Following on from the 2016 Euros, England Touch Nationals and the need to continually up-skill England's coaches I was given an opportunity to visit Australia and work with the Queensland Cowboys Men's Open Elite Eight Team at the 2017 NTLs. They are the defending champions from the 2016 Carnival. I had watched a bit (My girlfriend might use a different adjective) of Cowboys on YouTube and was interested to see what they would be like in the flesh. I was given a warm welcome at Brisbane airport by their manager Tim Villalba and resident hot stepper Kristian Congoo (Who confirmed that even he thought Leigh Wylie is the steppiest man in Touch).
Day 2 saw training in the exotic Brisbane Suburb of Caboolture (where current England men's 35's Coach Jason Logan has strong roots too). From the start it was clear that the quality of the ball skills was far in excess of where we currently are in England. It was also apparent that they continually work upon them. This was followed by some work on their rucking and transition. It was comforting on the yards side, that we are very much in line with what is being run down here and their attitude to avoiding going subset on every occasion. What was interesting is that they had split the team in half and always did drills in two sub teams that did not change. I've been told to say the Billy the Kids had the wood over the Buffalo Bills over the course of the campaign.
It was also apparent that their fitness was incredible with their best player averaging 6.30 Chancellors and all the team under 7.30. It was unfortunate that I was not able to see their famous Funzone in action but from all stories it's not very fun. It's clear this constant approach to fitness along with their core skills the key to their success at the highest level. It intertwines with their strong culture that makes the boys into a strong unit.
[caption id="attachment_31142" align="alignright" width="480"]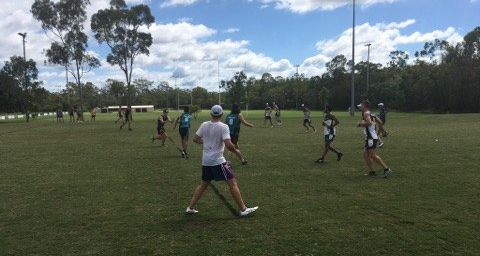 Queensland Cowboys Men's Open[/caption]
Day 3 saw the second day at training in Caboolture. It started with a very simple drill explaining passive (lazy link) running lines that is prevalent in NSW and Australian teams. It contrasts with the chopping holes run in Europe. This drill also saw a clinic from Australian winger Shaun Francis on how to defend this sort of play.
This was followed by a game against the Sunny Coast T-League Team which saw a strong performance building on the rest of the weekend. What was very apparent was how superior their body shape of touching middles and open side defenders combined with their pre-touch position and different post touch actions depending on their scan is (this is something we need to work on in Europe).
The evening saw a round table with Peter Bell(Queensland Touch HP)
Phil Gyemore (Cowboys MO Head Coach), Dave Zanette (sporting a hell of a fade) and Jayden Benbow (Infernos best and most famous player). The topics of discussion included the role of the mixed game, Phil and Peters thoughts on where English Men's touch is and what can be achieved in 2019. The key was message was the need to continue to work on basic passing and roll ball technique on the attacking side and on the shape and pre-touch on the defensive side.
Given the year offers the challenge of the Premiership Permit Competition which will see the big gun mixed players and coaches bringing their game to the men's arena this will be vital. With the brains of Robbie McKenzie and Gareth Revell and numerous strong strike players (Including but not limited to Messrs Short, Fitzgerald, Melling, Treays) the competition will be at another level.