Pride for Women's 27s captain
Kate Hyde, Women's 27s Captain has every right to feel proud.
Kate lives in Nottingham and has represented both the Senior Mixed and the W27 over her 5 year international career. She captains the Nottingham Hoods Touch team.  She also plays hockey with Boots hockey club, a well established team in the city.
Kate was nominated for the Notts Sports personality of the year after a storming season in 2016, leading her team to gold at the European Championships in jersey. She was up against a very strong field in her category with MBEs and Olympians in attendance. A panel of judges shortlisted from a wide field of nominated talent.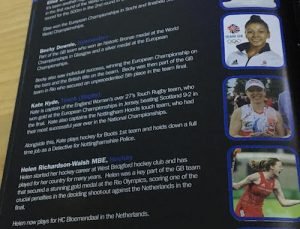 The full time detective narrowly missed out to the eventual winner, gold medal Olympic hockey player Helen-Richardson Walsh, who scored a winning penalty in their final against Holland back in the summer at the Rio Olympics  Nevertheless Kate should be extremely proud to be amongst the final selection.
Kate said a few words in the spotlight about the next Euros being held in her home city of Nottingham, and had this to say after her nomination:
"To be nominated at all was a massive surprise and I feel very privileged (and not to mention shell-shocked) to have been listed in the same category as elite, medal winning Olympian athletes!" she said. "Helen Richardson-Walsh was the deserving winner of the award but I've been truly humbled by the support I've had from you all and it has been greatly appreciated. All, my heartfelt and sincerest thanks for your votes and good luck messages."
"To even be nominated and shortlisted in such a 'who's who' of Nottingham Sportspersons, Kate is already a winner in our eyes!" added England Touch CEO Gregg Cropper, who was in the audience on the evening.
"The room was filled with worthy competitors, from sporting legends to local volunteers, all of which made the event such a success and Kate and Touch in general being a part of the biggest award of the night was great to see."
"This awards are a fantastic showcase of what Nottinghamshire has to offer and is a chance for us to recognise the contributions of all of our athletes," commented Mel Berry, Interim Chairperson of Sport Nottinghamshire. " To have Olympic gold medallists and local sports heroes like Kate sharing the limelight is exactly what sport is about."
The awards event was filmed by local Notts TV and will be aired in the next few weeks. We are all extremely proud of Kate and wish her another fantastic sporting year ahead.