England Touch confirms Steeden DTS Sponsorship
Following the launch of the new design of Steeden England Touch Balls we are pleased to confirm the title sponsorship of the ETA Development Touch Series. Having had a long relationship with the association and with Touch worldwide Steeden will be working with the ETA as we promote and develop the new 3rd tier of competition.
A new Twitter address has been launched
@Steeden_DTS
which will be used across the season. For more information and products head to
www.steedensports.com
We can also confirm our first host - Oakmeadians Touch in Bournemouth.
Oakmeadians Touch have been playing at Meyrick Park for the last 10 years.The team have won festivals, they have been featured in the local and national media including BBC South Today immediately prior to the 2011 World Cup. We are looking forward to a great start to the Steeden DTS on the South coast.
Information for each tournament will be forwarded to all affiliated clubs in the near future. To affiliate to ETA find the information on the
Membership pages.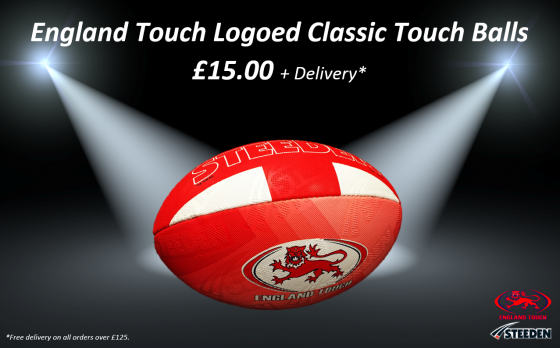 England Touch is proud to continue our deal where clubs can purchase the latest Federation of International Touch rated Steeden balls at a reduced rate.
Prices are  listed below:
England Touch logoed Classic Touch - £15.00 (plus delivery*)
Classic Touch - £13.50 (plus delivery*),
Mighty Touch (training ball) - £11.50 (plus delivery*).
To order your balls contact
gregg@englandtouch.org.uk
*Free delivery on all orders over £125.