The In2Touch Social Fancy Dress World Cup Tournament 2015
This has become UK's best social touch tournament of the year. Being a Rugby World Cup year it will be the absolute best way to kick off the celebrations!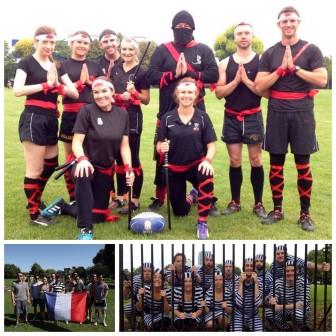 With space for only 20 teams and already half being taken, you'd need to act quickly to get you and your team entered. Each year all 20 teams are given a country at random to come dressed up as and represent that country before, during and after the tournament. With prizes for best dressed team, most vocal supporters, most elaborate touchdown celebration to name a few….
Do not forget the infamous afterparty at G.J's in London, Wandsworth where each team attending the after party will get a FREE bottle of toffee vodka or jug of Pimms to start the evenings celebrations. We can guarantee it will be a day and night to remember!
Date:                 Saturday the 5th September
Times:                       10am onwards
Cost:                         £195 per team
Venue:                       King George's Park
Afterparty:                  G.J's Pub
Registration:
Team Registration
If you have any further queries then please let us know by emailing london@in2touch.com or you can have a look on our In2Touch Website for more information.