MX18 - 2014 European Championships
Our journey began all the way back in October when we first trialed for the first ever England MX18s team. The ETA created the team and entered us into the Challenge Touch Series in order to gain experience and bond as a team. At the initial training sessions there were lots of us, but by the start of the national CTS Tournaments we were a happy band of 20 players and after many training camps it was good for us to get out and start playing as a team" MX18 Flamingos".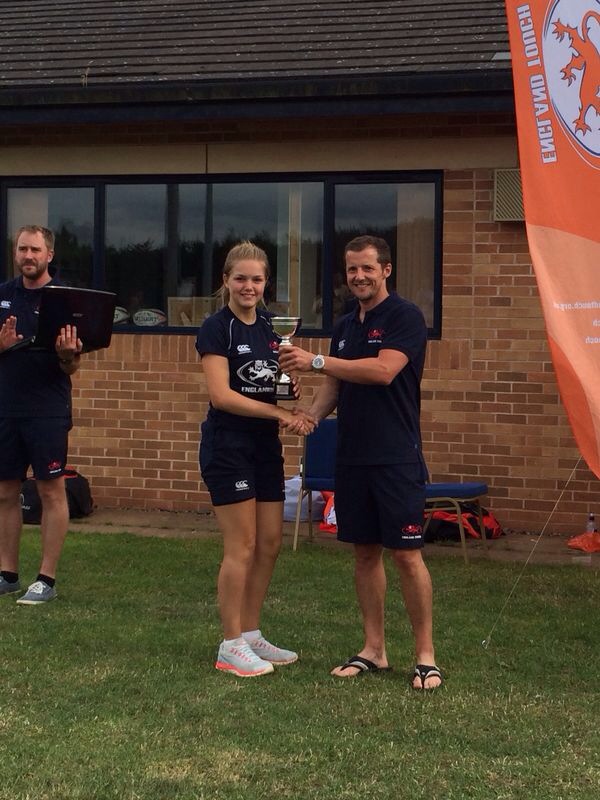 As time went by our team spirit grew and with it our confidence also grew, which culminated in the CTS Finals in Droitwich. We got into the final, down 0 - 2 at the end of the first half we were determined to show what we were made of and kept it going drawing back 2-2. The Vikings then went ahead again 2 - 3, but we kept our heads and eventually won 4 - 3. A fantastic result to become Bowl Winners!
We then went into camp 4 - the final training camp before the JETC, excited and eager to get going, one of the highlights had to be getting our England kit! Although it was really hot, we all trained well and felt ready for the Euros!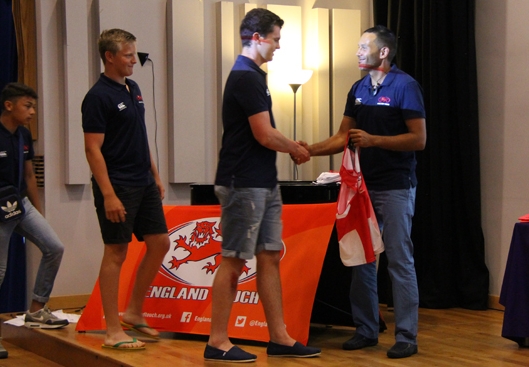 We traveled to Swansea on Monday 4th August, almost as soon as we crossed the Severn Bridge into Wales, the heavens opened...was this a sign?! After checking into our hotel we made our way to the University grounds for a light training session and worked on key moves. We then went back to our hotel, all enjoyed a swim session then went out to dinner with members of the high performance team, it was good to talk to the team and for them to get to know us a bit better, as hopefully some of us will progress upwards as we get older to the Men's and Women's Open teams!

It was an early start for us on the Tuesday, but typically our coach broke down on the way to the Uni, so we all arrived slightly late and not long to warm up before our first match against the Swiss!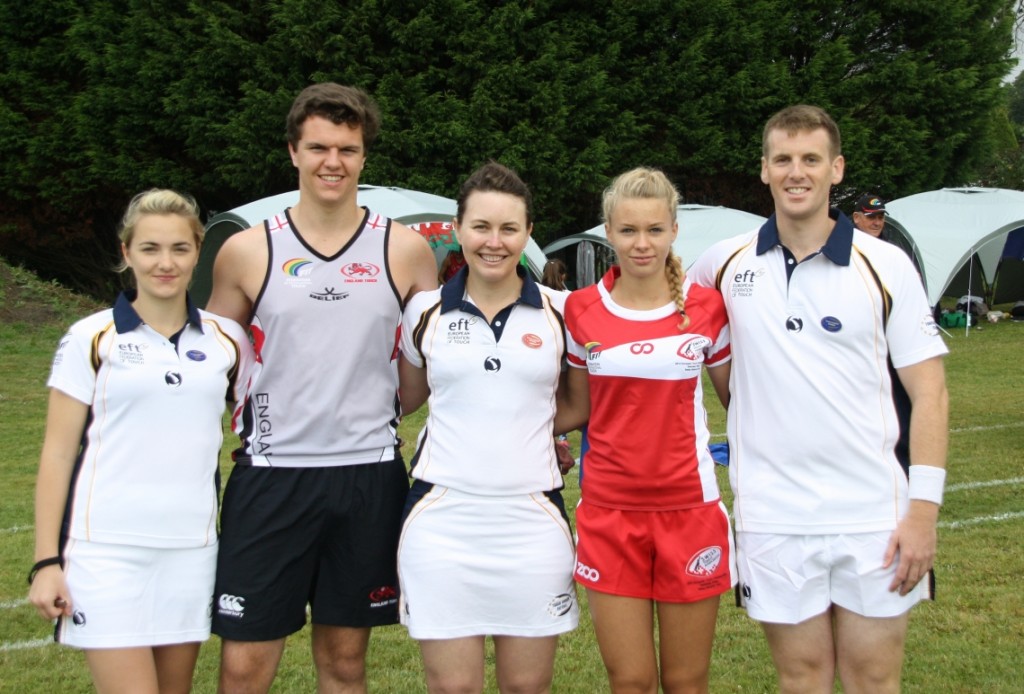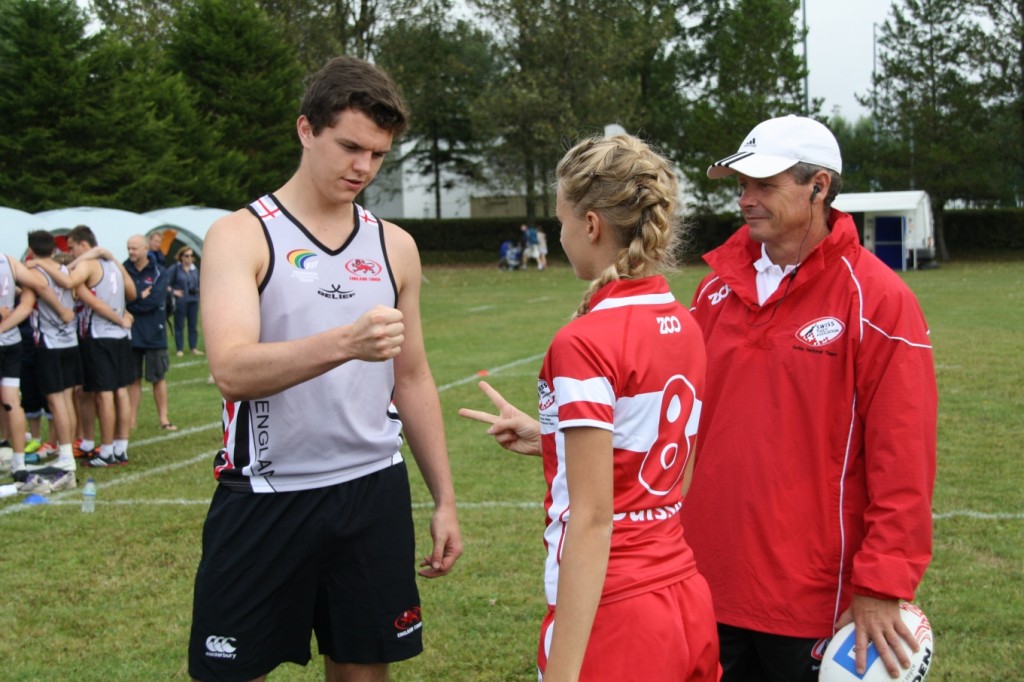 After initial nerves we started playing and subbing well and won our first match 5-2. Next up, Ireland. A different type of match altogether and a much closer affair, it was tied 1-1 until the last play when we all seemed to switch off and Ireland dived for the line, deserving winners we had lost our first match and we knew we had to improve our concentration as we still had 4 pool matches to play!
We then played France where we upped our game considerably winning 6-0. After a break for lunch we knew we had a tough match against Wales who had been playing really well all day, it was a very close and cagey match, but we came out on top 3-2. Whilst the result (contested by Wales) was being deliberated we had no time to dwell, it was our first match against Scotland and after a full on match against Wales we knew we would need to stay on our game. It was a very close match and the sides were evenly matched which resulted in the first draw of the tournament of 4-4!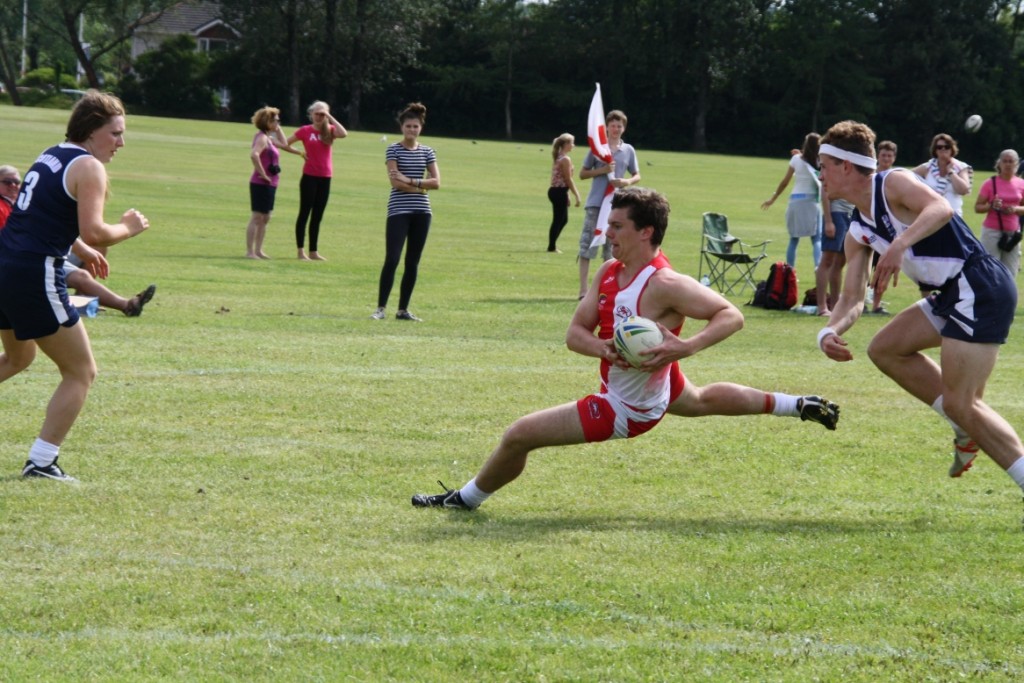 The first round of matches all completed we were ready to play the Swiss again as our final match of the day, now the Swiss girls had been in the wars, with one now in a cast with a fractured wrist, but that was not going to stop her joining in, she started the match (and then was immediately substituted), although the Swiss were a great team with some great players, we had found our rhythm and won 9-1. After a full on day it was off for a bbq with all the players/coaches from all the teams in the evening.
Another early start and a long day ahead. We unfortunately lost one of our players overnight due to injury, such a shame for us and our team mate and although our non travelling sub was there supporting rules dictated that he was unable to play so we were down to 15 players. Our day started well with the first match against France, which we won 6-2.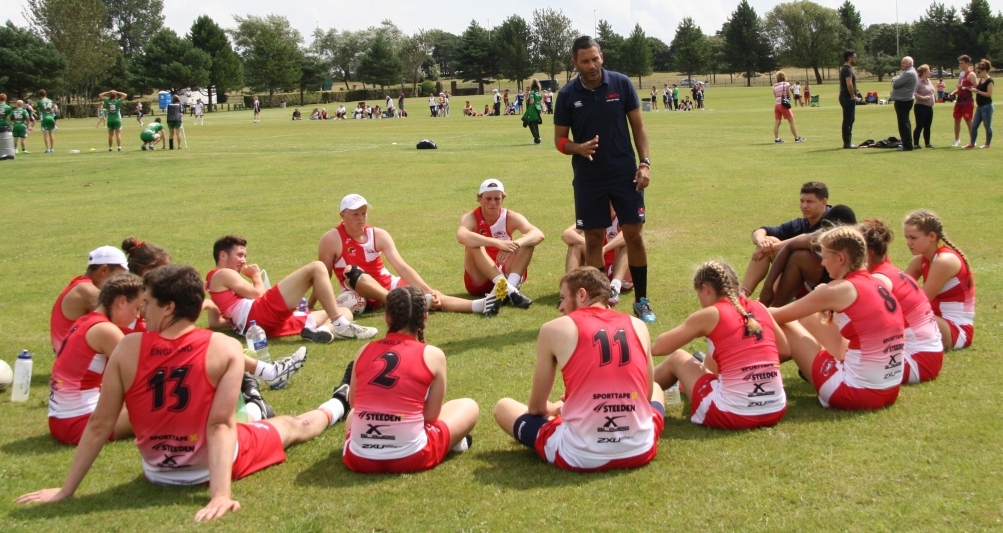 After a short break we had another "double" against Wales and Scotland, after yesterday's tight matches against both these teams we knew we had to be on top of our game plan, both physically and mentally. Against Scotland we did our basics very well, not allowing Scotland to attack and get a roll-on. We kept our shape and the moves worked well and we were able to break their defence, a great win 7-2 the only downside was another injury to one of our girls (we like to keep our physio's busy), but hoping it is only temporary and she will be ok to carry on later in the day.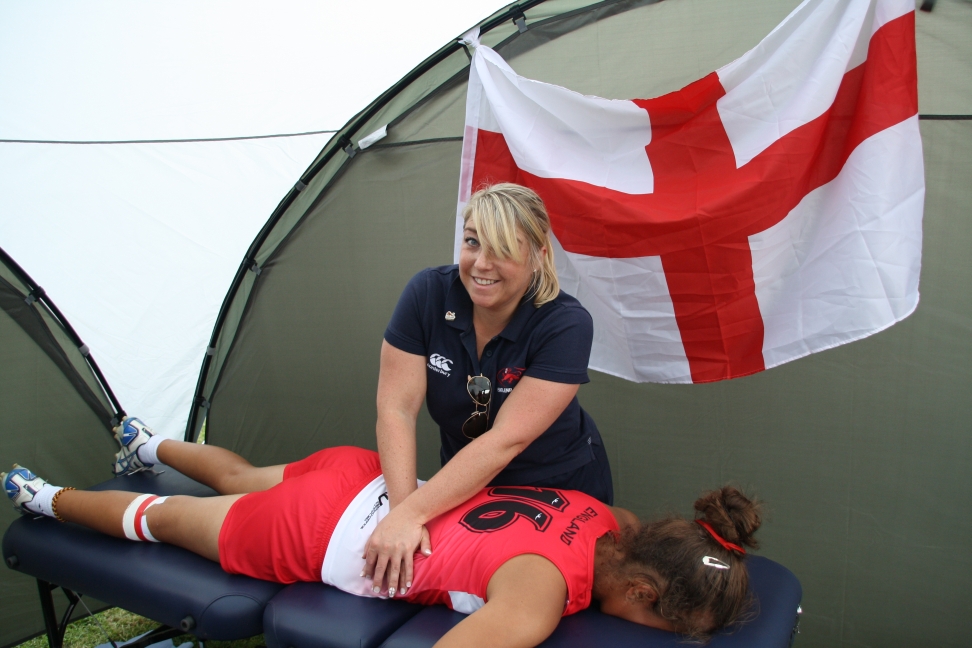 It was another cagey match against Wales and again we won 3-2, unbeaten so far today! With one more pool match to play, we were currently top, so it was all to play for against Ireland, we knew they were a strong team with fast players, but we kept our defence working and after another tight match we were eventual winners 2-1.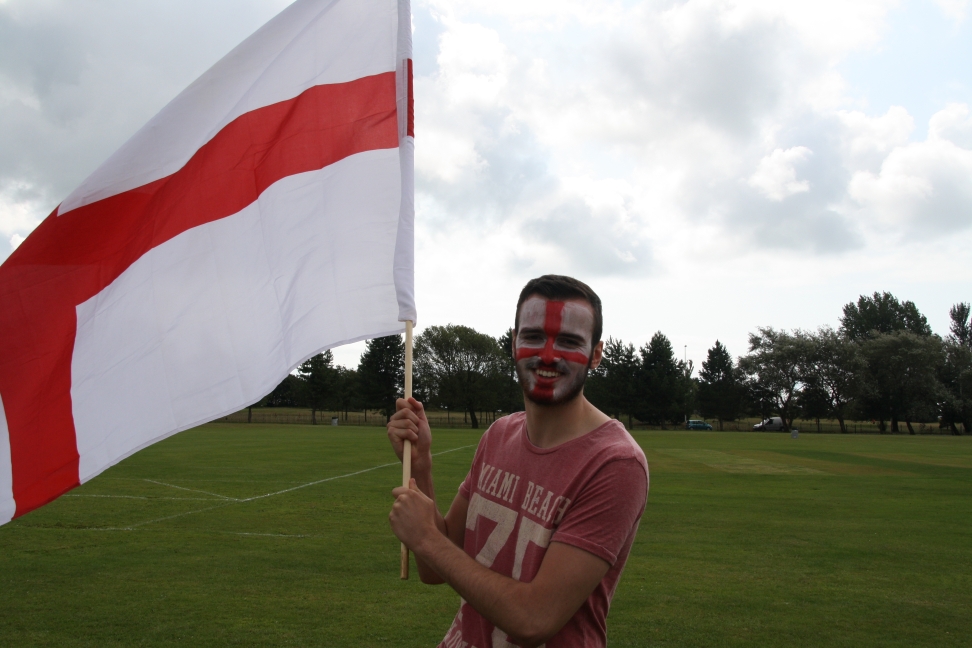 We topped the leader board at the end of the pool stages and knew we were going to face Ireland again in the semi-finals! The support for the team from the sidelines was great, with flags flying and cheering resounding around the pitch!
We de-camped and moved over to the main Stadium, where our final games were going to be held in front of the senior players from all over Europe. First up we had to get past Ireland and with the previous game still in our memory, we knew we needed to make some changes. The pitch seemed much bigger and we had to work on our moves and ensure we kept our defence solid, what a match it turned out to be, Ireland certainly made us work for our win, with two forced substitutions, a sin bin, we really felt up against it, but our defensive platform was solid and we saved a touchdown in the last play to eventually win 6 -5, that was it we were in the final, we were all ecstatic but needed time to recover before the final!

None of us could eat and nerves were kicking in, so we decided to go an cheer on the Swiss in their play off match against the French, a big tunnel was formed and the Swiss were winning when we left to start warming up for the final, we were really happy to hear that they had won – we all loved the Swiss, they had a great attitude and really enjoyed themselves!
Now it was down to business, final preparations and game plan discussed, it was time to line up to take to the field, the whole of the senior England team were there to cheer us onto the field (as was the Welsh team for Wales and the Referees for the refs)! We lined up for the anthems, and then it was time to play.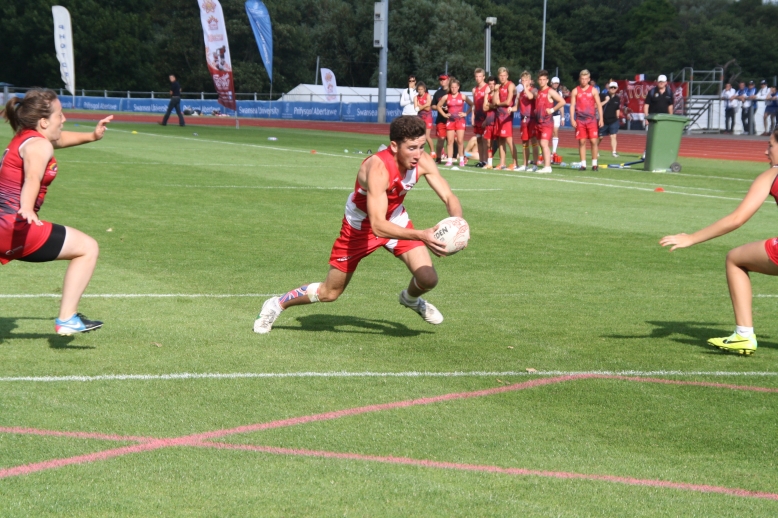 We opened the scoring almost from tap off but have to admit the rest of the match was a blur, we could hear the crowd, the Welsh were very vocal, but the Welsh didn't allow us to have any space and we in hindsight gave them too much. A great game played in the spirit the tournament was intended, and Wales deservedly won 6-3.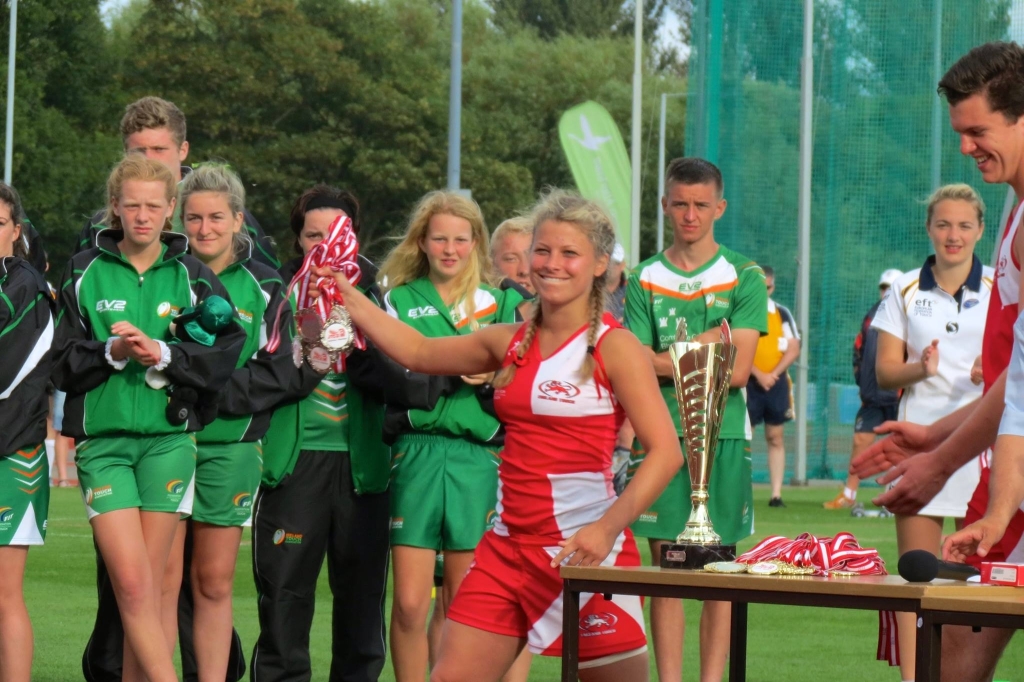 What an experience, for us all, playing for your country is a huge honour and to come away with a silver medal is a great achievement. We have all learned a lot and made many new friends along the way.
We couldn't have done this without our Coach, Physio's and Manager and of course our supporters (and in most cases our bank rollers) ...thanks to them all for their support!