Senior Mixed take the GOLD!
Back Row (L-R) Jon Lovell (Player/Coach),  Will TenBroeke, Simon Clare, Jose Luis Dias, Dan Holland, Martin Wright, Joel Buchan, Jason Grace, Gregg Cropper.
Front Row (L-R) Rebecca Yousefian, Kate Hyde,  Julie Walker, Tamsin Openshaw Julia Kang, Sarah Rosenburg, Joelene Hughes
Manager: Ben Powell. Physio: Emma Knott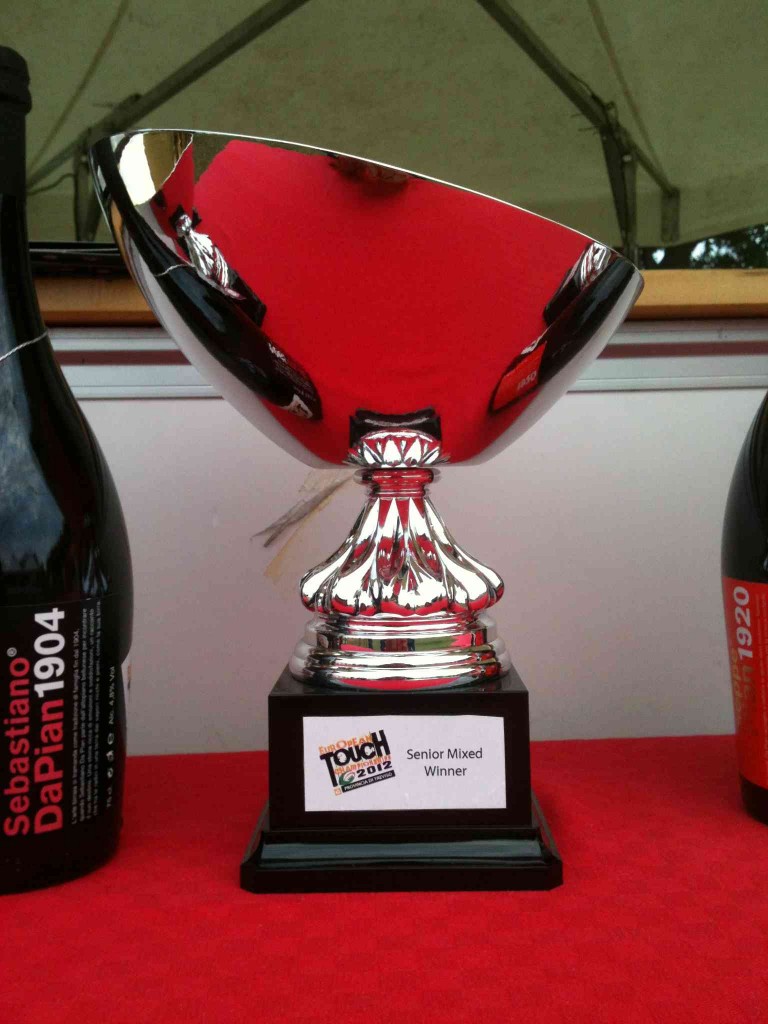 It was only a matter of a few months ago that the mixed 30s squad hardly knew anything about their fellow team members, with a total of 7 uncapped 'tour virgins' in the team and 2 players making moves from other England teams, so meeting each other and then quickly gelling together was the first aim. The team was a contrast of novice players, having only played to a competitive level for a couple of months let alone make an international debut, to the good 'old timers' with numerous England Caps, who were quietly confident in their ability to guide the new ones through.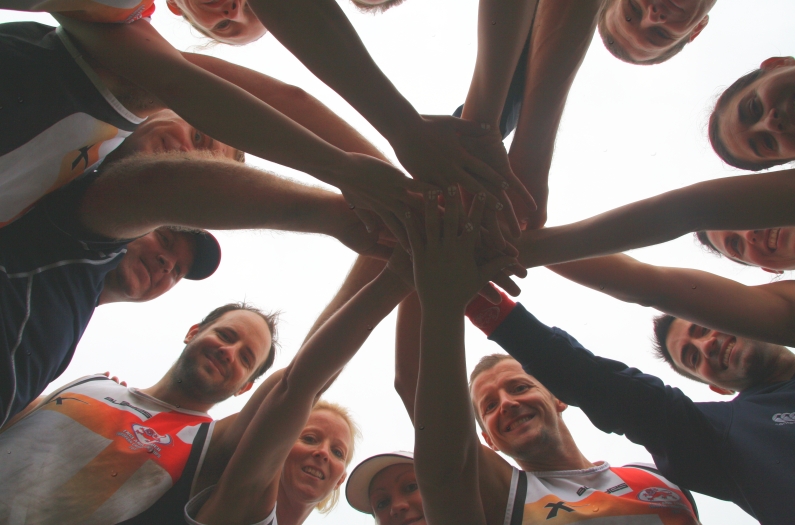 The senior mixed division had 5 teams entered, and so a double round robin was the format. England entered the tournament as favourites, with a strong Welsh side being their main threat.
It wasn't long before England was on a roll.  They faced hosts, Italy, in their first game and within seconds had scored their opening touchdown. They continued to clock up their tally as the TD's came thick and fast. They claimed their first victory against the home nation winning 14-1, a great start to the campaign.
In game 2 they faced Wales, who put up a great fight and attacked England hard.  A 5-5 draw at half time stirred them from their comfort zone. A quick team talk and analysis of the first half was done in the break and England fought hard and proceeded to win 11-7.
England were able to relax slightly when they met Ireland in game 3.  They didn't concede a score and won convincingly 10-0, confirming their status as division favourites.
England's first meeting with new-comers Luxembourg was a one-sided affair with the team racking up more TDs to come out with a massive 22-2 victory.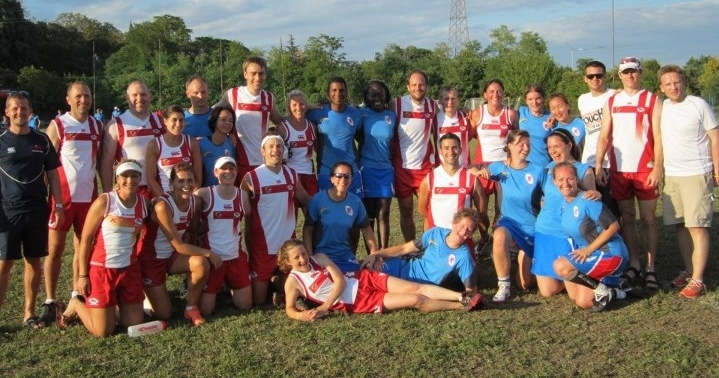 Moving into Round 2 of the fixtures and England kept the victories coming: a 7-1 win over the host nation followed by a more confident display against Ireland, winning easily 12-1.  Game 2 against Wales was again a tighter affair with England battling through again with a strong performance to win 9-4.
The final game of the pool stage was against Luxembourg who, by this point, had suffered a few injury problems but agreed to battle through to field a team for the game.   True to the spirit of the game England used this tie to develop players  in other positions with the male team members taking to the wings and the girls holding fort at mid.  England were kinder to Luxembourg and won 15-0, but credit to Luxembourg for improving throughout the tournament and playing hard to the end.
England had easily topped the group stages.  Going in to the semis at 08.10 on the final day, England was quietly confident.  They faced the Irish again and a win was expected.  The squad were keen to try and top their previous result and play their patterns and set plays consistently well in preparation for the final.  The score finished 14-2.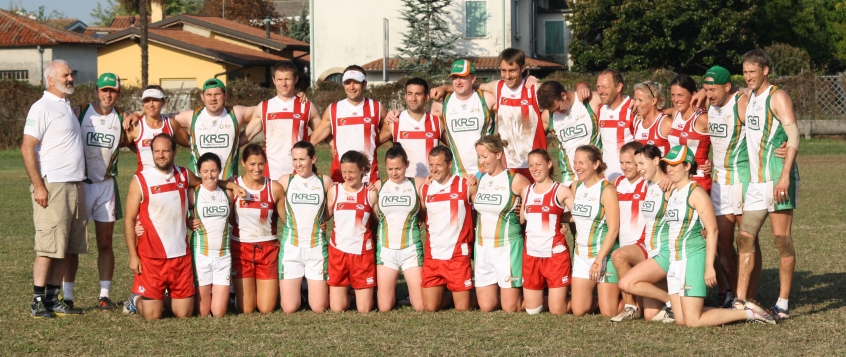 And then came the final
This was the match that had been on the cards, written from the start, the game everyone had predicted.  A clash of the big guns.  Wales had everything to gain and nothing to lose coming in fresh as the underdogs.
The refs for the finals were: Sarah Mason (Scotland), Matthew Boesen (Switzerland) and Shelley Grace (England).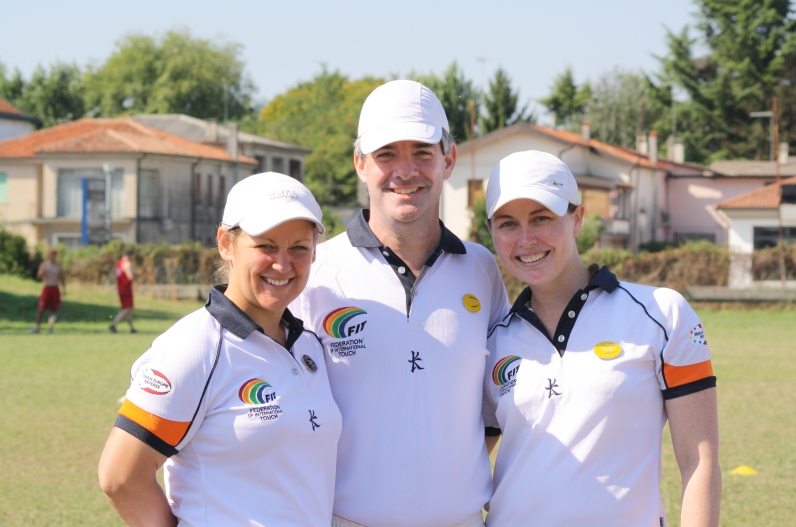 The Welsh planned to attack hard and drive fast from the start as they had proved they were capable in their first match against England. The Welsh anthems were bellowing from their aroused fans, the Welsh were buzzing. They pulled on all their strength and skill and managed to get out in front.  This had some of the English spectators (and players) worried. At half time it was tense, 4-4, a scoreline which England had faced before. Undeterred and with an inspirational team talk at half time, England had a true fighting spirit..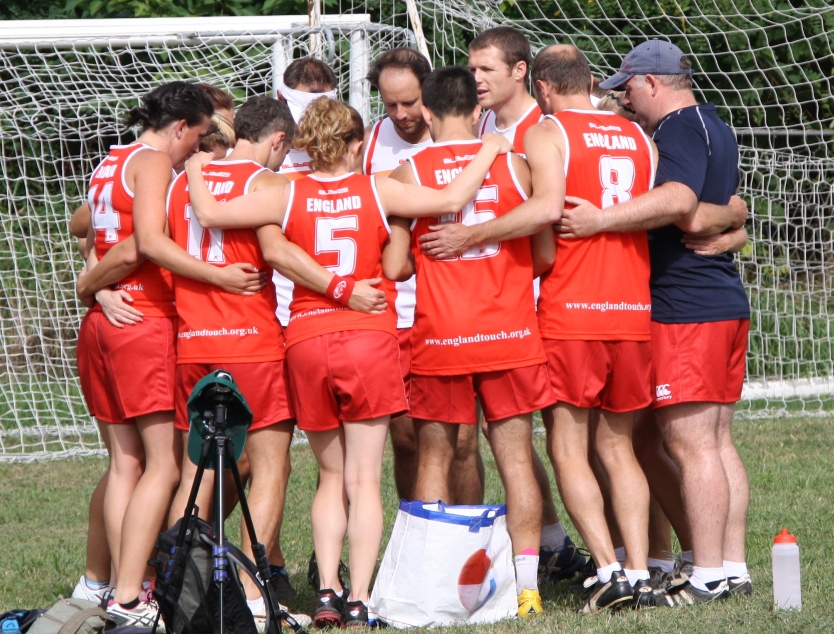 They had the passion needed to fight back.  There was no way after coming so far through the tournament without losing a game, they were going to fall at the last hurdle. They would not settle for second best.
England proved fit and strong. The Welsh were weakened by the English determination to succeed.  Gradually the scores came.  By the final whistle, England had claimed victory, winning the gold medals, winning by 10-7. A great and well deserved result!

Over the course of the competition, the senior mixed squad managed to clock up a record breaking 100 touchdowns.
It has to be said that the senior mixed have proved an exceptional squad.  They pulled together with true team spirit and encouraged each other throughout. There have been some excellent demonstrations of skill and prowess by individuals but these could not have happened without the supporting play of others.  Well done to you all!!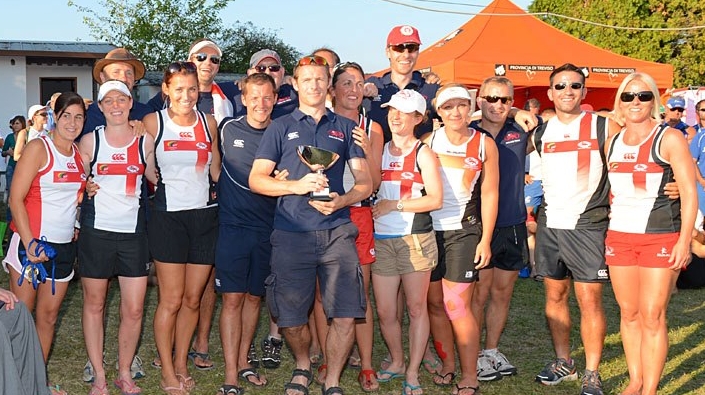 Notable mentions:
Top scorers:
The teams top try scorers were Martin 16, Julia 15 and Gregg 14. The highest 3 scorers in the division.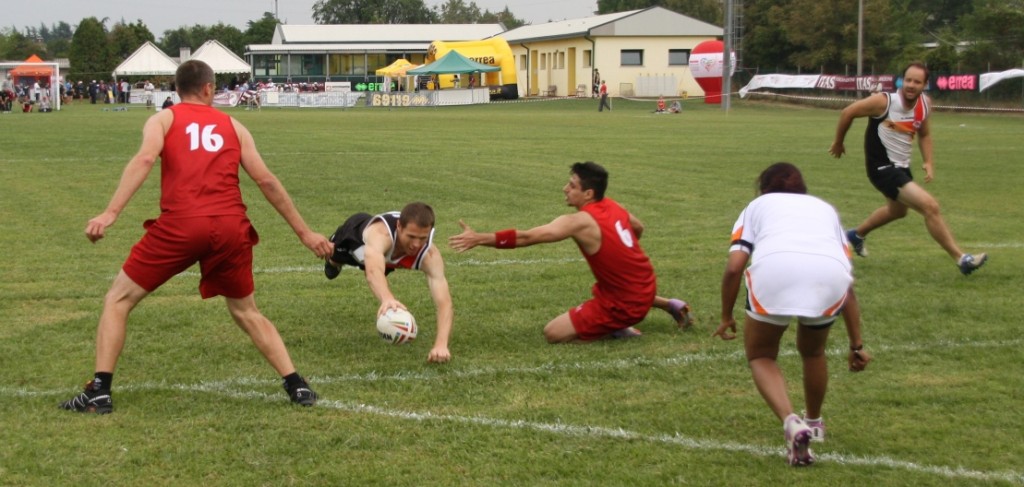 MVPs
Well done to Jose and Rosie for being awarded the MVPs by the opposing teams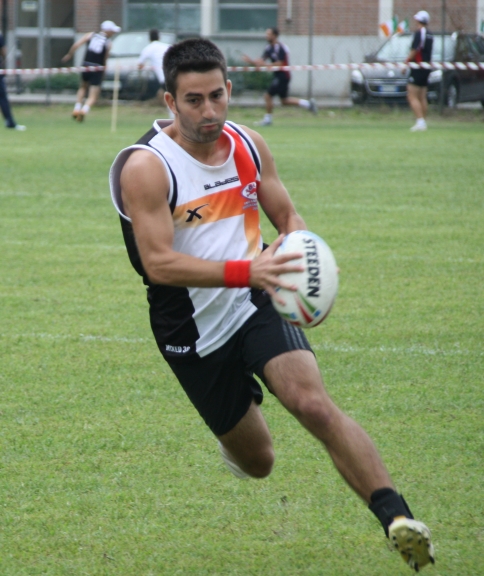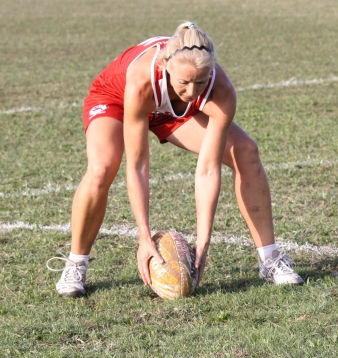 and to Julia and Gregg for being voted MVPs by their own squad.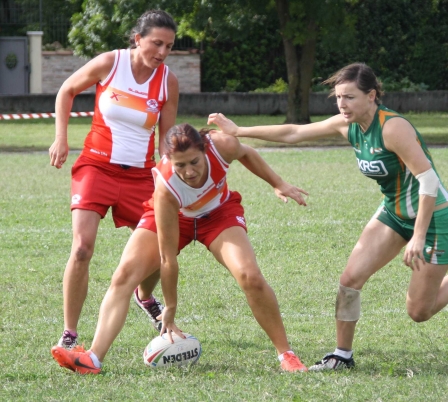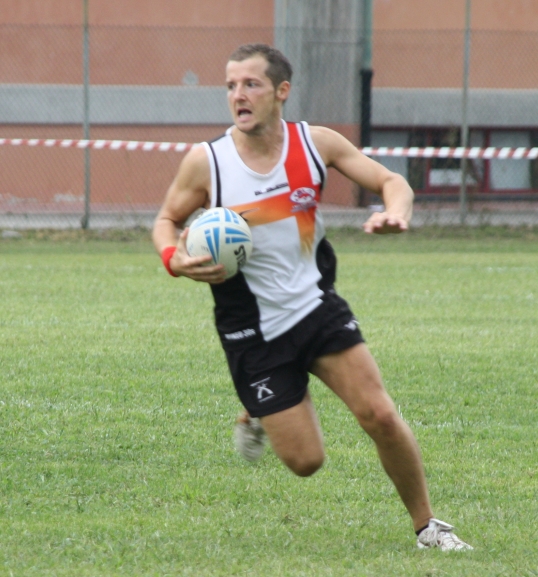 Thanks
A big thanks to our team manager(s) Linda Adamson and Ben Powell for their organisational work. And to our team physio, Emma Knott, who kept the team fit and injury free throughout the tournament.
And finally a big thanks to Coach(es) Jon Lovell and Martin Wright who put in lots of time and effort to prepare the team.
It should also be mentioned, that Coach, Jon Lovell, managed to be the only player in the team to be told his nails were too long!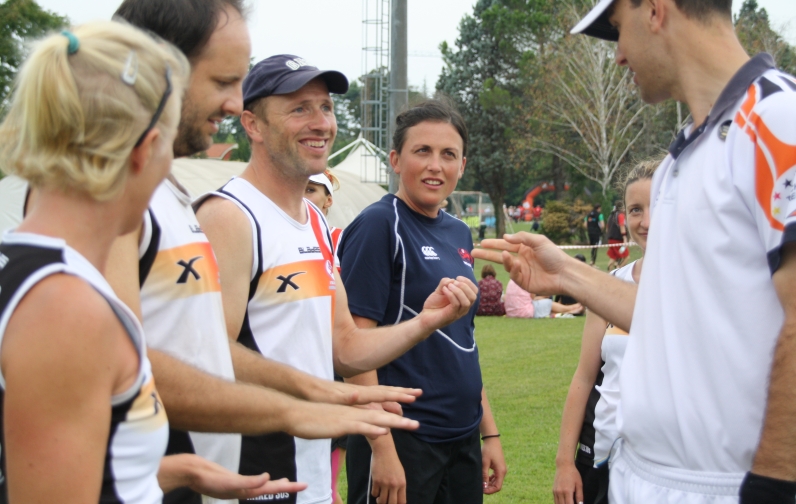 The squad are looking forward to the 2013 Home Nations in Dublin and hope that they can continue their excellent reputation as being the best senior mixed team in Europe!