Medical Team at the Euros
The England Touch Association medical team were all ready for the European championships; consumables were ordered, equipment had been shipped, the protocols had been printed and waterproofs had been packed, however a monsoon was not something that had been factored into the equation! Despite this the team remained pitchside during the downpours that occurred in the early days of the competition, to ensure that all ETA squad members had full medical cover, despite them getting a bit damp!
All medical team members volunteered to be part of the ETA medical team alongside their full time jobs for several reasons; some to gain experience working with a large squad, some to meet new people and some to learn new skills, but all had one goal, to have fun whilst helping the England team to be as successful as possible!
The competition went as well as can be expected with a significantly less number of injuries than occurred in the world cup. This was in part due to prehabilitation programmes and conditioning videos produced by the team and made available to the squad members to utilise in their training. The use of K tape was increased from previous competitions and it was nice to see so many players being open minded in their choice of K tape colour!
The days were long for the team, with early starts and late finishes; however the camaraderie with the medical team made it much more bearable!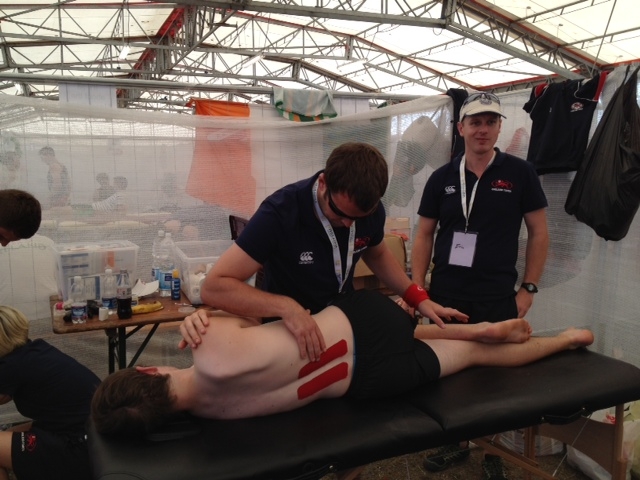 The feeling within medical team was that of a real supportive England squad with the medical squad incorporated into the team. I believe that this was due to the appointment of a head of medical services who was visible from the beginning of the season, and opportunities for the medical team to be introduced to the squad and a named medical team member for each team. It is believed that consistency with the medical team would also continue to improve the medical team for the future. In addition this will enable data collected from the Euros and from questionnaires sent to the players prior to the competition to be utilised by the team to develop protocols and rehabilitation programmes to help to reduce injury with the squad.