England Mens 30s Euros 2012 Campaign
Training & Build up
Training was good, a mixture of training days, games against other England sides and tournaments. The games against the Men's Open team (when they had done all their homework and were allowed out by their mums) were particularly good preparation and honours were even at 1 apiece in the 2 tournaments in which the teams contested finals. The training squad lost Nathan early on due to concerns his hair would be too affected by the weather in Italy and the final squad for Italy was selected.
Squad
This squad saw the addition of a number of new players, Jon Irwin, Jonny Acheson, Simon Whitnall and Dave Cope as well as a good mix of established (i.e. old) players like Mike Abro. The team was without several guys from the last few years – Clayton (too thin), Dante (mystery injury / scared of sunburn) and Rohan (on holiday for 6 months / lazy).
There was a new team Manager, Anna Jennings, who had the enviable job of organising everyone, something that looks difficult and actually is much more difficult than it looks. An early decision was made that Anna should concentrate on management, rather than transport, this paid off when we were able to return the minibus unscathed to the hire company.
There was also a new coach, fresh from coaching the mixed 30s at the WC (and probably making all the girls cry at some point), Ben Smith moved to the exclusively male environment and did a fantastic job in that he only made Travis cry once or twice.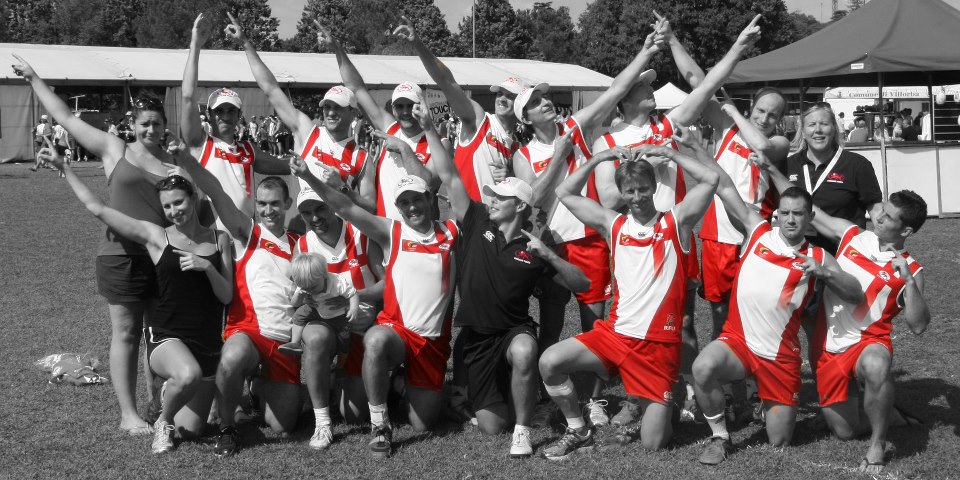 Working with Dave Cope's 'Tyrannosaurus Rex passing arms' was entertaining, as was the fact that he's a vegetarian, the only one in the squad, mainly because there weren't any 15 year old girls or hippies making the final cut. The other new team members each bought something to the team and it was good to have them on-board:  Simon is a Personal Trainer, working exclusively with the psychic / people with very good hearing, Jonny Acheson does voice over work for Eamonn Holmes & is a house-husband and Jon Irwin is a London's premier helmetless cycle courier.
The squad gelled very nicely (like Travis' hair) and team spirit was assured when everybody was able to bond over the fact that they were much quicker runners than Steve. Training sessions were good and, under Ben's coaching, we found a style of play that complemented our skills and abilities as a team – ie tactical nous in the middle (J Conway), pace at links (T Kenny) and standing still putting the ball down on the wings (S Cleary). Add into the mix the leadership from Mike 'additional feet' Stibbs and Q 'Big Daddy' Peri and things were looking good.
Justin Conway gave a speech at Lilleshall reminiscent of Shakespeare's Henry V, in which he used a cooking analogy. He has been accused of taking this too far but, many people still remember that , in touch football, you have to break some eggs, there can't be too many chefs or flour, the oven must be pre-heated and Stibbs has to be Gordon Ramsey, with Q as Ainsley Harriet……………………………………….or something like that.
At the final Lillishall training meeting, the team enjoyed a good session followed dinner at the hotel, followed by a lecture on nutrition, followed by a McDonalds drive thru for some of the team (they will remain nameless, except to say the vehicle used was a Range Rover and captains lead from the front).
A bit of fun was had creating a team video, stealing the idea from Team GB and doing a Queen tribute:
http://www.youtube.com/watch?v=EaOZOHJbl3U
It currently boasts an impressive 196 views, with zero likes or dislikes!
Tournament
The squad assembled in Italy in good time and settled into the hotel. The tournament structure was interesting and got even more interesting following torrential rain wiping out some afternoon and a whole mornings games. This meant a couple of days with 3 games per day, followed by a final on the Sunday.
The nature of this setup didn't really help the team, also it meant 3 games against or main rivals, France, in the pool stages. The team pulled together and we got into the Sunday final unbeaten, although ominously the last game against France was a draw.
Ice baths were the order of the day, with Q ensuring plenty of space in them by sporting only a pair of Speedos and a cheeky smile, which cleared a good 20m2 area around each pool.
Video analysis sessions allowed us to critique our play and spot any areas for improvement, highlight of the week in that respect was Justin's display of mid defence, which involved at least 2mins of standing, hands on hips, barely moving and barking instructions to the link to 'Get up'. This was watched at least 5 times and provided that night's entertainment.
Highlights in the pool stages were the 1st cap for coach Smith, who claimed he would stand on the wing to make up numbers and within 3 touches of the start was in the middle lobbing long balls. Good victories against Wales & Scotland allowed the team to be sure that we would make the final, the wingers even getting the chance to throw some long balls from the mids against Wales, although the team policy of holding width on the wing appeared to be changed to 'switch me into the middle when we get to the line' for this game.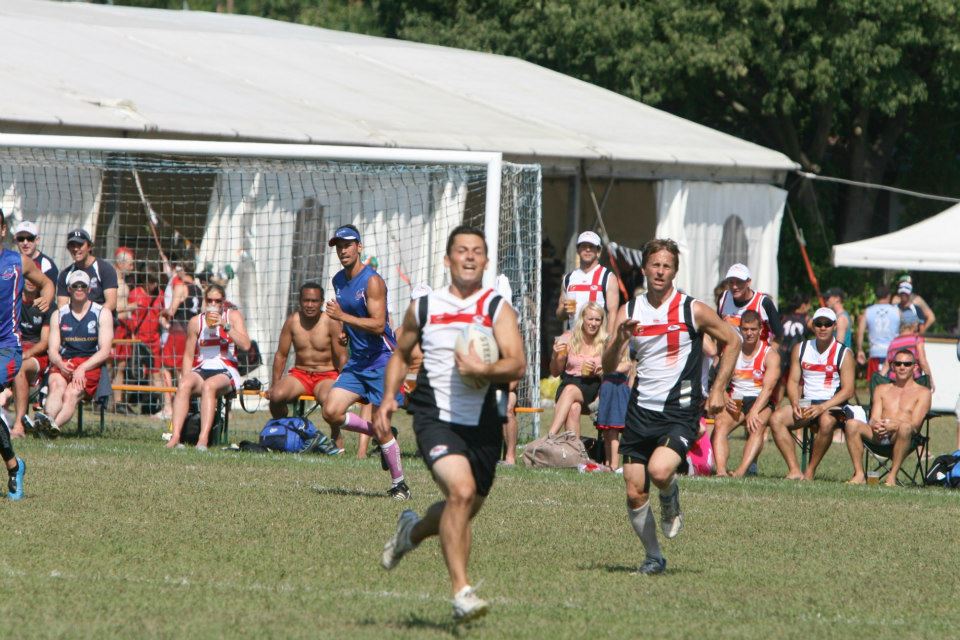 Injury
The England Touch medical team at the tournament coped very well with managing injury, or Karl as we call him but, unfortunately he succumbed to his 452nd career hamstring injury midway through the pool stages. It is rumoured that Karl will be attempting a 'full Pistorius' to ensure he can complete a tournament in 2013. The other main injury worry was Mike Abro, who took to proving his fitness by taking the unusual step of playing some of the pool games as well as the final this year.
Losing Karl was bad enough and things were compounded when we lost Andre with a back injury, he claims not to know how he did it and rumours that it was done attempting the 'Travis double clap press-up' are unfounded. Worse was the lack of compassion shown by his team mate when Andrew sought emergency massage in Room 232 for his ailment. Zhayne Nel was heard to scream "I've booked these ladies for the next two hours and there is no way I'm letting go of that booking". Two hours later, when asked how his evening had been, "Burt le" Nel commented: "Unbelievable! Unbelievable! I've never been so pleased in my life!".
The Final
Entering the final unbeaten but, short of key players, this proved to be a game too far. We unfortunately lost to France, the 'Silver Fox' playing for France was particularly good all tournament and credit should go to the France team for a great performance. They kept coming at us and were able to take the victory, for some this was the first ever loss against a European team.
Aftermath
The evening fine session was predominantly Travis-based, as is usual he bought the majority of it on himself , the most noticeable being his mistaking of 'European Touch Champs' with 'European Biggest Arms on Smallest Body Champs'.
Jonny Acheson & Mike Stibbs both had to accept the, now categorically proven, fact that they were the 2nd best touch players in their families. This leading to Mike claiming he would be returning to open grade to take on Australia at the next World Cup. Acheson made no such claim but, it is assumed the he will simply move further down the domestic pecking order at home, just below the mice and above house-flies.
The two big announcements were that Justin Conway and Mike Abro were retiring from international competition. They will both be sorely missed by all at England Touch for everything they have done over the years.
The news about Mike Abro unfortunately meant that 50% of the England medical team are now redundant, due to a necessary streamlining of personnel. Already reeling from the loss of Dante, K-tape manufacturer have also taken drastic cost-cutting measures.
Conclusion
This was a great tournament and really enjoyable squad, unfortunately losing out in the final although we couldn't have done any more. Thanks to everyone at England Touch for their support as well as our families and friends.