2 Trophies for the Crumpies
Retirement, injuries and sadly illness meant a change to some personnel for the 35s squad following the World Cup. (Er, bronze medal since you ask.)
I don't know if our coach was expecting trouble on or off the pitch but he included two enforcers in the new selection. Very different in their styles, the' juggernaut' and the 'assassin' brought a new edge (and penalty count) to the team. Alongside the enforcers, we also managed to add some more Englishmen, which was nice.
The tournament started with a tense opening game against the French in which we produced an excellent impersonation of a bunch of middle aged men, straight from a flight and limited night's sleep, trying to play sport at 07:30 in the morning. Goodness knows what the opposition had been up to as we finally won 5-1.
Later that day, we played the Welsh during a thunder storm of biblical proportions. Soaked to our y-fronts in seconds, we stayed focussed and manage to edge ahead to a 4-2 lead at half time. At which point the game was called to an end by the officials for fear of losing 'sleepy dwarf' or 'chipmunk' in one of the puddles.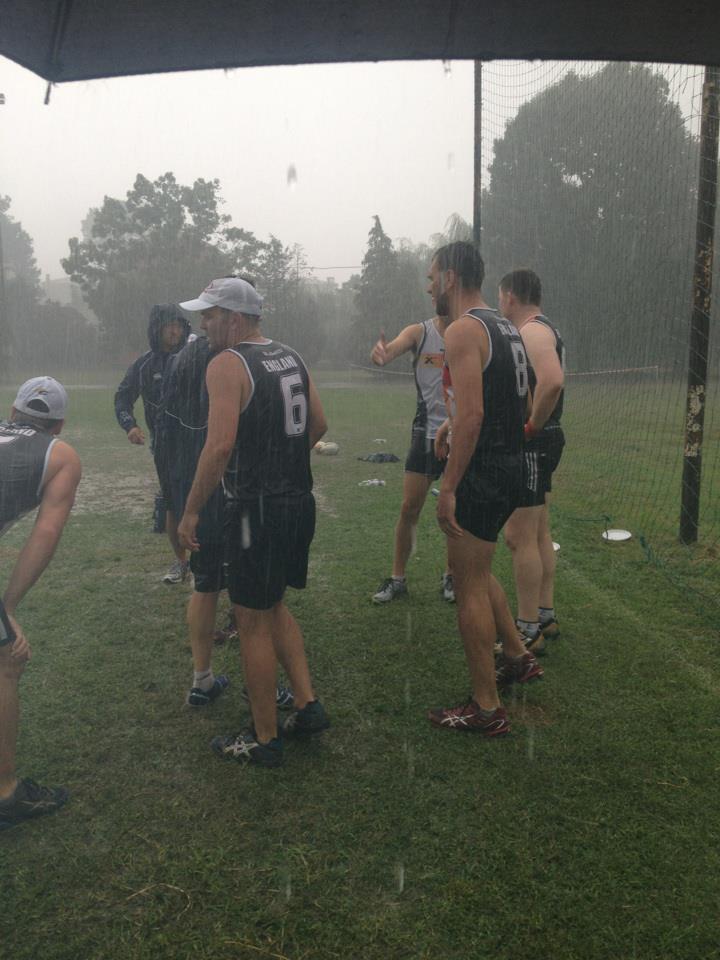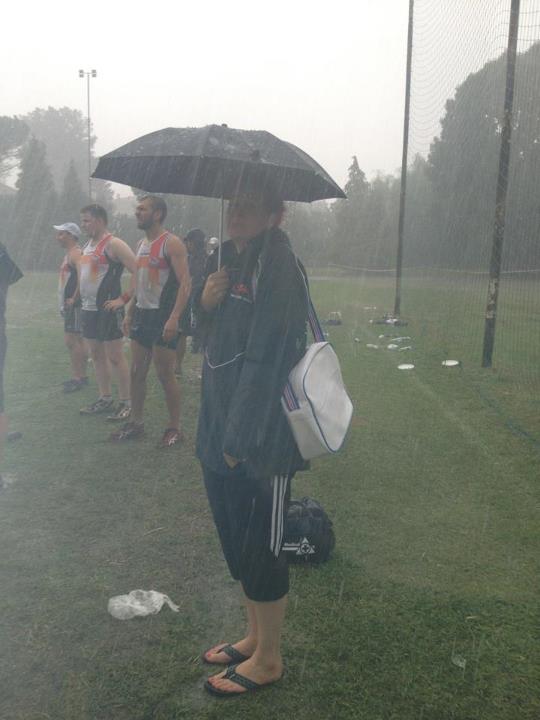 The rain interruption caused havoc and the remaining schedule had to be re-jigged. The good news was we only had to get through 4 more games to get to the final.
With renewed focus on day 2, we put a fast flowing performance to beat Scotland 9-2. The following morning we stuttered slightly against Wales finally scraping through 6-5 (we really don't like early mornings) before 'Le Crunch' in the afternoon.
In bright sunshine with a partisan crowd we put in our performance of the tournament to date to win 10-3. Unfortunately, whether it was memories of Blanco-Heslop or niggle from previous encounters, the game finished with a little bit of 'sacs a main' with our enforcers and professional negotiator to the fore. Still it was nothing a couple of beers in a paddling pool couldn't smooth over.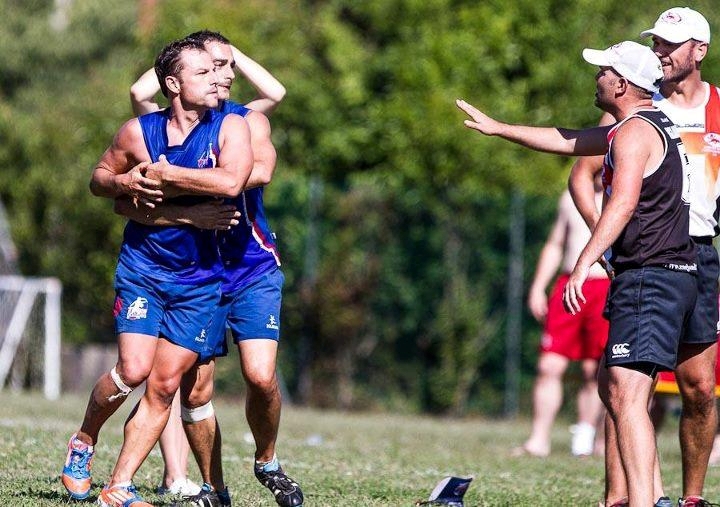 England went out to beat the Scots 9-2. Progressing to the finals, the strong England team defeated Wales 5-3, another gold medal for England
The fourth and penultimate day took us to the serious business of the inaugural Yarrow Memorial Cup. Contested in the most senior England v Scotland fixture at each tournament, the Cup is in memory of Simon Yarrow who tragically passed away last year (2011). Simon gave a huge amount to the sport of Touch Rugby as a player and a coach in Scotland and England. The team felt very privileged to play in this inaugural fixture. The game was a fiercely contested and close encounter that we hope did some justice to Simon's legacy. Despite England finally winning the division and Scotland coming last overall, the teams made a really close match of it finishing with a 5-3 win to England. Both teams held a minute's reminiscent silence before the match and players wore black armbands. It was a great occasion - very touching and it was clear that both sides had an extra spring in their step knowing the trophy was at stake. Si would have loved it.

And so to the final in which we would face a Welsh side slightly depleted in numbers but that had pushed us close twice already.
We don't always do what our coach tells us. We don't always stick to patterns and we don't always like to make it easy on ourselves. Nonetheless, we always work hard for one another and we work as a team. That commitment and collectivism saw us edge out a talented and spirited Welsh team 5-3 to become European Champions 2012.
Another enjoyable and successful campaign and so our thanks must go again to Emma Crawford our physio, to Anna our sports masseuse and to Georgia our excellent manager for all their hard work and support. We couldn't have done it without you guys!
We are a bunch of middle aged men. We are trying to stave off the ravages of time. We get our own team mates names wrong. We have mixed interpretations of our coach's simple instructions but...
We played 7.
We won 7 and we are European Champions.
We are England Mens 35s.
GO CRUMPIES!