Huddersfield Physiotherapy students at NTS Finals
The University of Huddersfield continued to support the development of Touch by providing medical cover for the National Touch Series finals held in Manchester on Saturday 3rd September 2011, hosted by local touch team, Manchester Chargers.
The 6 physiotherapy students volunteered to provide medical cover for the 16 teams entered into the competition gaining valuable hands on experience in real time situations.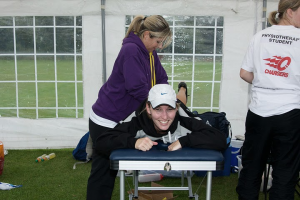 Supervised by Cari Thorpe, Clinical Associate Lecturer and Senior Lecturer Emma Knott (both part of the Team England 2011 Touch World Cup Physio team) the students provided advice, pre and post soft tissue massage, dealt with bloods and acute injuries for both the players and the referees during the day long competition. The students were a mixture of third year final students and new graduates and they worked in a professional and calm manner, especially in light of some of the more complex injuries they dealt with on the pitch-line.
The unique experience of pitch-line management allowed the students to develop their manual therapy skills, communication and decision making in high pressured situations that they might otherwise not get the opportunity to become involved in at this level of their training.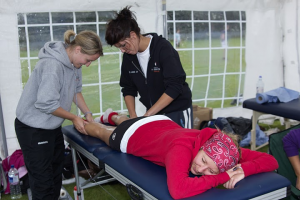 The relationship between The University of Huddersfield and both the England Touch Association and Manchester Chargers continues to grow from strength to strength and both parties benefit greatly from the partnership
There is always great interest from all the students when asked to volunteer for the competitions and it hoped that this partnership will grow further in the future.