Warwick Touch Fest – Great Success
Warwick Touch's first ever home tournament the Warwick Summer Touch-Fest has been hailed a huge success with more than 100 touch players descending on the Warwickians Rugby Club in Warwick.
Nine teams took part in the competition - Warwick Knights, Warwick Jesters, Oxford, Nottingham, Wrexham, Birmingham Children's Hospital, Coventry, Stoke Old Boys and Chippenham.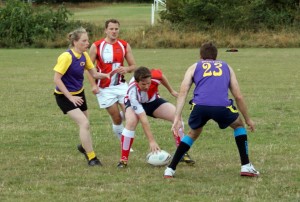 Teams were split into two pools for the morning's play, with rapid fire games of 20 minutes, and only a ten minute gap between games for most of the morning.
After plenty of close fought games Oxford and Nottingham proved their dominance, each winning their prospective pools and going forward into the cup competition. Joining them in the cup were second place pool teams the Warwick Jesters and Wrexham.
Meanwhile the shield competition was contested by the Warwick Knights, Chippenham, Coventry and Stoke Old Boys.
Birmingham Children's Hospital, as the ninth team, were by default the winner's of the bowl. However, for their first ever tournament they could hold their heads up high having tested many more experienced teams, and even beating the Warwick Knights on the point scoring system - it was 2-2, but as Birmingham had a girl score, which counted as 2 points, they took the win 3-2, a great result.
The afternoon saw both Nottingham and Oxford continue their winning ways against the Warwick Jesters and Wrexham, taking them through into the cup final.
The Warwick Knights got back onto winning form in the Shield, winning against Chippenham, and then went on to beat Coventry in the final.
The Warwick Jesters put in a great end of the day performance in the 3rd place play off, beating Wrexham 5-4.
The grand cup final between Nottingham and Oxford saw tremendous play on both sides, with Oxford eventually taking the win.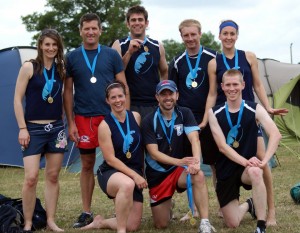 Special thanks have to go the both the player refs from the teams who helped out on the day, and our three dedicated refs, who worked all day officiating over the games on four pitches.
The festival atmosphere of the day then continued with music and drinks, and many of those who were camping freshening up ready for the evening social, held at Saint Bar in Leamington. We'll perhaps let the pictures speak for themselves on how that went...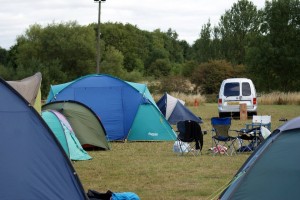 Written by Jack Linstead - Warwick Knights