Galaxy take Bath NTS Title
The Bath Leg and 4th Round of this year™s National Touch Series, was again a massive success.  20 of the best teams from across the UK fought it out in England™s most popular and exciting Touch competition.  As always the competition was fierce and exciting, and there was certainly a fantastic amount of skill and athleticism on display.
The day began with all 20 teams divided into 4 pools (each team playing every team in their pool).  It was tough going for the organisers own Bath Touch Leagues summer champions West Country Cavaliers, and fellow team Shortstriders.  However, both local teams showed what they could do and played fantastically well considering the quality of some of the opposition (both teams were grouped with this year™s finalists).
The conclusion of the pool stages saw the top 2 from each group qualify for the Cup quarter-finals, with 3rd and 4th qualifying for the Bowl quarter finals.  5th place went straight through to the Salver semi-finals.
West Country Cavaliers went on to win the Salver Final, adding to their Bath Touch Leagues Super League title.
The Bowl was won by Kytes.  They beat a spirited Bristol Fijians side 3 - 2 in a very tight final.
The Plate, consisting of the losing Cup quarter-finalists was taken by the Durkas in an all-Welsh affair.  They smashed fellow Welsh team the Cardiff Raptors 5 - 1.
In the main event of the day Galaxy took on London Otters in the Cup Final.  In an extremely tense and exciting final, current NTS leaders, Galaxy, ran out 4 - 2 winners, and cemented their place at the top of the table.  They all now look forward to the final leg of the series in Manchester in the hope of crowning themselves NTS Champions 2011.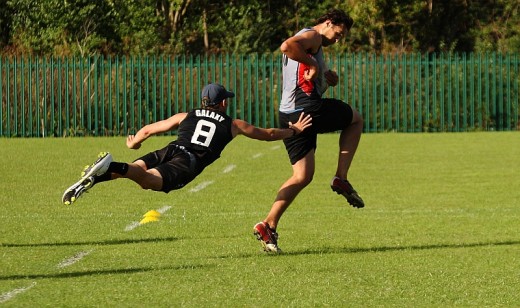 The other winner of the day was the RUH Forever Friends Appeal charity who will be receiving a cheque of more than £500.
(Photographs courtesy of Vic Hillman, www.vikspics.com)
Written by Neil Davies