Medical Team
England Touch are proud to announce the appointment of Cari Thorpe HPC MCSP as 'Head of Medical services'.
We welcome Cari, who joins us with a wealth of knowledge and experience: Cari qualified as a Chartered Physiotherapist in 1998 with the majority of her career in the NHS.  She specialised in MSK in 2000. Cari began her involvement in sports in 1999 by obtaining a position as club physiotherapist with Sedgley Park Tigers RUFC and worked for them for approximately 4 seasons.  In 2001, she was appointed as England Physiotherapist with England Students Rugby League.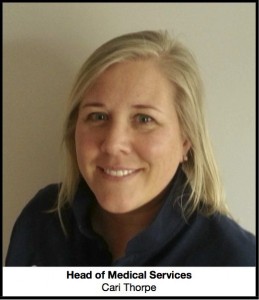 Following their home nations competition, Cari was appointed as the GB Physio.  As well as international home competitions, she has taken 2 GB squads on tour to Australia and New Zealand in both 2001 and 2003.
Cari took an extended break from sport to have a family and undertake a master's programme.  During this time she has pursued another interest in teaching and is an associate lecturer for MMU.  She has now returned to sport and was part of the physiotherapist team for England Touch at the 2011 World Cup and is very much looking forward to the challenge.
Cari has appointed a deputy, Emma Knott MSc MCSP, (pictured below) to help in the process of creating a multi disciplinary team.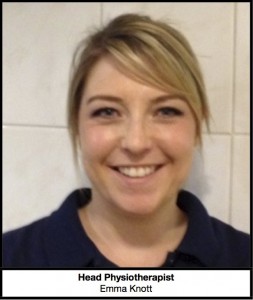 Emma qualified as a Chartered Physiotherapist in 2003, gaining an MSc in Rehabilitation Science (with a licence to practice Physiotherapy). Emma's Physiotherapy career began in the NHS in Manchester where, after completing her basic rotations, she was promoted to senior physiotherapist specialising in MSK in 2005. Emma is also qualified in Immediate Medical Management on the Field of Play (IMMOFP), a postgraduate course designed for medical personnel working in the field of elite sport.
Emma left the NHS to work in private practice, developing her role to become a lecturer-practitioner. This role included working at Manchester Metropolitan University and in private practice in the Greater Manchester region.
Emma currently works as a Senior Lecturer in Physiotherapy at the University of Huddersfield; with responsibility for teaching musculoskeletal physiotherapy and pitchline management. As part of Emma's remit in teaching on the pitchline course she regularly supervises students covering University rugby games and Touch events organised by both the England Touch Association and Manchester Chargers.
Emma was part of the physiotherapist team for England Touch at the 2011 World Cup and is looking forward to continuing her relationship with England Touch, supporting Cari in her new role.
------------------------------------
Some new England Touch medical team appointments have recently been made and will be announced soon.  Keep an eye out here for updates.
-------------------------------------
Vacancies
There are currently no England Touch medical team vacancies, the  job description link below is for reference only.  Notification of future vacancies will be posted here.
Medical Team Member - Task Description
In the meantime, if you have any England Touch medical team related queries then please do not hesitate to contact:  
medical@englandtouch.org.uk