The Great Ramondoes and The Bees win Nottingham Social Comp
England Touch trialist and Nottingham Rugby Chief Executive Simon Beatham™s side, "The Great Ramondoes", took the men™s trophy at the Nottingham Social Touch competition on Saturday 16th July, with local league side, "The Bees" taking the mixed honours. The tournament was organised by Chris Simon of Perfect Motion as part of the Testimonial Year for two Nottingham Rugby stalwarts " David Jackson (Jacko) and Neil Fowkes (Fowkesy), with proceeds going to the local charity Balls to Poverty. Beatham™s ˜Great Ramondoes™, named after one of the players, beat Jacko™s ˜Team Too Ripped™ (clad in figure-hugging orange and grey lyrca) 6-5 in the semi-finals, and Fowkesy™s ˜Team Dave™ 3-2 after a drop off in the final.
In the mixed competition, The Bees held off a Black Ops fight-back (featuring England Men™s Open player Rohan Lee) in the semi™s to win 8-7, before edging out Here Comes the Boom 5-4 in the final. The mixed comp featured double-score rules for touchdown™s by female players to try encourage rugby clubs moving the ball about a bit more! It seemed to go down well and Perfect Motion are looking at doing a similar thing in the forthcoming Beach Touch to be held in Nottingham™s Market Square on Tuesday evenings over the summer.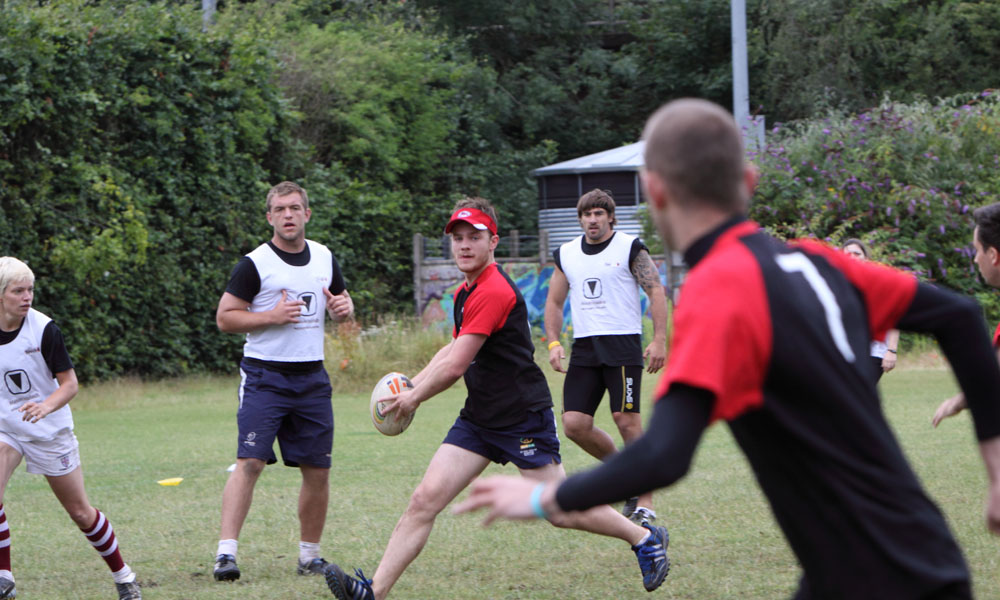 Commenting on the day, organiser Chris Simon said: œThe day was a great success, raising an estimated £1,200 for Jacko and Fowkesy™s Testimonial Fund. We had 14 teams in all, with a good mix of regular teams playing in our Perfect Motion leagues and some newcomers featuring a mix of Nottingham players, supporters and hangers on. Several of Nottingham™s full-time first teamers played a part, with skipper Craig Hammond and USA™s Tim Usaz amongst the big names. Feedback has been excellent and we have already been approached to run a similar event for Nottingham High School on Saturday 10th September. They have some fantastic facilities, with possibly the best pitches we could ever hope to play touch on and we™re hoping to get a similar mix of players, but would also welcome any social touring teams who fancy a weekend in Nottingham!, for further information visit: www.perfectmotiontouch.com."