Men's 35 - World Cup Bronze Medal!
England Men's 35s is a team of many diverse talents. Unfortunately not all of them are related to the game of Touch Rugby. However, what the team lacks in relevant talent it more than makes up for it in unity.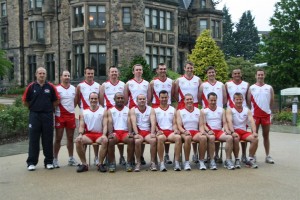 Although momentum had been building since the Euros last year, the World Cup campaign started in earnest back in February when a training squad of 22 was reduced to 16 good men and true, with a country of birth column that read like the index of an atlas and an unbreakable team spirit, forged in the cold concrete sports halls and on the rain lashed astro pitches of Luton.
The passage to the tournament had its full share of highs and lows. Lows, included being beaten for pace by a member of the opposite sex and several momentary lapses of civility when addressing the refs. It also took us a while to find our compass in attack as we went from scoring before the try line to running straight through the entire end zone. But through all these low points, we were sure to blame, shame and castigate the individuals concerned before moving on.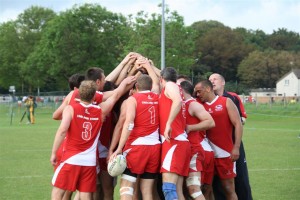 However, thanks to the dedication of our coach, we overcame these setbacks and arrived in Edinburgh bullish about our ability to put in some good performances.
We secured nervous and narrow victories in must win games against Ireland (4-3) and the USA (6-5), played a game of full contact against the French (7-2) and turned in a fast flowing and efficient dismantling of the Spanish team (12-1). Most of us also had the chance to work on our cardio vascular fitness, as our best players were rested, against the World Champions Australia. Twice. (0-14) (1-11)
But the games that will be most fondly remembered will be the last minute defeat to the eventual silver medallists South Africa (3-4) and the bronze medal deciding win (5-1) against Wales the reigning European Champions.  In both games we stuck to our patterns and played to our very best potential and there is nothing more satisfying than that.
Although, in Touch Rugby, the eye is drawn to the flashy steps and long looped passes, considerable success can be achieved through good organisation, hard work and the ability to play as a team. And so it proved for the England M35s Bronze Medal Winners World Cup 2011.
Thanks must go to our sponsors, Momentum Investments, Warners Solicitors and EFX, to our physios for strapping us together every day and to the ETA for all their hard work with all the squads.
But, for the most telling contributions, our thanks must go to our coach Carle Skein and Captain Mike Roa. The Yoda and Obi Wan Kenobi of Touch. GO CRUMPIES!
(Written by Toby Reid)
[gallery link="file"]