Elite NTS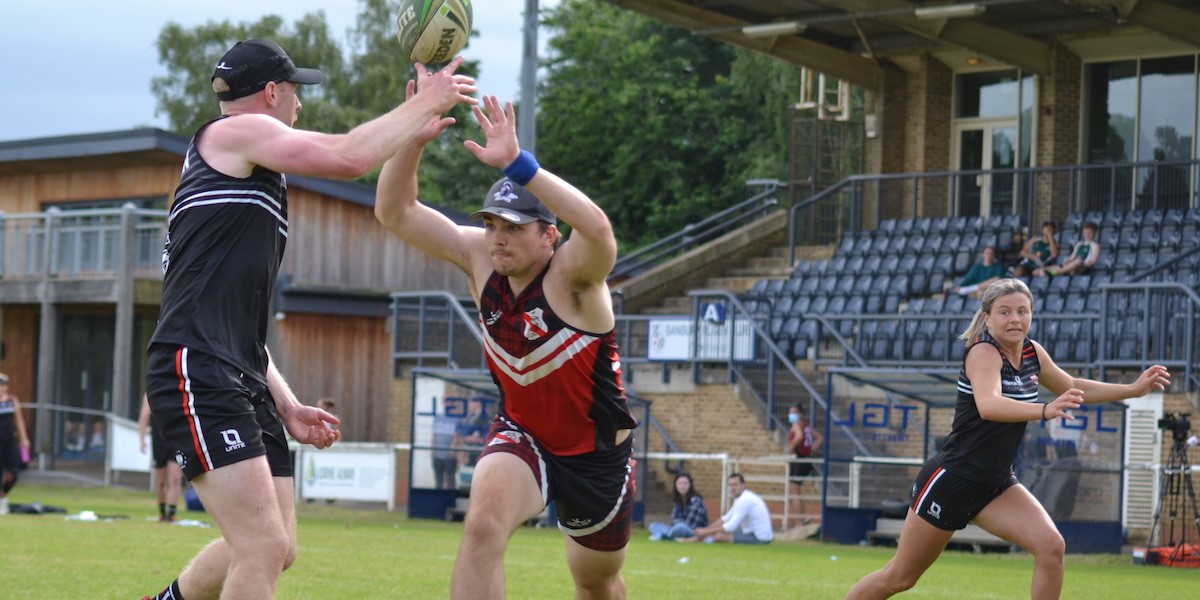 The Elite National Touch Series gives club players the opportunity to take a major step towards playing at representative and international level.
Three single-day tournaments, with final rankings based on league points earned in the tournaments
An invitation-only Series, based on 2021 overall rankings and promoted teams from the Development NTS
Every team has to bring a full-time referee qualified to at least Level 1 standard. Teams will have to specify the name of this referee when they sign up for the tournament. The full referee policy is in the FAQ document
All Rounds will be live streamed on YouTube.
As well as live streaming, the tournament fee covers venue and field hire, photography, medical provision, referees, PA and marquee hire, equipment and other expenses.
2022 Dates
Round 1 Sat 18/06/22, Banbury RFC
Round 2 Sun 03/07/22, Burton RFC
Round 3 Sat 16/07/22, Banbury RFC
Eligible clubs have been emailed with entry information
2021 Winners
R1

Sat 26/06/21

Banbury RFC

CUP Hot Custard
PLATE NQ Rebels
BOWL CSSC London Eagles 2

MVPs Lauren Torley (Thames Valley Vikings), Julie Elmgren (Green + Gold), Marcus Chung (London Scorpions)

MVR Lee Hopley

R2

Sun 11/07/21

Banbury RFC

CUP Wigan Touch Warriors
PLATE CSSC London Eagles 1
BOWL Green + Gold

MVPs Naomi Fearnett (CSSC London Eagles), Will Tyrrell (Raptors)

R3

Sat 31/07/21

Oxford RFC

CUP NQ Rebels
PLATE London Scorpions
BOWL CSSC London Eagles 3

MVPs Tina Veale (CSSC London Eagles), Horatio Price (Raptors)
2021 Match replays and photos
2021 League standings
| | | | | | |
| --- | --- | --- | --- | --- | --- |
| Rank | Team | R1 | R2 | R3 | Overall |
| 1 | Wigan Touch Warriors | 44 | 48 | 40 | 132 |
| 2 | NQ Rebels | 32 | 44 | 48 | 124 |
| 3 | Cambridge Hornets | 34 | 42 | 44 | 120 |
| 4 | Hot Custard  | 48 | 28 | 42 | 118 |
| 4 | London Scorpions | 46 | 40 | 32 | 118 |
| 6 | Bareback Riders | 24 | 46 | 46 | 116 |
| 7 | London Eagles 1 | 42 | 32 | 38 | 112 |
| 8 | Nottingham Hoods | 38 | 38 | 30 | 106 |
| 9 | Galaxy Touch London | 36 | 36 | 28 | 100 |
| 10 | Raptors Touch | 40 | 30 | 26 | 96 |
| 11 | Oxford Touch | 22 | 34 | 34 | 90 |
| 12 | Thames Valley Vikings | 30 | 26 | 22 | 78 |
| 13 | Surrey Bisons | 14 | 22 | 36 | 72 |
| 14 | Canterbury Cougars | 28 | 20 | 20 | 68 |
| 15 | London Eagles 2 | 16 | 24 | 24 | 64 |
| 16 | Crewe and Nantwich Blaze | 26 | 14 | 18 | 58 |
| 17 | Cambridge Bees | 18 | 18 | 8 | 44 |
| 18 | Revolution Touch | 12 | 12 | 14 | 38 |
| 19 | Chester Cheetahs  | 10 | 8 | 12 | 30 |
| 20 | London Eagles 3 | 4 | 6 | 16 | 26 |
| 20 | Green + Gold | 6 | 16 | 4 | 26 |
| 22 | Nottingham Mavericks | 20 | 2 | 2 | 24 |
| 23 | St Albans Gladiators | 8 | 4 | 10 | 22 |
| 24 | Norwich Rebels | 2 | 10 | 6 | 18 |