Development NTS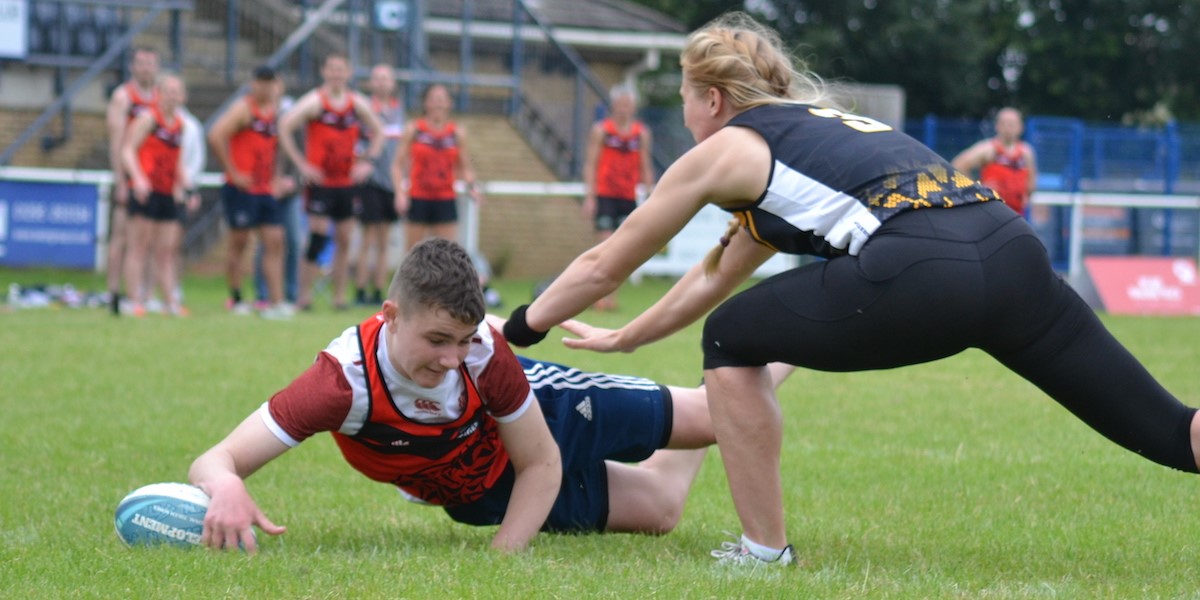 The Development National Touch Series is the perfect tournament for clubs, teams and players to experience national competition throughout the season.
Three single-day tournaments, with final rankings based on league points earned in the tournaments
Open to any club and team which is affiliated to England Touch
Limited numbers of elite players per team. Elite players are asked to coach and/or referee
Clubs only entering a single team are still expected to provide a referee, but are not required to. Clubs entering multiple teams will have to provide a referee for each team they enter beyond their first. Player referee allocations will be done for a whole team to cover a game
All Rounds will be live streamed on YouTube.
As well as live streaming, the tournament fee covers venue and field hire, photography, medical provision, referees, PA and marquee hire, equipment and other expenses.
2022 Dates
Round 1 Sun 19/06/22, Banbury RFC
Round 2 Sat 02/07/22, Burton RFC
Round 3 Sun 17/07/22, Banbury RFC
**Please note that all three events are now fully booked. Email events.manager@englandtouch.org.uk to register your team on a waiting list**
2021 Winners
R1

Sun 27/06/21

Banbury RFC

CUP Cheltenham Tigers
PLATE Banbury Saxons
BOWL Wigan Spartans

MVPs Pam Teager (Manchester Chargers), Marcus Evans (Cheltenham Tigers)

MVR Ollie Simon

R2

Sat 10/07/21

Banbury RFC

CUP Galaxy London
PLATE Peterborough
BOWL Thames Valley Vikings

MVPs Lois Lau (Manchester Chargers), Josh Bendel (St Albans), Theo Edwards (Cheltenham Jaguars)

R3

Sun 01/08/21

Oxford RFC

CUP Galaxy London
PLATE Norwich Rebels
BOWL Cheltenham Jaguars

MVPs Fran Raymond (Peterborough), Jack Limmer (Exeter Eagle Owls)
2021 Match replays and photos
2021 League standings
| | | | | | |
| --- | --- | --- | --- | --- | --- |
| Rank | Team | R1 | R2 | R3 | Overall |
| 1 | Cheltenham Tigers | 48 | 44 | 46 | 138 |
| 2 | Manchester Chargers | 40 | 46 | 44 | 130 |
| 3 | Galaxy Touch London | 28 | 48 | 48 | 124 |
| 4 | PFT Touch Rugby | 44 | 38 | 40 | 122 |
| 5 | EY London Vipers | 46 | 30 | 36 | 112 |
| 6 | Bristol Jets | 42 | 40 | 26 | 108 |
| 7 | Exeter Eagle Owls | 38 | 22 | 42 | 102 |
| 8 | Oxford Touch | 30 | 20 | 34 | 84 |
| 9 | Chester Wild Cats | 26 | 34 | 24 | 84 |
| 10 | Norwich Rebels Red | 14 | 36 | 32 | 82 |
| 11 | Yorkshire Thorns | 0 | 42 | 38 | 80 |
| 12 | CSSC London Eagles | 24 | 18 | 28 | 70 |
| 13 | Peterborough Touch | 10 | 32 | 22 | 64 |
| 13 | Warwick Knights | 18 | 26 | 20 | 64 |
| 13 | Nottingham Outlaws | 34 | 12 | 18 | 64 |
| 16 | Horsham Tigers | 22 | 10 | 30 | 62 |
| 17 | Banbury Saxons | 32 | 14 | 8 | 54 |
| 18 | Wigan Spartans | 16 | 24 | 4 | 44 |
| 19 | Thames Valley Vikings | 12 | 16 | 14 | 42 |
| 20 | St Albans Centurions | 6 | 28 | 6 | 40 |
| 20 | Cambridge Wasps | 36 | 0 | 0 | 36 |
| 21 | Essex Touch | 20 | 4 | 10 | 34 |
| 23 | Crewe and Nantwich | 8 | 8 | 12 | 28 |
| 24 | Cheltenham Jaguars | 2 | 6 | 16 | 24 |
| 25 | Camp Hill Steelers | 4 | 2 | 2 | 8 |