ETA Referee Committee
---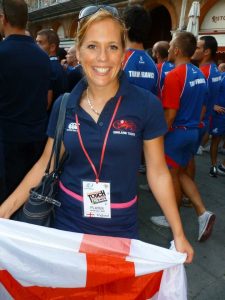 National Referee Manager 
Alice "Scooby" Watchorn
Scooby has been a familiar face on the England Touch circuit for seven years, firstly as a player in the Mixed Open, Women's 27s and Senior Mixed teams, and latterly progressing through the referee ranks.
In the last 18 months she has officiated at the 2016 European Touch Championships, the 2017 EFT Premiership Permit in 2017, the 2017 United States Nationals and the 2018 Australia National Touch Leagues.
In 2018 Scooby was appointed as National Referee Manager for England. She will be working with the ETA Referee Committee team to recruit, develop and retain English refs, and using her unique experience as an elite player and ref to develop the relationship between England Touch refs and players across the country.
---
Referee Courses Coordinator
Mike Green
Mike started playing at Loughborough University in 2013, before joining Nottingham Touch Club in 2014, where he was encouraged to help referee. Not liking it at the time, he decided to get better and went on to complete a Level 1 course.
Since then, he has moved away from playing to focus on developing his refereeing skills. He has helped others at Nottingham, taking on the role as their Referee Development Officer, whilst also continuing to help at Loughborough.
Mike joined the ETA Referee Sub-Committee in the role of Referee Course Coordinator at the end of 2016. In 2017 he achieved his L4 upgrade at the England Touch Nationals.
In his day job, Mike is a Police Officer for Leicestershire Police, which he has been doing since 2001.
Please contact Mike at refcourses@englandtouch.org.uk if you would like to attend or can host a course.
---
Referee Media and Communications Coordinator
Genevieve Mitchell
Genevieve started playing Touch in 2011 and, after being talked into attending the L1 ref course in 2012, became one of her club's most enthusiastic player-refs. Enjoying holding the whistle more and more, in 2016 she decided to give it a go and commit to a season of full-time reffing. She quickly found her place in #TeamRef, and achieved her L3 badge at the EFT Premiership Permit in Edinburgh.
In 2016 she was appointed to the ETA Referee Sub-Committee as Media and Communications Coordinator. Contact Gen at refs@englandtouch.org.uk with any questions about comms (from 'can you put this in the newsletter?' to 'will you please stop using hashtags?'*).
To subsidise her international tournament habit, she works in sport policy at the Department for Culture, Media and Sport.
*#no
---
Referee Tournament Coordinator
Kathy Van de Rijt
Coincidentally, Kathy also discovered touch in 2010, when living in Gif-sur-Yvette: she was conned into playing and refereeing by her hubby. When she got her Level 1 badge, she had only just started refereeing and was pregnant. During her Level 2 course, she was running around practicing penalty procedures, yet still very pregnant. And when she achieved her upgrade, her baby was only 4 months old and still breastfeeding. At the Senior Touch Championships in Edinburgh, she achieved her Level 3 badge (for once baby-free!).
Kathy worked in banking until 2015, then logically (!) switched to childminding and being a stay-at-home mummy.
Any questions on upcoming ETA tournaments? Eager to be part of our amazing referee squad at any of the ETA tournaments? Contact Kathy at reftournaments@englandtouch.org.uk!