Touch going from strength-to-strength at junior levels
In 2016 England had a Mixed 15s team for the first time
Over 120 youngsters attended two Junior Discovery Days over the past two weeks, one in Manchester, the other in Canterbury. This is up from 88 players in 2016
England will be sending teams to the 2017 Junior Touch Championships in Dublin in August
The England Touch Association is developing a schools programme based on a pilot run in 2016
Touch is thriving at Under-18 level, with more and more players taking up the sport with each passing year.
Over the past fortnight the England Touch Association has been holding two Junior Discovery Days to kick off the England national squads' 2017 training programme, building up to August's Junior Touch Championships in Dublin.
England will be looking to build on the successes of the 2016 Championships in Holland, in which the Boys 18s won gold, the Mixed 15s and Girls 18s silver and the Mixed 18s bronze in a tournament that included sides from the home nations, various countries in Europe and other teams from further afield.
Over 120 youngsters took part in the Junior Discovery Days, which were held in Manchester and Canterbury, and these will be followed by a series of training days held over the coming months and into the summer.
"England performed well last year, winning a few championships and getting into every final," said Ben Meakin, England Open player, who has been coaching the national Boy's 18s team. "We're looking to carry on from where we left off and then progressing into the Junior Touch World Cup that we've got in 2018 in Malaysia.
"The standards have got so much better compared to when I started coaching, and now I'm able to teach them more and more because their basics and understanding of the game has really improved."
Last year also saw the first Mixed 15s competition in the Touch Nationals, and with the England Touch Association also actively developing a schools programme chief executive Gregg Cropper believes that there is more to come.
"We're really excited about our junior sections," he said. "The quality of the players coming through is increasing with each passing year and this gives the national coaches a lot to work with as we look to become the top country in Europe in every age category.
"This also reflects the great work that is being done at our affiliated clubs, where we're seeing more and more young players take up Touch. And we couldn't do any of this without the commitment of the players' parents and families, who drive them up and down the country to training sessions and tournaments. Thanks also to our host venues, The Hough End Centre in Manchester and St Anselm's Catholic School in Canterbury.
"The schools programme we're developing will build on the pilot we had in Canterbury last year, and will hopefully expand quickly, too. Touch is one of the country's only fully inclusive sports which has boys and girls competing and playing alongside each other as equals, which makes it really suitable for schools looking to develop their PE offerings."
The England Touch Association will be keeping you up-to-date with how all of the national teams progress over the coming year. And to find out more about the schools programme email
schools@englandtouch.org.uk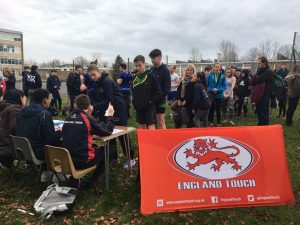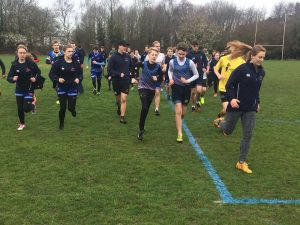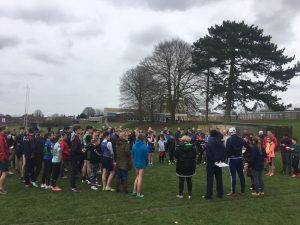 A PLAYER WRITES...
I attended the junior touch trials in Canterbury at the Saint Anselm's Catholic School with my younger brother, Will. I was quite nervous to begin with, as I was overwhelmed by the increase in the number of players in comparison to last year. However, within half an hour I started to recognise some familiar faces of former team mates and friends which relieved most of my stress and anxiety.
Once everyone had signed in, the coaches split us up into groups which we stayed in for the rest of the day. Each group took it in turn to complete selected drills and exercises which focused on fitness, ball handling and decision making skills. During these exercises, we were taught new and improved techniques such as how to execute the four man drive effectively and the coaches explained to us the importance of using our intelligence to beat the opposition as well as skill. These tips helped me gain more knowledge and experience in Touch.
The coaches were very supportive which helped to bring out the best in every player that attended. They suggested that we should practice basic skills such as the ruck area, and initiating the touch on an opponent at home so that we could master the basic skills that are vital in making a good Touch player.
Although we were all competing for a place in the England squad, everyone came together as a team and tried their best to help each other by giving tips to less experienced players, or by simply cheering them on.
It was my first time trialling with the Under-18's which was quite daunting, but I really enjoyed it and hope to be selected, as I would love to play for England in Dublin.
Bradley Murphy
Canterbury Discovery Day