W27 – 2014 European Championships
November 2013: The first All-England Training Camp saw the 27's squad of 32 come together for the first time.  This was the first chance the squad had to welcome Sammie Phillips back from maternity into the head player/coach role, Andre le Cornu moving from Men's 30s player to assistant coach and Amie Powley-Williams drafted in from the British Army to take on the team manager's role.
After the first day of fitness tests and team games, it was time for a bit of team bonding, which very quickly became a 'seniors' bonding session as the Men's 30's were quick to jump on the bandwagon and joined us at the bowling alley for a fun night out before the Yo-Yo fitness test on the Sunday.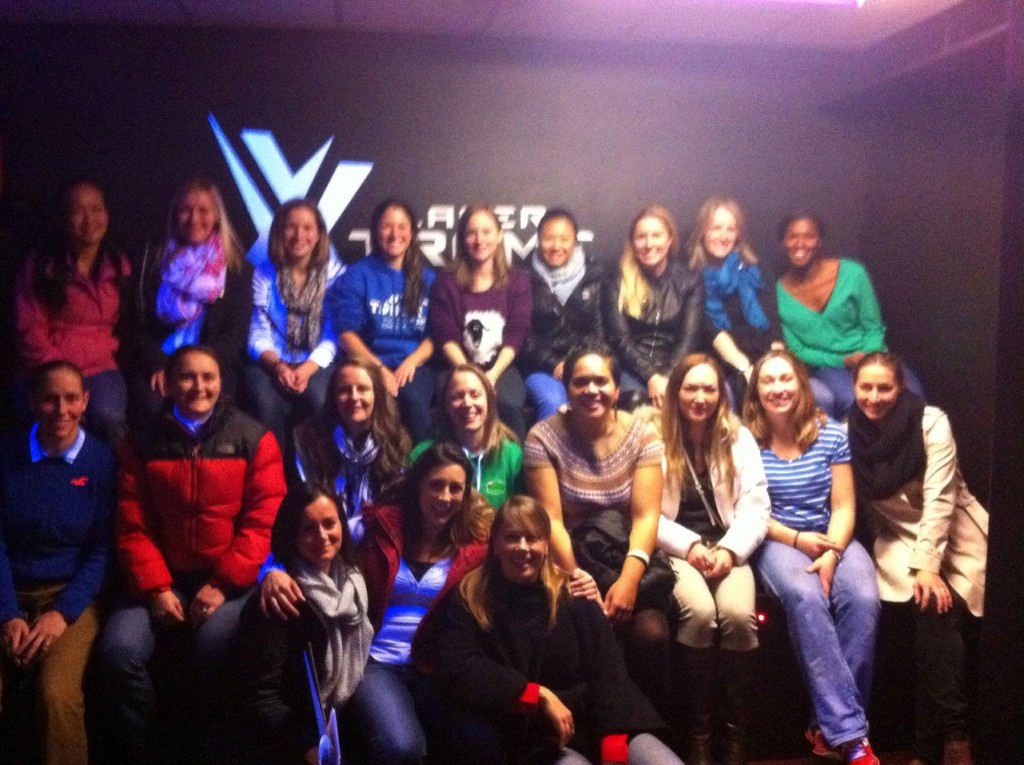 After what was a fantastic weekend at All Squad Camp 2, it was decided that to cut the squad down at that stage was going to be far too difficult and with over 9 months to go until the Euros, Coach Sammie managed to get the ETA to agree to allow us to carry all players forward – a great result for all!
With players drafted from all corners of the country, it was clear that it was going to be impossible to keep all travel down if we were going to train as much as we needed in order to fully prepare for the Euro's, but we also didn't want to rack up huge accommodation costs on top.  The compromise was to keep most of our single squad sessions in the south, using team contacts with Maidenhead, Reading and Oxford rugby clubs to secure training pitches and using Yellie and Amie's house as the team digs for the weekends for those who weren't local enough to journey each day.
All-England Camp 2
This saw all the teams descend on a particularly cold (and often wet) Reading, which allowed the squad to use the team digs for another bit of bonding. Sammie Phillips's sporting charades was certainly one for the lasting laughs pile! A great first day saw us take on the MXO and the Women's Open sides, which gave us a real marker for where we could improve.  It also presented us with the opportunity to try out our new team nickname.  For past seasons, EW27's have been called "The Nana's"; the images conjured up with that nickname were of little old ladies knitting and gossiping over china cups of tea with biscuits and was not an image that we wanted to carry forward into this campaign… Whilst we do still like a lovely gossip over our mugs of tea with our wonderfully homebaked cakes (special thanks to Denise "Moose" Yarrow, Caroline Dawson, Zoe Parish to name but a few of our bakers!), it was clear we needed a new name, a new brand and thus, after much debate, it was agreed that we would adopt the name 'Bangers', as in bangers and mash, that good old English dish (not old bangers or any other connotation some of the not so gentle men came up with!
With many more single squad training sessions and with 2 All-England Camps to go, we continued on with all of the original squad members right up to the final All-England Camp.  After much debate the final squad was pinned down and 16 travelled to Loughborough to the final training event before the Euro's.  After games against both the Women's Open and the Men's 40's, it was clear that much progress had been made throughout the season and all the early mornings and cross-country travelling had been well worth it and the squad was ready for the challenge Swansea would bring.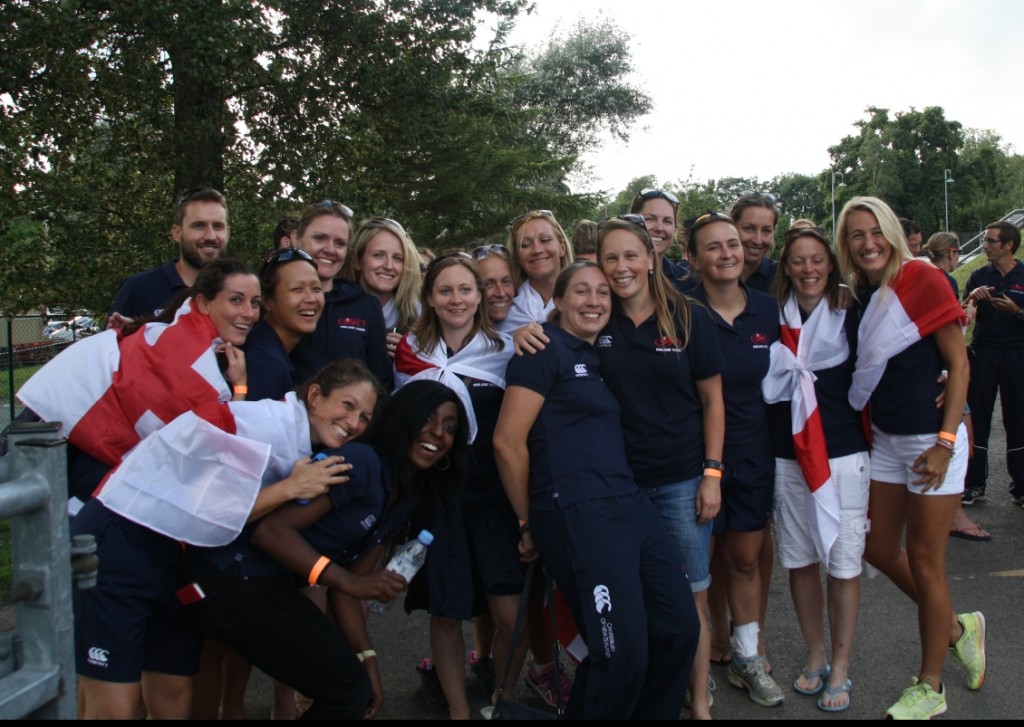 With 5 teams entered in the Women's 27's division, we were set to play each team twice in the pool stage.
Day 1
France were up first and put up a strong fight, keeping the score to 0-0, 15 minutes in.  Team Captain Jen Palmer was the first to stop the scoring drought however and got us on the board with a well worked, patient first try set up by her Vice, Jules Walker.  Not willing to get to half time only 1 score up, Tanya 'Jugs' Winson quickly followed the skippers lead and danced through less than a minute later to touch down with a super quick-thinking move which had both teams wondering how she managed to break through the line!  Kate 'Thorpedo' Thorpe was next over with an utterly brilliant individual try just on the half time hooter leaving us up 3-0.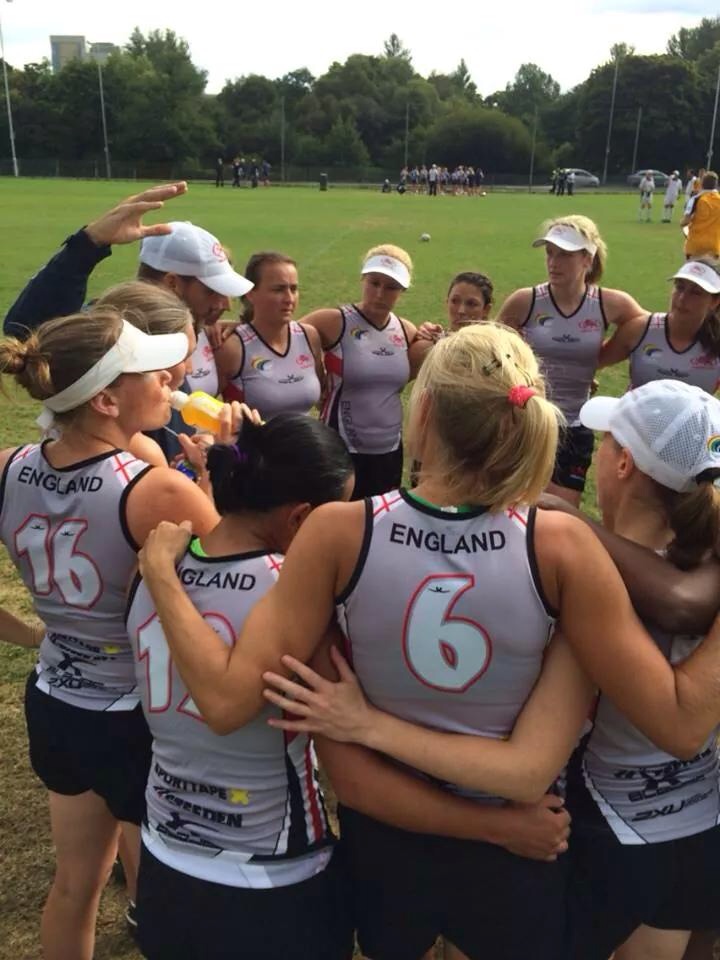 Team chat from Coach Sammie made it clear that patience was the way to ensure victory in this game and that our game plan was the one to work to not the French's.  Motivation enough for Tanya Winson to run in her second of the game just minutes into the second half, with Coach Sammie going over for her first of the tournament a couple of plays later.  Zoe Parish was keen to get on the scoreboard too, and the 30th minute saw her achieve this.  Not content to be beaten by one of her teammates, Jen Palmer skipped over the line for her second of the game.  France's patience was running thin at this stage and strong driving play put England on the back foot before the French No 7 opened their score sheet.  Coach Sammie, not quite so keen to practice the patience she had preached capitalised on the slow subbing by the French and wiped out their score 30 seconds later with an individual flourish.  Final score 8-1 – First blood to England!
Ireland were our second fixture of Day 1 (much to the confusion of skipper Jen Palmer who posted on Facebook that we were to play Scotland!).  Having been shown the scoring ropes by the captain, VC Jules was keen to open her own account and banked the first score of the game.  A rare break in the run of play saw Ireland score 10 minutes in, however Jugs was looking to up her tally and managed 2 tries of her own in the first half before Sharise Wilkinson and Zoe van Helmond added theirs to the record.  Another half-time hooter try for Thorpedo saw the score at 6-1.  Powley-Williams was quickly up on Ireland in the second half and dived through their line just seconds after the tap off.  A period of consolidation and incredible defence saw Ireland shepherded away from England's half for most of the remainder of the game, before Lois Lau blistered through for her first try of the tournament.  Not wanting to be outdone by her skipper, Jules ensured an equal points tally with the last try of the game, showing off her trademark 'windmill' move, finishing 9-1.  The Bangers were really starting to show belief at this stage.
http://www.youtube.com/watch?v=OQtBMSGtHe4&feature=youtu.be
Day 2
Day 2 brought Scotland up first as opposition.  With a bye on day 1, England were well rested and up for the challenge.  After a slow start for England, brave-hearted Scotland managed to sneak a couple of tries past but were no match for the speed of Lois Lau who bagged herself a touch down in both halves.  Zoe's Parish and van Helmond added one to each of their scorecards, Thorpedo made sure she appeared on every match's scorecard with her third try of the tournament and Crystal Ravenscroft opened her account with a well-timed run in off the wing. Final score 6-2.
It was now time to take on hosts Wales in the second game of the day. Jen Palmer led the way with an early try, before Jugs added another to her ever growing tally.  Sharise Wilkinson added 2 before half-time giving England a 4-0 lead.  Zoe van Helmond opened scoring early in the second half before Mo Williams and Zoe Parish traded blow after blow, securing 2 tries each.  A late try by Wales saw the final score at 9-1.
A reinvigorated France after their late start courtesy of a bye, saw them again fight hard and keep the score to 0-0 until again, England's patience was rewarded after 15 minutes with a try from Zoe Parish.  Jugs and Mo were quick to capitalise and added to the total before France went over on the half-time hooter.  Quick to make amends for a lapse in concentration, England put another 2 past France less than 5 minutes into the second half, this time with Yellie and Lois both breaking through.  Fatigue after a long day and with the stiffest competition yet, England were unable to keep France out for the entire half and the final score of 5-2 was a fitting score line.
Day 3
Taking on Wales again, England looked to improve on their previous performance on day 3 and took charge from tap-off.  Sharise, Jugs, Jules Jen and Mo went over in quick succession before providing Laura 'AP' Mitchison with her opportunity to get on the score board.  Half-time showed 6-0 and Coach Dre's challenge was to keep the Welsh out.  Keep them out they did, whilst gaining the first hat-trick of the tournament via Thorpedo, quickly followed by one for Mo!  AP and Sammie also added tries before Kate Hyde managed to get her own tally rolling.  Final score, a convincing and clinical 14-0 victory.

Inspired by the double figures score, the Bangers were keen to do some more damage to the Irish.  The second meeting saw a half-time score of 5-1 with tries from Zoe Parish, Mo, Jules and the skipper before Caroline Dawson touched down for her first of the tournament.  The second half looked like it may have been a closer encounter, with Jen's second try to be followed immediately by an aggressive Irish drive which saw a rare score between the mids.  Not put off, Jugs was quick to retaliate with a score of her own before the floodgates opened allowing Jen her hat-trick, Zoe van Helmond, Jugs and Yellie power through before Jen ensuring she would not be beaten on scores within a game and secured her forth on the final hooter.  Final score, an impressive 12-2.
Off for another ice-bath for the Bangers, this time joined by a random Italian guy!?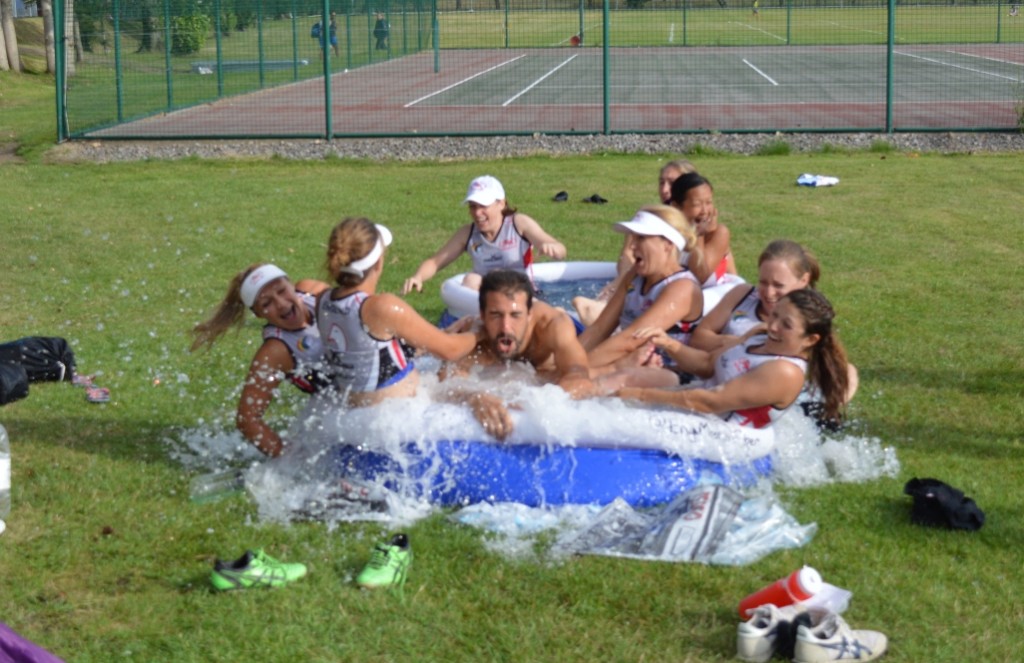 Finals
Finals day saw Scotland up first to cement our place in the final.  With great pride and real heart, Scotland were not about to bow out gracefully and really kept the pressure on. 4-1 at half time as a result of 2 from Lois, 1 for Jugs and 1 for Crystal had nerves on edge.  Nerves were calmed when AP went over a minute into the second half and the remainder of the game seemed to be all about defence, before Mo slid in for the final try of the game.  Final score 6-1.  Now time for a wee bit of rest before THE FINAL!!!
France, our biggest challengers were through to the final so we knew we would be pushed hard.  The crowd in the stadium was split, but with so many England teams at the tournament, support was definitely there in force!!  Now was the time for glory.  Now was the time for grandeur… Now was the time to put absolutely everything out there… This was what the last 10 months had been all about… Could the Bangers do it?!!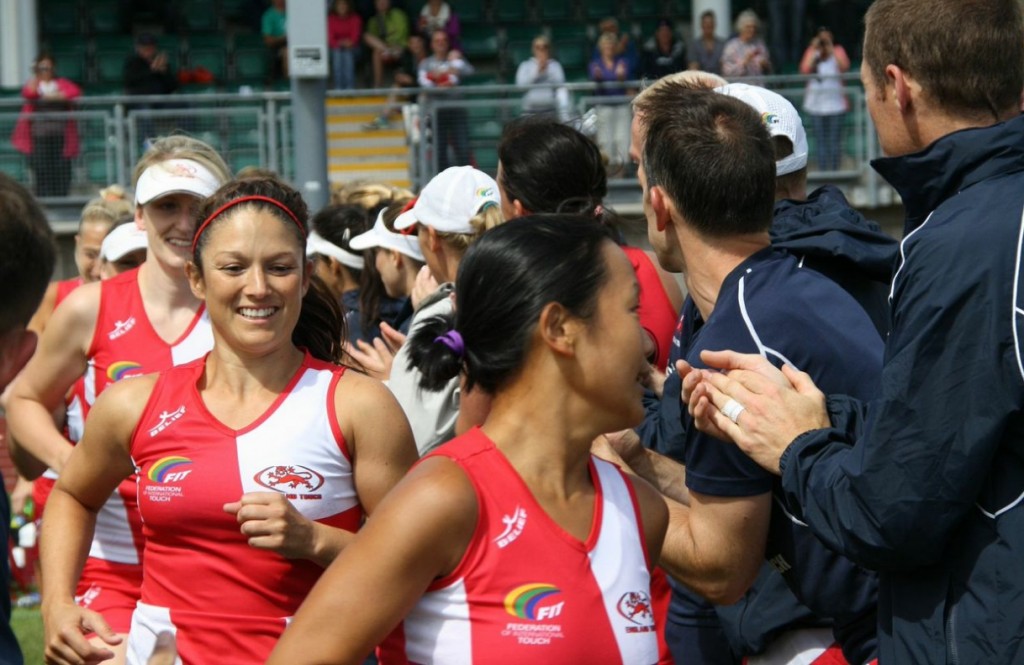 Jen won the toss: first hurdle cleared. First tap off would be ours. Nerves were on fire throughout the squad (coaches, manager and subs included!).  Yellie managed to start the great onslaught of the French however, scoring from a clever mids move with Jen Palmer, getting us on the scoreboard with less than a minute played. Jugs and Parish were quick to add to the score before Yellie went over for her second.  Jen and Sammie tied up the first half with their own touch downs, leaving an impressive 6-0 on the board at half-time.  No time for complacency, the second half needed to be as good as the first. France were not beaten yet and having seen first hand the fire and passion in them, it would have been wrong to underestimate them.  First blood of the second half was indeed in favour of the French.  Retaliation was immediate; Lucy Richardson, our only score virgin at this point was put in with a long ball from Yellie for the most celebrated try of the tournament.  Jen quickly touched down another before a valiant French side came back hard and scored one of the most impressive tries of the tournament.  Not to be outdone, Sammie was quick to respond with an amazing skip through, before Lois finished things with another Lau special.  Final Score 10-2.
WE DID IT – EUROPEAN CHAMPIONS 2014!
http://www.youtube.com/watch?v=9DibNjjnJGo&feature=youtu.be

Well done ladies, let's keep the momentum going as we head to the World Cup!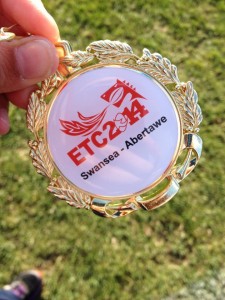 England - Womens 27 Stats