M40 - 2014 European Championships
With a mix of seasoned 'professionals' and a sprinkling of newbies, the Men's 40s arrived on Wednesday knowing we had the potential to go far, but only if we focused on our game, had confidence in our fitness and kept calm heads. We set our stall out early by being the first to dinner after the opening ceremony – showing the youngsters a thing or two about the proper application of speed.
Our pool matches got off to a somewhat shaky start – a 4-5 defeat by Scotland on the premier Pitch 1. Played for the Simon Yarrow Cup, named after the ex-Scotland and & previous player coach for the England M40s, it was a poignant moment and perhaps that, along with the expected nerves, created a jittery game with too many mistakes. Marked by débutantes Gary Povall's first England try, it also sadly saw a shoulder injury to long-time England stalwart Pete Flanagan that was to end his tournament.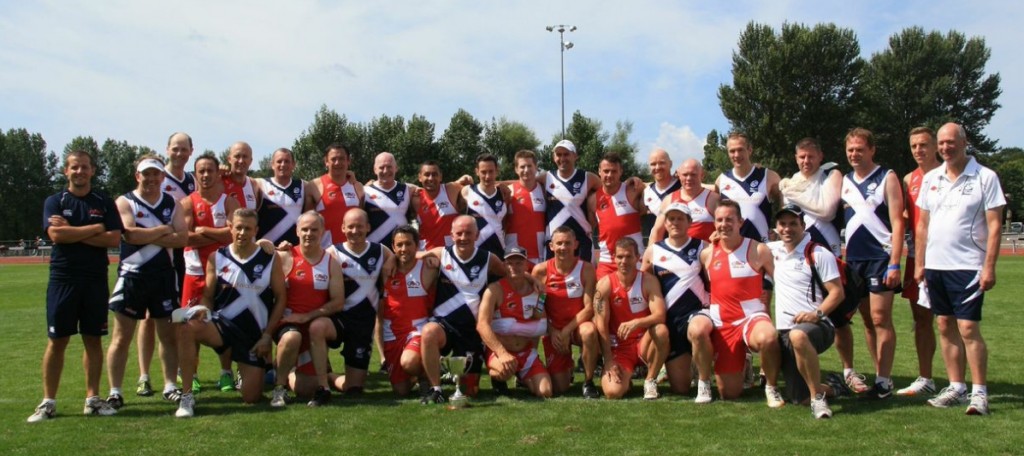 Things were put right that afternoon with a convincing 7-0 win over Italy – notable for Jeff Bimson's five touchdowns, flying somewhat controversially in the face of his pre-match comments - "It's about the team, not individual scores…" It was also the first time that we saw the benefit of our fitness, as the Italians couldn't live with the pace in the second half.
The next day saw an early morning start against reigning champions Spain – some good shooting on their driving play saw it neutralised and our discipline led to an excellent 8-3 win. A long break followed until the next match against France, whose Gallic flair had looked pretty good in their opening games. Indeed, the first half was quite tight, but we managed to cut down the mistakes in the second and we ran out 8-3 winners. Finally then we turned to Wales, again on Pitch 1. With very little separating the teams at half time, some defensive lapses and direct Welsh play in the second half saw us lose 3-8. A sobering game but one we knew could have been closer.

It was a fairly bleak video reviewing session that evening, softened only by the prospect of only 2 games the next day, against Ireland and Belgium. Win them and we were guaranteed a semi-final spot. Things did not go entirely to plan. The early morning start against Ireland on a greasy surface saw us constantly turning the ball over. Penalised for hard touches, over-stepping and offsides, we simply let Ireland attack us and so lost 2-3. It was our lowest point of the tournament and brought a must-win match against Belgium. Recognising our need to relax, Terry Careswell used some calming techniques to lead us in a grounding exercise that brought the team closer and tighter than ever before. It clearly paid off, as we ran in 10-1 winners, including a first try for the other debutant, Rich 'Chippy' Chapman.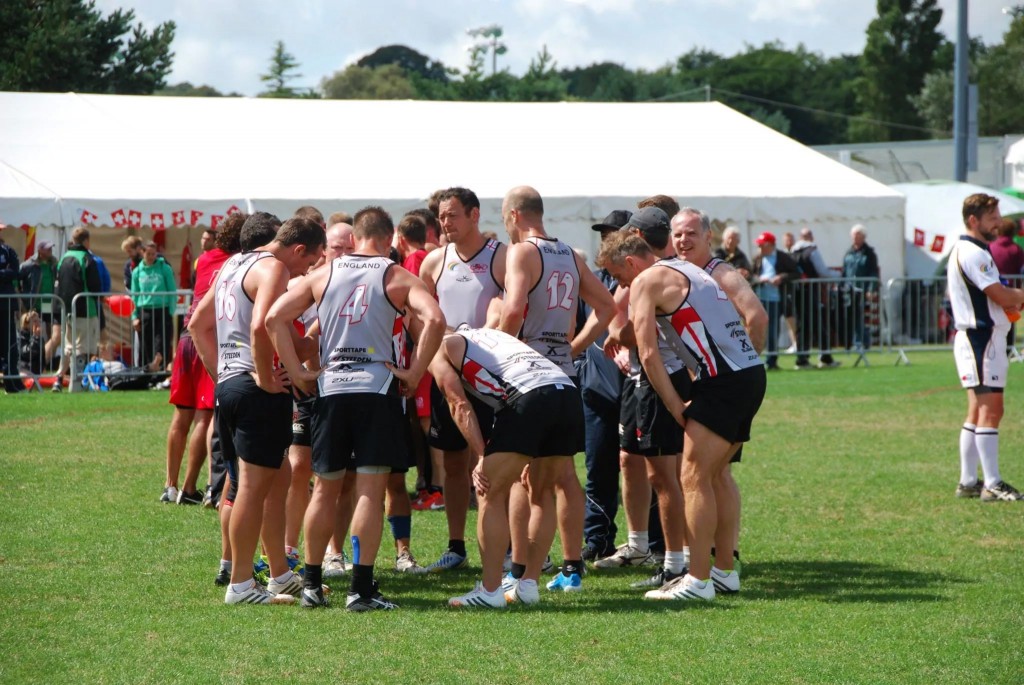 Our superior points difference saw us finish the group in 3rd and so we would meet Ireland again in the semi-finals. A chance to correct the mistakes of that morning and lay our Pitch 1 demons to rest! It was a close match, again with too many penalties, including forced subs and time for both sides, and one that finished 4-4 – forcing the drop off. Some great advice from our technical advisor saw us attack and defend, during which the Irish had a player sent off – with 5 versus 4, we moved the ball around and finally Alex Hughes found himself with space on the right and enough time to score with a flourish!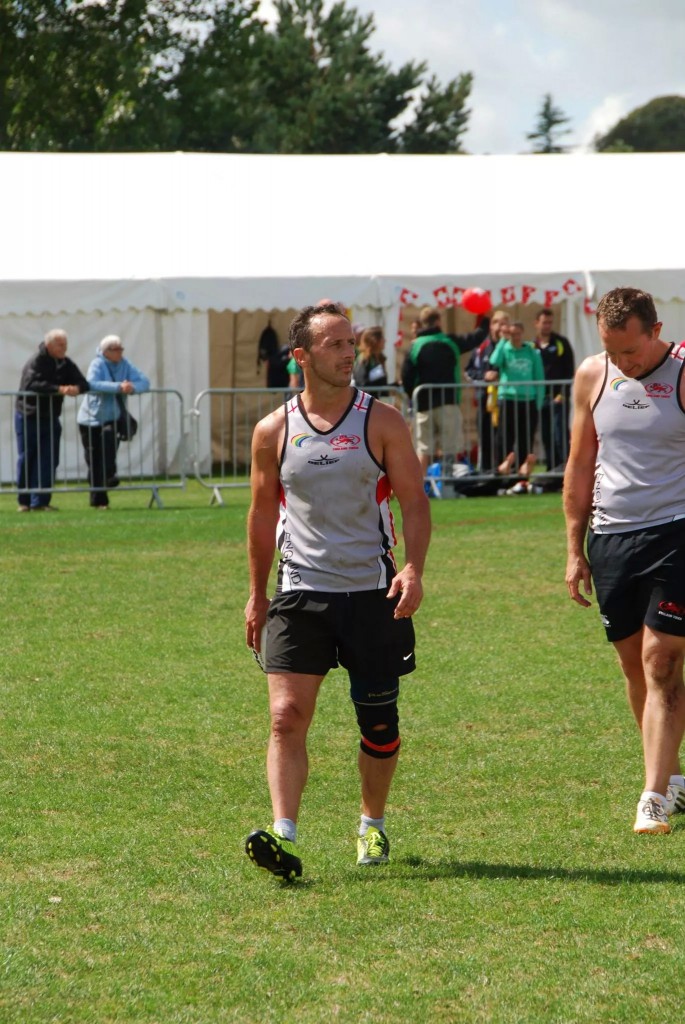 Finals day had a relaxing start and the mood in the squad was calm and focused. We knew that the changeable conditions meant ball control would be key. A great crowd were treated to a great match – very high levels of play kept the game extremely tight & at 4-4 with 2 minutes to go, it could have gone either way. However Wales managed to create a score and then keep us out, becoming worthy winners of the M40 category. It was our best game in terms of performance and every one of us were a credit to the shirt – worn both for those who carried it previously and for those who never got the chance. A fantastic tournament and one that puts us in great shape for the World Cup!
Thanks must go to our coaching and managements team, Jeff Bimson, Steve Melling and Kirsty Prior. Their tireless efforts have been amazing all season!
Player Stats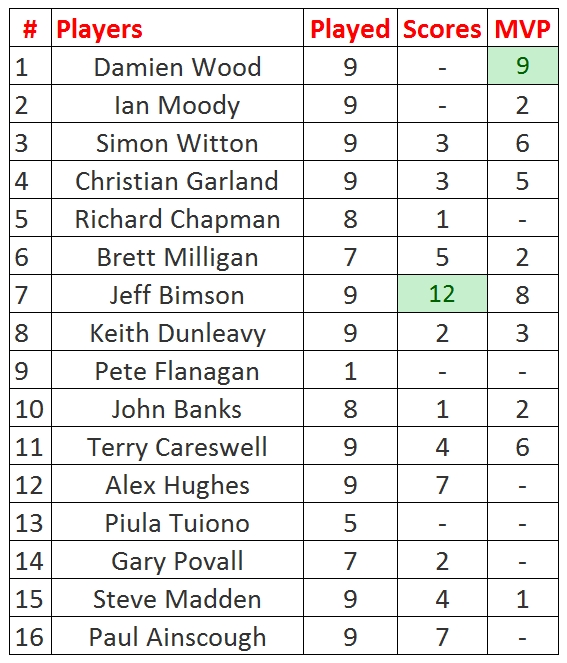 Results