Unaffiliated Events
---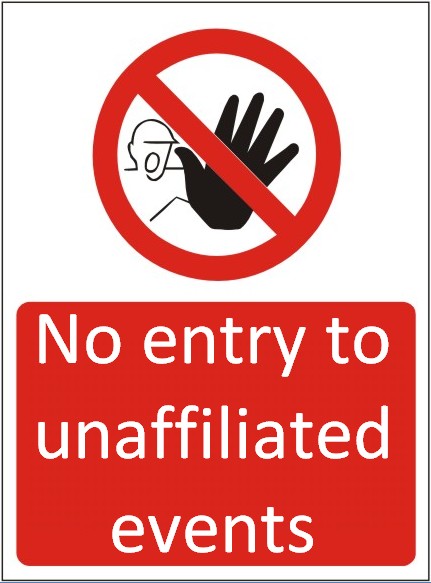 While we support any English teams, players and officials taking part in affiliated Touch tournaments across the country and abroad, you should take care that any you are involved in are indeed properly affiliated to the relevant national touch association (NTA).
Taking part in an unaffiliated event is against England Touch Association (ETA) and Federation of International Touch (FIT) policy and could result in a player, team or official being banned from future England Touch and/or FIT affiliated events.
The following is a reminder regarding Touch events that are not affiliated with the ETA, and therefore not affiliated with FIT.
Please see Section 8 of the FIT Procedures and Protocols policy: "Unaffiliated Rule". This is especially relevant if you have any intention/desire to participate in any FIT affiliated or sanctioned event that may be delivered by or on behalf of FIT, or by any FIT member NTA.
Relevant policy text follows:
8.2 Teams, players, referees and officials cannot participate in a FIT event unless that team is affiliated directly or indirectly with a Federation Member. The reverse situation also applies, that is, if team players, referees and officials, participate in an unaffiliated event (despite also participating in affiliated events), they cannot participate in any FIT sanctioned event.
8.7 If a team, player, referee, official etc. participates in an unaffiliated competition, regardless of whether they also play in an affiliated competition, they will be automatically ineligible to participate in a FIT hosted or co-hosted tournament for a period of four (4) years. In addition they are automatically ineligible to participate in any event sanctioned by the FIT Members they are affiliated with for a period of one (1) year.
How you participate (i.e. play, referee, coach, etc.) in an unaffiliated event is not relevant. How you would participate in the FIT event is also not relevant. The determining factor is that you participated in an unaffiliated event at all. In other words:
If you participate in an unaffiliated event in any capacity then you risk being excluded from participating in FIT events in any capacity – including but not limited to the World Cup, European Championships, Home Nations and Mainland Cup. According to the policy wording, such an exclusion could also potentially extend to any event that is affiliated to or sanctioned by any FIT member NTA.
Sanctions would be determined and applied by FIT. Claiming that you "didn't know" or "weren't aware of" the policy and regulations on this issue is unlikely to be considered a reasonable defence/excuse.
If you are unsure whether or not an event is affiliated, please make contact with the ETA's Events team (events@englandtouch.org.uk) to ask for clarification/confirmation before you decide to participate. If the event is unaffiliated please advise the ETA, who will then liaise with FIT and EFT.
This website has a central events calendar which lists many affiliated events taking place, including some European events – this is updated regularly and you are encouraged to refer to it. If you know of affiliated events taking place that are not listed on this calendar, then you are also encouraged to recommend to those organisers that they submit their information. Affiliating an event to the ETA is a simple process and information on how to do so can be found on the Membership section of this website.
Please use the following calendars to stay abreast of all tournaments in England and in Europe:
Please do be aware of the consequences of participating in unaffiliated events. If you are unsure always ask first.