During a hugely successful and competitive #TouchNationals and Open Trials, national selectors were kept very busy watching some incredible Touch talent on display. The Coaches and selectors  along with the England Touch High Performance Team have now finalised their training squads for the 2016 European Touch Championships that will take place next year on July 7th – 10th in Jersey.
2016 European Touch Championships, Jersey. (Training Squads)
Men's Open 
Mark Aldous
Josh Angell
Shaun Bengsten
Douglas Benzie
Declan Berry
James Botten
Danny Breeze
Ben Creese
Sam Cutler
Matthew Davis
Tom Devereux
Richard Eccles
Nicky Fems
John Hood
Max Howard
Sam Jones
James Knoop
Nicholas McGeever
Gareth McRae
Ben Meakin
Vaughan Meredith
Ed Rawe
Clinton Rowling
Daniel Rowling
Alex Scott
Will Serocold
Kamil Shahabdeen
Paul Smuts
Bobby Taylor
Josh Thompson
Dom Tripp
Rob Ward
Jon Weston-Stanley
Simon Whitnall
Women's Open 
Sarah Acheson
Sabine Alam
Tracy Andrew
Nicolette Bird
Verity Blyth
Katie Boot
Emily Clews
Rosannah Cormack
Emily Crowe
Adeline Drut
Anna Goddard
Nina Gulati
Carlie Hoffman
Susannah Hudson
Kylie Hutchison
Susan Kidd
Sofia Luxton
Charlotte McFarland
Sadi Meakin
Lucy Neal-Hooke
Morgan Ogle
Jen Palmer
Lucinda Paul
Erica Robertson
Bronte Sykes
Kaitlin Wells
Marnie Wills
Jenny Young
Mixed Open
Bronte Angell
Kathryn Brown-Williams
Meghan Clayton
Leah Cuthbertson
Jade Grantham
Alissa Grant-Walker
Sara Hatton
Alison Hogg
India Perris-Redding
Adam Bailey
Andy Brown
Jack Dickinson
Sam Grant
Steve Hamilton
Sebastian Hill
Clark Hobson
Ross Howard
Josh Ingram
Benita Lee
Jack McHugh
Jordan Melling
Jake Melling
Ryan Miemczyk
Gabriel Pennington
Ben Powell
Matt Smart
Salesi Tuiono
Men's 30s 
Andrew Beattie
Paul Boston
Nathan Bourke
Stuart Bussell
Jose Dias
Ruez Durrani
Dean Hancock
Glen Jones
Rich King
Laydon Kretzmann
Chris Miles
Dan Mendis
Sindre Myhrhagen
Zhayne Nel
Richard Nienaber
Colin Scott
Will Tenbroeke
David Thornton
James Thurston
Jason Waddell
Daniel Wines
Daf Woodwood
Women's 27s 
Rachael Atkins
Zoe Aubert
Kara Buckley
Janelle Cridge
Emilie Eve
Victoria Franks
Amanda Grenville-Joans
Kate Hyde
Adele Langlois
Lois Lau
Nicky Marsh
Alexandra Maskell
Rebecca Maxwell
Keisha McLean
Laura Mitchison
Lindsay Morrison
Zoe Parish
Samantha Powles
Crystal Ravenscroft
Lucy Richardson
Louise Rickard
Claire Rylance
Elizabeth Sadler
Tamara Slater
Lucy Snape
Katrina Springer
Karen Thomas
Claire Traynor
Julie Walker
Sharise Wilkinson
Morenike Williams
Suzanne Wilson
Tanya Winson
Denise Yarrow
Senior Mixed
Mel Day
Laura Facey
Cathi Farrer
Sue-Ellen Godde
Sarah Holloway
Joelene Hughes
Jeannie Ivanov
Julia Kang
Tamsin Reed
Sarah Rosenburg
Emily Ryall
Leanne Simm
Sacha Swift-Smith
Jonny Acheson
Richard Adamson
Joel Buchan
Gregg Cropper
Luke Foster
Jason Grace
Jo Hartley
Shaun Hopkins
Tom Humphreys
Travis Kenny
Ollie Sills
Byron Tibbitts
Chris Wall
Martin Wright
Men's 35s
Alastair Barnes
Clayton Black
Marshall Broome
Semisi Cocker
Matthew Emmerson
Matt Hall
Garth Hannaford
Stuart Holt
Neil Irving
Duncan Jeffery
Bruce Kirby
Ali Knott
Liam Lawton
Peter Lee
Jason Logan
James McLaughlin
Gareth Perry
Christian Prinsloo
Dave Radcliff
Toby Reid
Richard Starky
Jeff Sue
Shane Weston
Erik Williams
Men's 40s
Paul Ainscough
John Banks
James Barnett
Jeff Bimson
Rob Bowden
Terry Careswell
Martin Chesler
Keith Dunleavy
Adrian Fear
Chris Garland
Mark Georgetti
Julian Gilding
Nathan Joyce
Jon Lovell
Steve Madden
Andrew Matchett
David Merrill
Nick Matenga
Brett Milligan
Soul Phoenix
Gary Povall
Nick Sinfield
John Tate
Mark Thomas
Dave Williamson
Simon Witton
Men's 45s/50s
Rob Byrne
Jason Cunningham
Neil Davies
David Emburey
Pete Flanagan
Eddie French
Iain Grisewood
Fanos Hira
Simon Ince
John Kearsley
Piers Mitchell
Ian Moody
Daniel Nelki
James Norman
Spencer Nye
Neil Parsons
Salvatore Ponzio
Max Raymond
Andrew Robson
Ian Rowberry
Mark Scott
Lee Thompson
Piula Tu'iono
John Tuite
Andy Verney
Jonathan Charles Whitehead
Ian Wills
Mick Wittingham
Giles Stuart Yorke-brooks
_______________
Congratulations to those players selected into the initial training squads. This is the start of an incredible journey and the European Championships is yours and your team's chance to achieve something special that only a few have achieved, so take this opportunity and give it everything you've got.
Commiserations to those who missed out. The standard was exceptionally high this year and the choices that had to be made were incredibly difficult.
As part of the growth of Touch in this country England Touch are continuing to expand the game in all areas and over the next year exciting plans are afoot to grow our existing National Touch Series (NTS) and 'Challenge Touch Series' (CTS), promote further the development of Touch competitions with the ever growing 'Development Touch Series' (DTS), and hold a series of Development Days with coaching from qualified England Touch coaches. We will also see the formalised introduction of the University Touch Series (UTS) in the 2015/16 season too.
Keep an eye on the England Touch website for further information on these.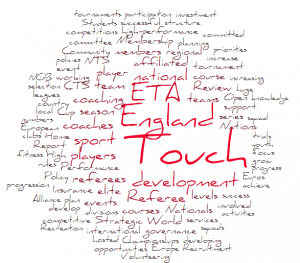 http://www.englandtouch.org.uk/wp-content/uploads/2015/09/ETC16-Announcement.png
551
781
Gregg Cropper
http://englandtouch.org.uk/wp-content/uploads/2016/08/England-Touch-Logo-1.png
Gregg Cropper
2015-09-18 13:12:21
2016-11-22 09:16:24
2016 European Championships – Training Squads Announced